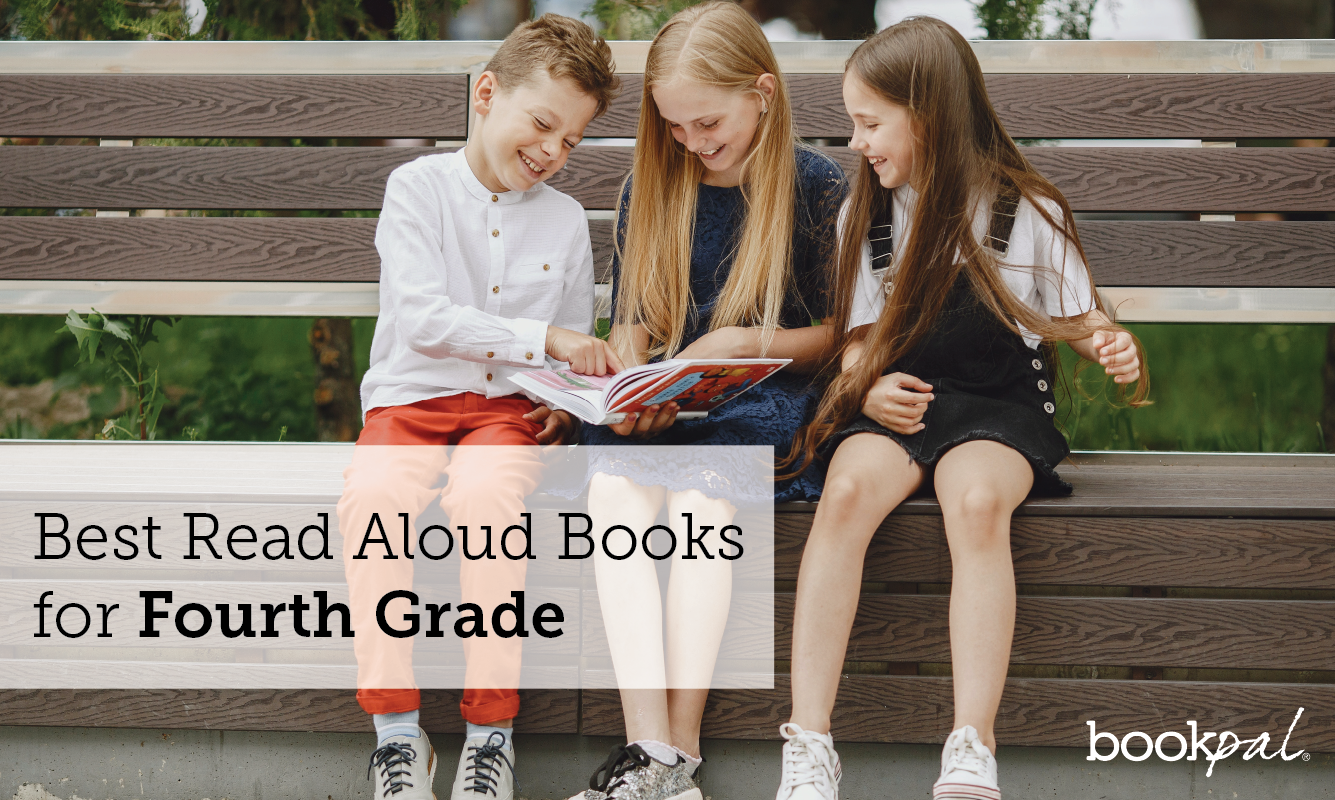 These read aloud books will captivate fourth graders and turn them into avid readers
Since reading aloud is such an important factor of elementary education, here are the 12 best read-aloud books for fourth grade. These stories will excite your kids about reading and give them a wide range of skills to succeed in school and in life.
Whether you're a teacher or parent, picking the best read-aloud books for fourth graders is not always easy. To help you out, we've included some tips on how to pick a good title:
Make sure it's age-appropriate by checking the Lexile system or the Common Core Standards. You should also consider whether or not it's too long or short and if it has illustrations that would be helpful for younger students to understand what they're hearing.
Choose a story with multiple characters so kids can practice reading aloud and take turns reading.
Also, it is important for a child to read a variety of topics that way they can pose questions and explore new ideas. Books can allow readers to explore destinations unknown to them. If you are unsure what read-aloud to choose remember that a quality read-aloud expresses ways for students to not only visit new places but gain knowledge. For instance, if the title happens to be about a trip, pick one that provides valuable information about the destination. If the book is about home life, choose a story that details an experience from each family member's point of view that way your child can learn from different perspectives.
Look for novels that have familiar characters your elementary students will enjoy, whether that be a short story, fairy tale, fiction book with a strong female protagonist, or a book about a diverse culture.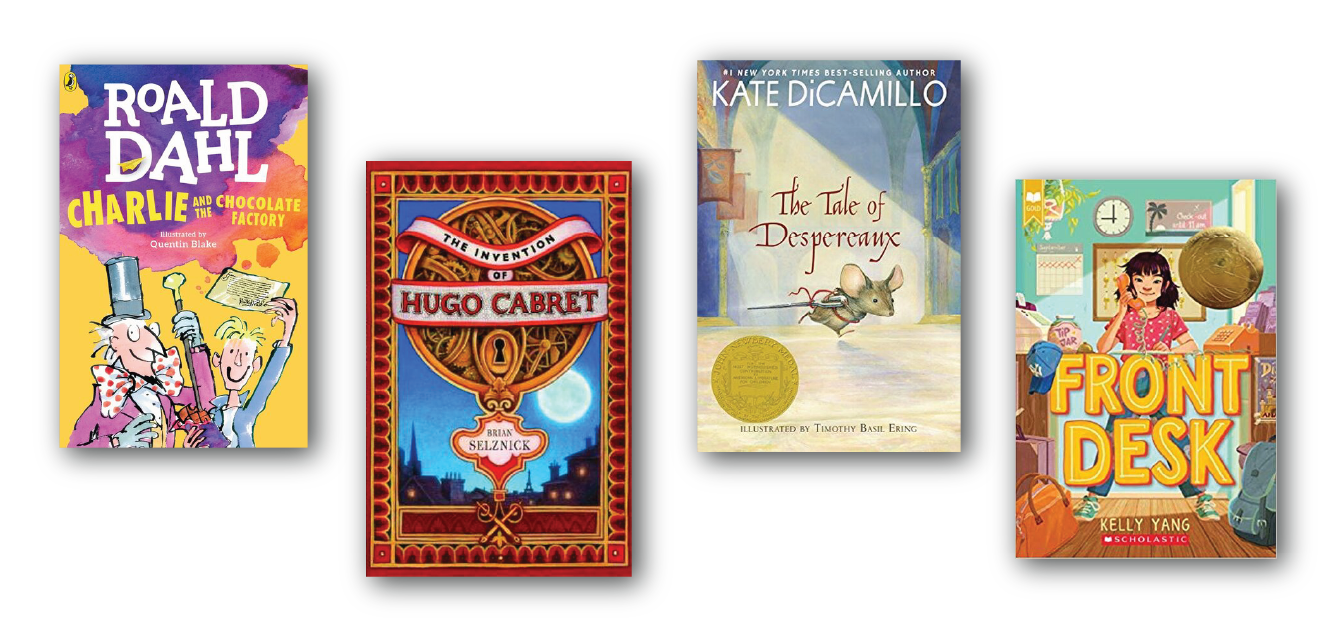 1. Charlie & the Chocolate Factory by Roald Dahl
One of the most classical pieces of creative fiction is the global favorite, Charlie and the Chocolate Factory by Roald Dahl. This story has captured the hearts of both kids and adults alike and has been turned into film adaptations as well. The magical chocolate factory of Willy Wonka is only a dream place to the public until the owner decides to allow five children into the factory. The story follows Charlie Bucket, a young boy who dreams of one day finding the Golden ticket, which will allow him access to Willy Wonka's magical factory. The five children include the always hungry Augustus Gloop, the horribly spoiled Veruca Salt, the senseless gum chewer Violet Beauregarde, the television-loving Mike Teavee, and, last but not least, the hero of this story, Charlie Bucket.
Mischief unfolds in this adventure that follows these five children inside Willy Wonka's dreamy chocolate factory. Charlie & the Chocolate Factory will light up the classroom and also impart a few key lessons to young readers.
2. The Invention of Hugo Cabret by Brian Selznick
This book outlines the story of a young orphan in 1930's Paris who is the only living member of his family. Hugo spends his days inside a clock tower and dreams of the day he will see the outside world. One day, Hugo's path crosses that of an eccentric, bookish girl and a bitter old man who runs a toy booth inside the station.
The author Selznick does an incredible job in describing everything from memories, to how changes in perspective can lead to the illustration of dreams. His elegant images do not reveal their meaning until later on and young readers will be taken on a fun, adventurous ride. They will find themselves personally invested in Hugo's story and this magical mystery.
3. The Tale of Despereaux by Kate DiCamillo
A gripping tale of four different characters, and how their paths cross and eventually come together through a bold journey, The Tale of Despereaux will have the readers on the edge of their seats. In this story, there is a covetous rat, a wishful serving girl, a brave mouse, and a princess, but the main character is Despereaux Tilling, a brave mouse who is in love with music, stories, and the princess Pea.
As their paths intertwine, the four characters find themselves in unseemly places including a horrible dungeon and a glittering castle. The entire plot comes together as the four characters find their places in each other's lives. Despereaux's adventure is heightened through beautiful black and white illustrations.
4. Front Desk by Kelly Yang
Mia Tang holds a lot of secrets. She lives in a motel with her parents and every day, the ten-year-old tends to the front desk of the motel and its guests. Her parents, the Tangs, let immigrants hide inside the empty rooms for free, but if the mean motel owner, Mr. Yao finds out about this, the Tangs will be doomed.
Mia Tang also has big aspirations. She wants to become a writer one day, but her mother thinks she should focus on mathematics since English isn't her first language. Join Mia as she navigates through the challenges of life. Readers will be inspired by the way she follows her dreams and they will also learn a few key points on empathy, compassion, and kindness.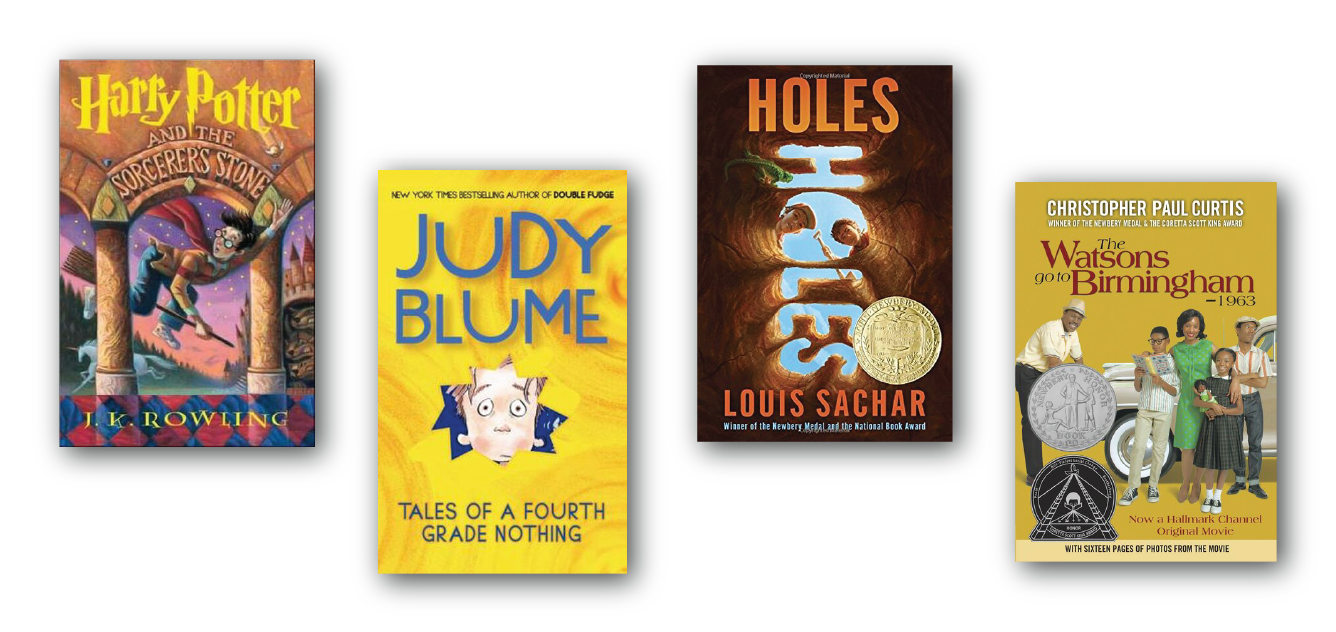 5. Harry Potter and the Sorcerer's Stone by J.K. Rowling
One of the most renowned children's fiction classic series, Harry Potter took the world by storm through its creative and endearing tale. Harry Potter and the Sorcerer's Stone is the first in the series of the Harry Potter books and outlines the story of an orphan, Harry who is being raised by a miserable aunt and uncle. Harry is actually a wizard and a miracle child but his aunt and uncle are determined on hiding his identity. The truth eventually comes out and Harry reaches his destiny - Hogwarts, the school of wizardry and witchcraft.
Harry is drawn into this mystical world which not only brings him closer to his destiny but also reveals a lot of truths about his family and his purpose. Readers will be drawn into Harry's magical world, which will be a sweet escape from reality for everyone.
6. Tales of a Fourth Grade Nothing by Judy Blume
Having an almost-three-year-old younger brother who fills Peter's life with endless tribulations is nothing less than torture. Fudge, Peter's brother, throws ceaseless tantrums and pulls pranks which makes Peter feel like a fourth-grade nothing. Peter has patiently put up with all of Fudge's antics, whether it's smearing the walls with mashed potatoes or throwing a temper tantrum inside a shop. But Peter has to put his foot down when Fudge walks off with Dribble, Peter's pet turtle.
Will Peter be able to grab his parent's attention for once? Find out in this riveting yet hilarious tale.
7. Holes by Louis Sachar
An international award-winning book, Holes by Louis is a story of hardship and redemption. Everything bad that happens to Stanley Yelnats is thanks to his "no-good-dirty-rotten-pig-stealing-great-great-grandfather." No good can come from Stanleys's cursed great grandfather so when Stanley gets unjustly arrested, this misfortune is also attributed to him. Now he has two options - either he can go to jail or to Camp Green Lake. Since Stanley has never been to camp - could it be fun? Unfortunately, it turns out that the boys detention center is anything but fun. Stanley and the other characters are forced to dig holes all day in the scorching heat.
Although the task is laborious, Stanley suspects that there could be more to it than just digging. This book is a great choice for fourth-grade students because it will help them learn from different perspectives.
8. The Watsons Go to Birmingham—1963 by Christopher Paul Curtis
A historical fiction novel, The Watsons Go To Birmingham tells the story of a loving African American family living in Michigan, who go to Birmingham to visit their grandmother. The main character is Kenny, who is aged 9 and is the narrator. When Kenny's 13-year-old brother, Bryon, begins to act out, it is only sensible to head to South Birmingham where their grandmother can set him right. However, what they don't know is that they will be heading toward one of the darkest moments in American History.
The Watsons Go to Birmingham presents the power of familial love and fourth-grade students will love to learn from the true and original voice of the Watsons.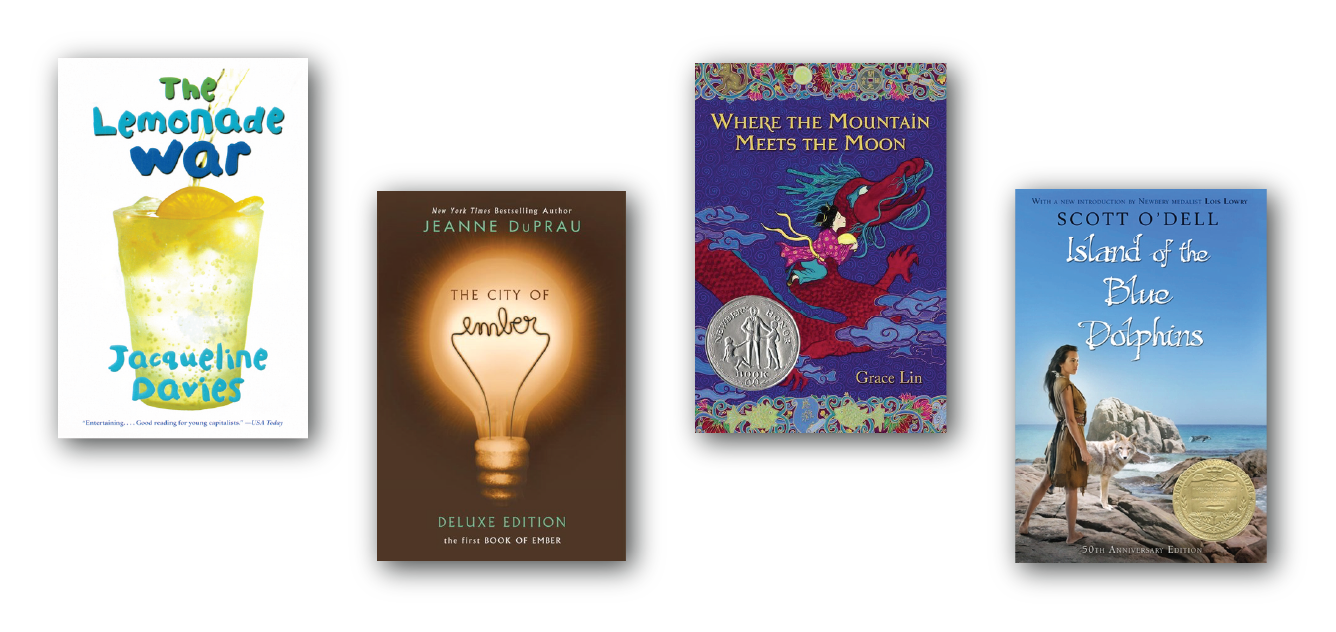 9. The Lemonade War by Jacqueline Davies
Unlike many other fourth-grade reads, The Lemonade War covers principles and rules of doing business as well. A hilarious tale of sibling rivalry and familial relations, this story is about two siblings who have the same goal of setting up the most successful lemonade stand. While both the siblings have the same goal, they have vastly different personalities and strengths which make them different.
Evan is a people person with heightened marketing skills while Jessie has a strong foundation for understanding mathematics and other business principles in theory. So which sibling will win? More importantly, which strengths will prove to be more successful in this competition?
10. The City of Ember by Jeanne DuPrau
Who doesn't love books about saving the world? The City of Ember is a highly acclaimed adventure series that covers the journey of two friends who are desperate to save their city. The city of ember was built to provide refuge to the human race - but the great lamps that lit up the city have started to go out two hundred years later. Lina and Doon hold the secret which can save the city - Will they be the saviors that allow the city's lights to burn bright or will darkness close in on them forever?
This story will take readers on a thrilling race against time where they will experience a rollercoaster of emotions. They will not be able to put the book down.
11. Where the Mountain Meets the Moon by Grace Lin
Where the Mountain Meets the Moon is a Newbery Honor book by Grace Lin that features imaginative storytelling and beautiful illustrations. Told in the classic tradition of the Wizard of Oz, the story crosses fantasy with Chinese folklore. The protagonist is a young girl named Minli. In the valley of Fruitless Mountain, she and her parents live in poverty. In a ramshackle hut, they reside with only a caged chicken but Minli lives a full life thanks to the folktales her father has told her.
Minli embarks on an extraordinary voyage to find the Old Man of the Moon, who she is told holds the answers to some of life's deepest questions. Will she be able to change her family's fortune?
12. Island of the Blue Dolphins by Scott O'Dell
Another award-winning book, this narrative covers the tale of a young Indian girl, Karana who finds herself stranded on an island. While the island itself is beautiful and is surrounded by fantastic sea creatures, Karana is all by herself and needs to fend for herself. She's responsible for finding food, creating weapons, fighting off the wild dogs, and facing the harsh realities of life.
This novel is about courage, strength, and survival. Students will learn about the struggles of surviving alone as an American Indian in the 1800s and the importance of bravery.

---
This post was written by Joelle Shusterman, the Marketing Intern at BookPal. She is currently reading Ace of Spades by Faridah Abike-lyimide.
Recent Posts
Explore these ten amazing titles for middle school Middle-grade readers are much more …

For years, mentoring in the workplace has been proven to be one of the most influential and mutually …

Explore these 12 new read aloud books that will inspire fifth gradersIt is extremely important for s …