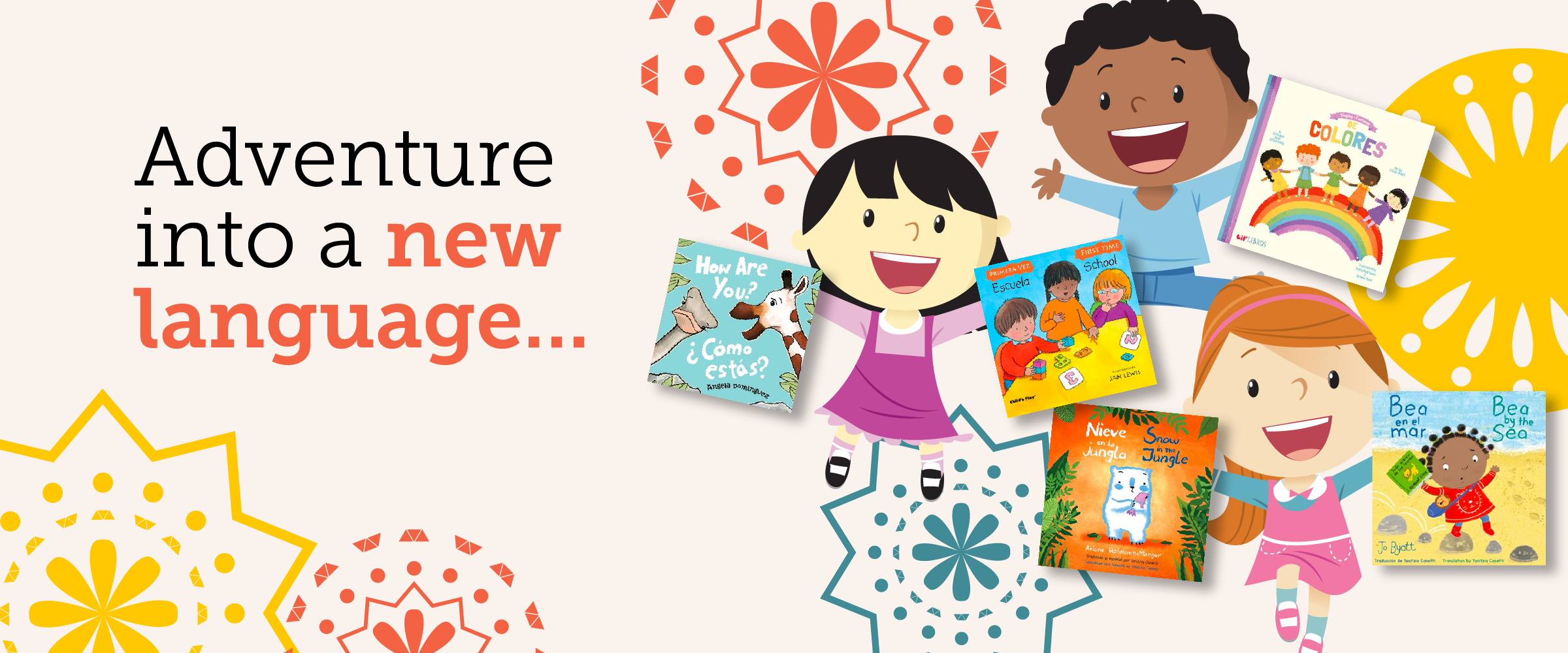 The Best Bilingual Children's Books For Your Child's Reading List!
With bilingualism on the rise, 20% of children are speaking a language other than English at home - Spanish being the most common non-English language. To build their confidence in reading, bilingual children must expand thier learning in both English and Spanish. That's why we created this list of the best bilingual children's books for early childhood.
From our broad selection of bulk books, we've handpicked the best spanish picture books to allow your child to experience the joy of reading while developing core skills in a language important for their growth. Whether it's bilingual children's books about sharing and learning to be more accepting of classmates or stories about moving and finding a new home, these picture books in Spanish are perfect for childhood development.

There are so many bilingual children's books out there! If you don't know where to start, our partner, Child's Play Publishing has a great selection of picture books in Spanish for younger audiences with fun themes! Be sure to check out their titles in this list, along with our other bilingual picture books.
---
Early Development
1. What Do I See?/¿Qué veo? by Annie Kubler
Perfect for toddlers, this bilingual book focuses on one of the five senses, sight! Children will pay close attention to the captivating visuals in this fun and easy-to-follow read. From everyday household items to seeing animals and the moon, your child will have fun exploring all this story has to offer. And if this book interests you make sure to check out the whole series that includes all five senses!
2. Looking Good!/¡Lucir bien! By Ailie Busby
Looking Good is all about awareness and now you can let your child become an observational expert! This lift-the-flap-board book will teach children all about themselves, and to be confident and happy in their appearance. And this is just one bilingual story from the charming series that explores all different things, from what your child likes to eat to how they even feel.
3. How Are You?/¿Cómo estás? by Angela Dominguez
Two young giraffes meet a baby ostrich and now, they must guess how their new potential ostrich friend is feeling. Is baby ostrich hungry, tired, or just shy? How does she feel? Children will gain valuable situational awareness and learn how to empathize with this thoughtful tale. They will find friendship and understand what it means when the people around them express their feelings.
4. Pequeño azul y pequeño amarillo/Little Blue and Little Yellow by Leo Lionni
Your child will be introduced to color theory in this amazing fun adventure, now told in Spanish! They will love learning about the two colors that come together to form a new shade. Little blue and little yellow are best friends, but have been separated. When they find each other they turn green! Inspire your little artist with this adorable story.
Preschool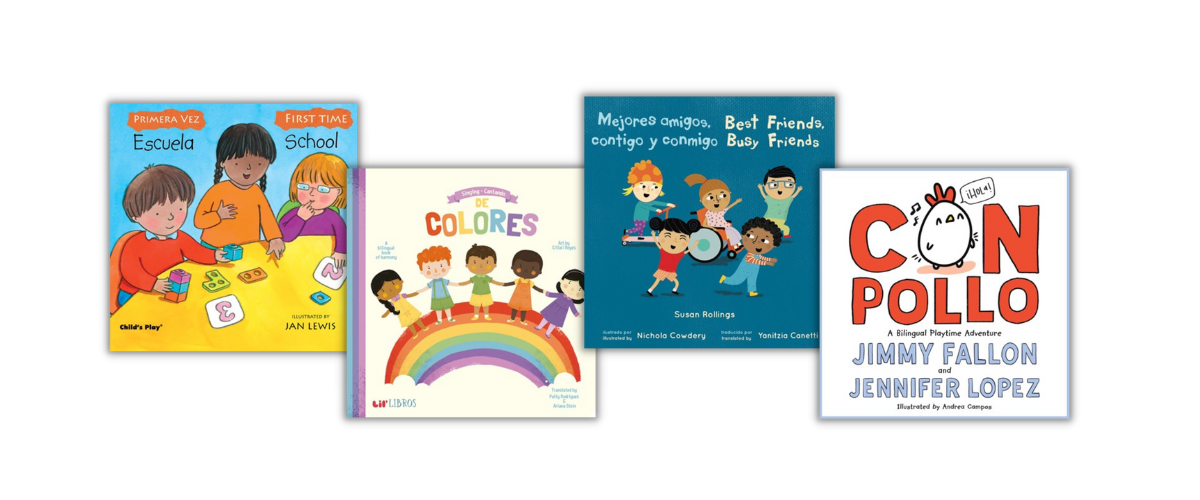 1. Escuela/School by Jan Lewis
Preschool is all about new experiences! This book is perfect for children just being introduced to the idea of reading aloud. These lively illustrations will not only prepare preschoolers for what school is like, but will encourage further dialogue for children readers and their parents. Going to school can be daunting for a child, so allow them to experience school through this book beforehand, so the first day is a breeze.
2. Singing/Cantando de colores: A Bilingual Book of Harmony by Patty Rodriguez & Ariana Stein
Children who love to sing will love this bilingual book that brings people together from all different cultures and backgrounds through rainbow-colored illustrations. This colorful book is all about the beauty of life, joy and harmony and is inspired by one of the most recognizable Spanish folk songs, "De Colores". This book is a great option for children who love to sing, but are shy when it comes to reading. They will easily associate reading as a fun activity and you'll be surprised how quickly they'll learn.
3. Mejores amigos, contigo y conmigo/Best Friends, Busy Friends by Susan Rollings
Another story that will teach kids what to expect when going to school, this read-aloud book celebrates all types of friendship. Friends that children play with at home and at school, from all different backgrounds, and who are there when we need them the most. Teach your child how important it is to treasure your friendships by finding joy in everyday life with this fun storybook.
4. Con Pollo: A Bilingual Playtime Adventure by Jimmy Fallon & Jennifer Lopez
Meet, Pollo, a chicken who just wants to play. Follow his adventures through exciting illustrations, from Pollo learning to kick a soccer ball to Pollo showing off his surfing skills at the beach. Con Pollo introduces basic Spanish vocabulary that is fun and easy to follow, perfect for preschoolers just starting to read! Actively engage your child with reading and learning new terms, by following Pollo through his journey of exploration!
Kindergarten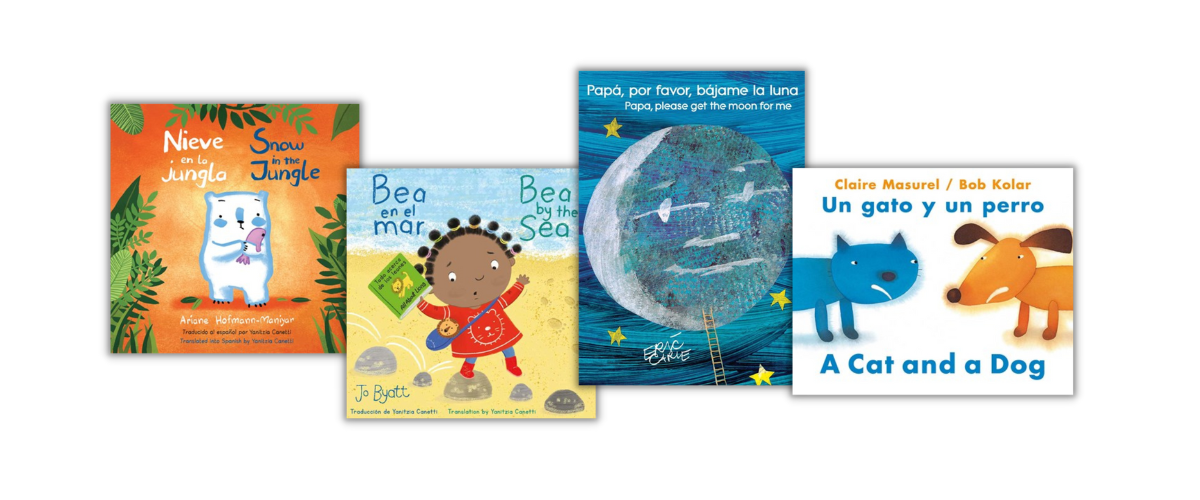 1. Nieve en la jungla/Snow in the Jungle by Ariane Hofmann-Maniyar
A charming picture book about a polar bear finding a new home, Snow goes on a strange journey by moving to an unfamiliar place. This book shows the excitement but also the struggles of moving, which children may experience in their life. Moving is a big deal and Snow isn't so sure if she wants to leave. Snow has all her friends from her previous home, but once she moves she has to make new ones. She tries to, but everyone seems too busy! Everythings strange, the people, the food, the weather, and the language! Will Snow be able to feel at home?
2. Bea en el mar/Bea by the Sea by Jo Byatt
Bea has anxiety when it comes to the beach, she lives by the sea, but can't stand the sand one bit! One day when her mother convinces her to go to the beach, she meets a lion sand sculpture and they instantly become friends. Bea's new friend however, is terrified of the water! They both help each other to overcome their anxieties, but the next day Bea goes to the beach her best friend lion is gone. Now Bea has to cope on her own. Children will learn to overcome their fears with this heartwarming read.
3. Papá, por favor, bájame la luna/Papa, Please Get the Moon for Me by Eric Carle
A beloved tale about a father who will do anything for his daughter even moving the moon. Through beautiful illustrations we see the father climb up through the night sky to capture the moon for his daughter. See how a father's love can unfold in each page of this delightful book.
4. Un gato y un perro/A Cat and a Dog by Claire Masurel
Cats and dogs don't get along, especially in this story. They live in the same house, but they fight all the time. That all changes when disaster strikes. Dog's ball bounces in the tree and Cat's precious stuffed mouse falls into the pond. Dog can't climb and Cat can't swim! Now they have to support each other and solve their problems together. Will they finally get along?
At BookPal, we know how important early childhood learning and development are. We pride ourselves in offering a wide variety of picture books that not only provide beautiful illustrations matched with just as unique life lessons but highlight communities from all different backgrounds and cultures. You can purchase any of these bilingual titles and more at BookPal.com.
---
Recent Posts
Have you ever had to sit through the same training and development courses with the cheesy videos or …

The Best Bilingual Children's Books For Your Child's Reading List! With bilingualism on the ris …

It is your time to show the backbone of your company that you appreciate them… your employees! This …