Whether it's for employee onboarding, employee appreciation gifts, development and training programs, or swag at a company tradeshow, custom journals have always been a go-to option for showing off your brand. They come in fun colors, they never expire, they aren't complicated, and everyone can get use out of them–they're the perfect employee gift!
But… how do you make something that's been done again and again for decades exciting?! We are glad you asked!
At BookPal, we specialize in creating custom journals for our clients across all industries. From schools to corporations to non-profit organizations, we've tackled some pretty cool journal projects. Take a look at these 4 tips of how you can ✨elevate✨ the cliche company journal in 2023.
1. So Much More Than A Company Logo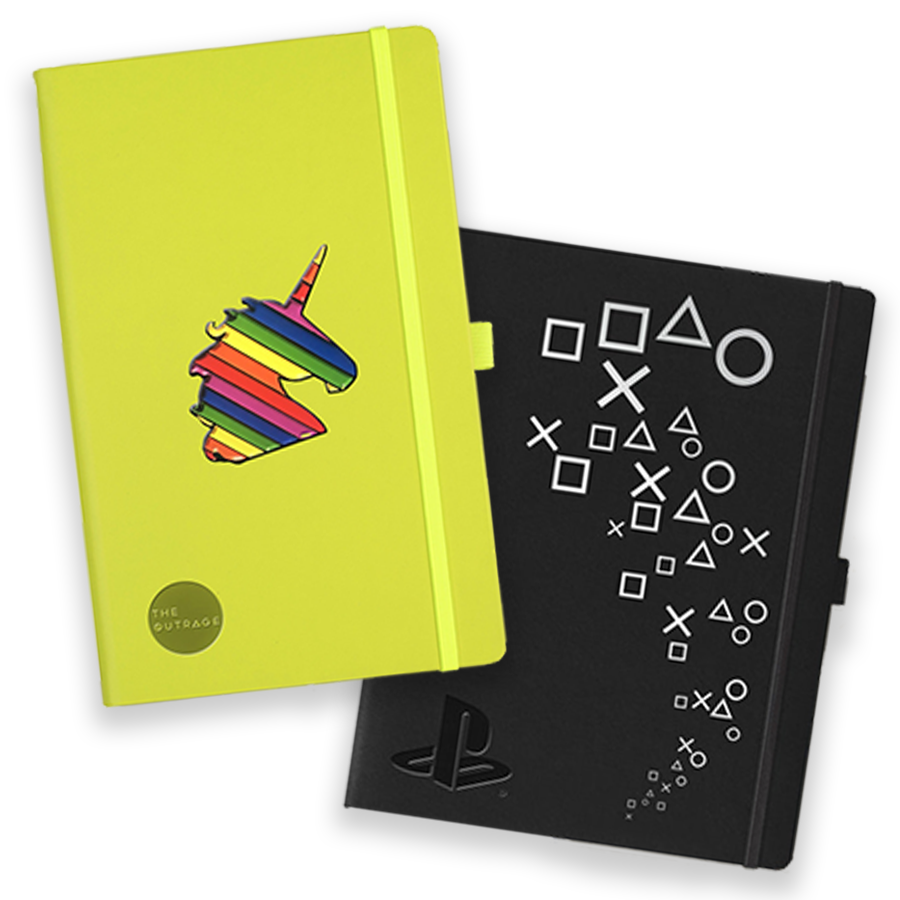 Never judge a book by its cover, but you can absolutely judge a journal by its cover! You want your journal to "wow" your employees and clients and your journal cover is the first impression they'll get.
Literally "elevate" your logo with a 3D high gloss gel dome. With this method your full color printed logo will really pop.
Did you know you can also print outside of the imprint area? With the ability to print a full cover design there is no limit to your creativity. Select an oversized imprint for the classic imprint or debossed look, just a larger surface area.
Last, but definitely not least, make it meaningful by personalizing each journal with the recipient's name, job title, or date. You won't be finding yourself in your next meeting with Susan's notebook by mistake anymore!
If the standard company logo imprint is all you want, we get it. In fact, we'll make it happen for FREE! If you order 100+ journals with BookPal, your logo imprint comes at no additional charge.

2. Spruce Up The Inside With Tip-In Pages
Since you can only say so much with your company logo, expand your vision into the inside pages of your custom journal. With tip-in pages, you have an entire, full color page to play around with. If you need extra space to get your message across, opt for a tri-fold tip-in page that can be unfolded in a landscape format.
So many of our clients take advantage of our tip-in option and we love to see it! A BookPal favorite for our client gifts is to include a message from our President about our company's mission and purpose. Add a little more information about your values and important contacts and you have yourself a tip-in for employee onboarding!
If your journals are for a tradeshow, we suggest including a tip-in with the event schedule and a map so recipients have an extra incentive to hang on to your useful gift.


3. Add Some Pizazz
Beyond artwork, there are a few more ways you can upgrade your journal. Here are some of our client favorites:
1. Hybrid journal options are available when you want to combine functionality and elegance. Hybrid journals combine the traditional faux leather cover with enclosed wire rings to bind the pages in a classier way. Our go-to style for this is the Medium Ivory Hybrid Journal, perfect for C-Level executives or that client you really want to impress.
2. Select a journal that compliments the colors in your logo or represents your brand. Our #1 selling journal, the Mid Size Tucson Journal, comes in 14 stunning colors. From orange to lime to purple, this journal is a bestseller for a reason.
3. I bet you didn't know there are scented journals! Appeel journals are eco-friendly and made from apple pulp. They give off a subtle apple smell for a pleasant surprise. Appeel journals are great options if your organization's values encompass sustainability and the environment.
4. Get playful with neon! The Medium Tucson Edge Journal features vibrant colored elastic and page edges, as well as a matching ribbon marker. Pro tip: these look great with a 3D gel dome logo!

4. Gifting Done Right
Employee gifts and client thank yous are not just about what you give, it's also about how you give it. Now that you've taken your journal from drab to fab, let's take the gifting experience from ordinary to extraordinary!
BookPal gifts journals to our clients every year, but for 2023 we wanted to spice things up. Instead of our usual journal and handwritten card, we wanted to gift our clients the ultimate reading experience.
We put thought into each item in the kit, selecting handmade candles with a "new book" scent, a modern mug and chamomile tea, fuzzy socks, a book tailored to their interests, and of course a branded journal to jot down notes while reading. Our company is built around "believing in the power of books to ignite continuous learning and growth" and these kits capture that in a more profound way than a solo journal ever could.
You don't need to go big, even pairing your journal with something as simple as a pen so they can use the journal right then and there goes a long way. Try bundling it with a thoughtful book or small item that represents your brand. It's another chance for you to "wow" your audience.
How Does It Work?
Lucky for you, BookPal can help you create your own custom journal! We'll walk you through the whole process from choosing a journal style that fits your needs to adding your desired customizations. If you need help with artwork, our marketing team is happy to bring your vision to life. Connect with us to start the process!
Recent Posts
World Autism Awareness month is all about kindness and encouraging acceptance! Take some time this A …

Two, four, six, eight… Who do we appreciate? TEACHERS!Teacher appreciation day is coming up in early …

Whether it's for employee onboarding, employee appreciation gifts, development and training programs …