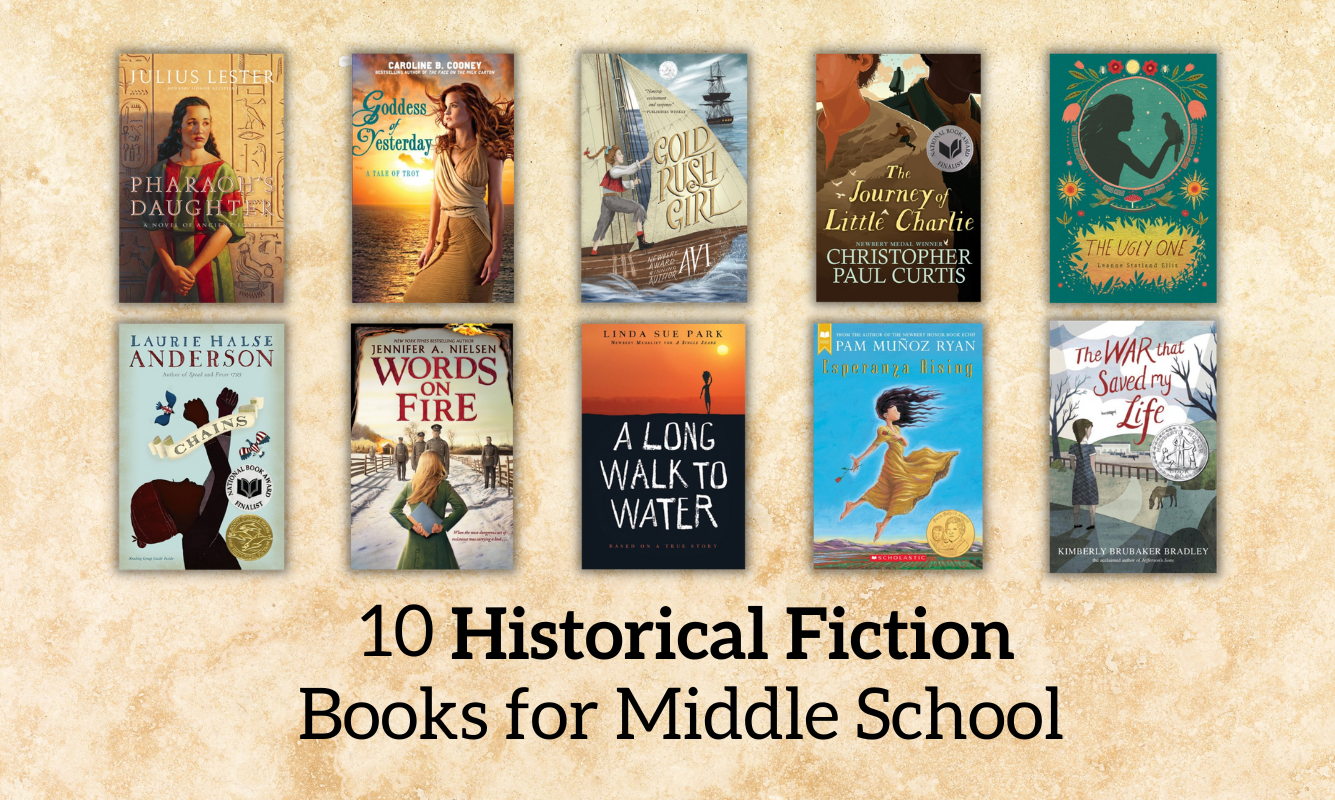 Must-reads for middle grade students
In the world of reading, there are countless books that are entertaining for middle grade students. Despite the fact that many people find certain genres to be very difficult to get into, historical fiction is a type of book that has stood the test of time and appeals to readers from all walks of life. Historical fiction is an essential genre for anyone wishing to delve into the past through literature and sharpen their grip on history as well as learn some valuable lessons along the journey.
Historical fiction is exactly what it sounds like. It is a fictional book that is set in the past, usually a time far removed from the present day. This genre has many uses and can be beneficial to people of all ages, especially middle grade readers. For example, it could be used to improve a child's grade at school, and to introduce him/her to new lessons learnt through historical events.
Historical fiction novels are an excellent way for students to learn about the history of other countries or cultures. From the fall of the Roman Empire to the rise of industrial civilization, historical fiction provide a detailed immersive view that can help students understand what life was really like at that time. They also give us the unique opportunity to see how human nature has changed over time allowing students to make connections between what is happening now and events that have happened long ago.
This can be helpful for many reasons, one being that the historical figures mentioned in these books we still remember today! Beyond simply providing some historical knowledge, these novels present characters in a much more developed way than their non-fiction counterparts and open the doors to learning.
The list below provides a brief summary of 10 books that are great for middle school readers. These books will help children develop their understanding of history and provide an interesting spin on the genre of historical fiction.
The list includes classics, and award-winners that are must-reads for middle school students.
1. The Pharaoh's Daughter by Julius Lester
The story of Moses is a well-known and loved one. Being born into a Jewish family and slavery, Moses was eventually adopted by an Egyptian princess. However, readers are less familiar with the story of Moses's sister, Almah.
Julius Lester uses this book to tell the story from Almah's point of view. Almah would do anything to protect her baby brother, Moses who she raises as her own child. She begins to feel more connected to the Egyptian gods than her own Hebrew religion and proves to be a headstrong force that defies her father. This story is delivered in altering perspectives and is a great way to introduce history to middle schoolers. The stunning novel explores themes such as faith, identity, and destiny.
2. Goddess of Yesterday by Caroline B. Cooney
A perfect introduction to Greek literature and spin on the Iliad by Homer, Goddess of Yesterday is a novel with realistic historical themes that express what it was like to live in ancient life. The plot of this book revolves around Anaxandra, who is taken from her home to become a companion to the King's crippled daughter, Princess Callisto. The events of this book are set against the backdrop of the Trojan war and follow Anaxandra's journey through different times and places. Finally, as Anaxandra begins to adjust to her life, the island of Siphnos is attacked by pirates with her being the sole survivor.
Fearing for her life, Anaxandra assumes the identity of the princess when a fleet of ships stop by the island to investigate. She manages to stay out of harm's way but the King's wife is suspicious. As the events unfold, the war between Trojan and Sparta has begun.
As Anaxandra is tossed from one family to another, she realizes that there are very real consequences in life. Learning to not trust the adults around her, she becomes self-sufficient, but will Anaxandra be able to reinvent her courage and save herself?
3. Gold Rush Girl by Avi
A fascinating tale by a Newbery award-winning author, Gold Rush Girl, is set in the 1800s. The protagonist of this book is Victoria Blaisdell who yearns for freedom and adventure and wishes to accompany her father as he sails on a journey to look for gold. But in reality, it's 1848, and Tory is not even allowed to go to school, much less sail all the way from Rhode Island to California.
However, nothing is getting in the way of Tory's adventure. Being her spunky and feisty self, she stows away on the ship. Although San Francisco is filled with dangerous men, Tory manages to find hope and friendship there.
This is an incredible and absorbing story of a heroine who uses courage and resilience to sail herself through adventures. Perfect for middle school students, they will find themselves completely immersed and wondering what will happen next!
4. The Journey of Little Charlie by Christopher Paul Curtis
The Journey of Little Charlie is full of suspense and thrilling events and is a historical fiction novel set in 1858. It is a book authored by Christopher Paul Curtis, who is a Newbery Award winner. In this tale, we read about Charlie, who experiences unfortunate events, beginning from the death of his father to the repayment of his pending debts. But that's not the worst of it, his father has left an outstanding debt to the most fearsome man in the whole of South Carolina, Cap'n Buck.
Cap'n Buck strikes a deal with Charlie. Little does Charlie know that he has struck a deal with the devil and he will face a serious predicament. Torn between difficult choices, Charlie must rise to the occasion and figure out his next move, wisely. This is a book about a boy who struggles to make a choice in one of the cruelest times in history.
5. The Ugly One by Leanne Statland Ellis
A beautiful story, The Ugly One is a tale set in the early fifteenth century in an Incan village. The protagonist, Micay bears a prominent scar on her face and is shunned by her villagers. Micay begins to find her long-lost confidence when a baby, Macaw, is placed under her care.
Having developed new-founded self-esteem, Micay goes on to become one of the shamans in Sun City, who are working tirelessly to end the plight of a drought in their area. This powerful story is perfect to deliver a strong message while still representing prominent historical events. The Ugly One will find an audience among middle-grade readers who are questioning what fate has in store for them and also presents the struggles of a girl who is cast aside because of the way that she looks.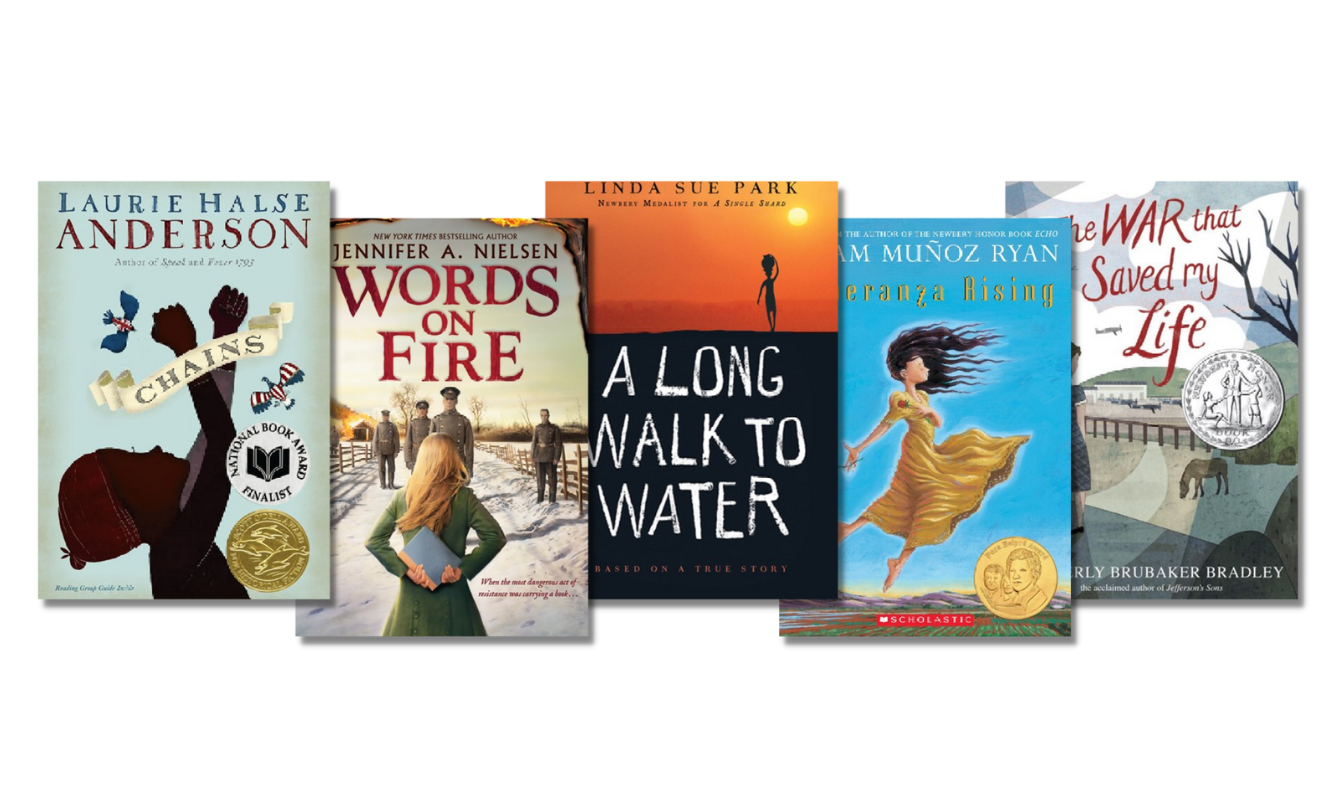 6. Chains by Laurie Halse Anderson
National book award finalist, Chains is a book full of history and heart. Isabel is only thirteen years old and has to protect herself and her sister, Ruth, during the time of the American Revolutionary War. They are so close to receiving their freedom from slavery, but when their owner dies they are given up to the Locktons, a New York couple who has less regard for them or the revolution.
Isabel teams up with a boy named Curzon and spies on the Locktons to reveal secrets about the planned British Invasion. She is reluctant and afraid but overcomes this fear when the unthinkable happens to Ruth. Isabel now realizes the stakes at cost and that she has to protect herself and her sister. This book has a strong focus on history and slavery and can be read in middle-grade classrooms to teach important lessons of bravery and courage.
7. Words on Fire by Jennifer A. Nielsen
Audra's family farm in Lithuania is close to danger. The Russian Cossacks have banned Lithuanian books and culture, enforcing everyone to become Russian.
Words on Fire is a very relevant story since it addresses issues of oppression and resistance. In 1893, when Russian Cossack soldiers threaten Audra and her family in Lithuania by arriving abruptly at their door, Audra's parents tell her to flee. She is left with an important package and instructions for where to deliver it.
Having to abandon her parents who face a terrible fate, Audra now embarks on a dangerous journey. She faces incredible risks and becomes caught up in a growing resistance movement. Will she be able to join the underground movement and rescue her parents in time?
8. A Long Walk to Water by Linda Sue Park
The lives of two young people are woven together in this beautiful tale. Based on a true story, A Long Walk to Water, is about a boy and a girl in southern Sudan who face uncertain circumstances.
In 2008, Nya is only eleven years old and struggles to bring water to her family each day. Flashing back to 1985, Salva, a young boy who is also eleven years old, is fleeing from the war between the government and the rebels. Salva becomes a lost boy of Sudan and has to endure the harsh reality that he doesn't have a home. Nya is still struggling each day for her family. Later on, Nya and Salva's paths will cross in a heartwarming and astonishing way.
9. Esperanza Rising by Pam Muñoz Ryan
When life takes a sudden, unexpected turn and the world as Esperanza knows it is turned completely upside down, she is forced to change her entire perspective. Esperanza Rising, is a story during the Great Depression, about a girl who is forced to pack her bags and move to California. She witnesses protests held by the Mexican workers and she also learns how to fend for herself and her family. The beautifully simple story presents complex themes and perspectives while introducing the rich culture of Mexican history.
Though Esperanza comes from a privileged background, along with her mother, she is forced to flee from Mexico after her father dies. She must now work as a farm laborer despite her education in a place she is unfamiliar. The story then traces Esperanza's journey as she rises to the occasion to adjust to her new life. This classic title is perfect for middle schoolers since it will teach them historical and social themes.
10. The War that Saved my Life by Kimberly Brubaker Bradley
A heartwarming and moving story, The War that Saved my Life is a tale of triumph, winning against all odds, and hope. The book is about Ada, who is stuck inside a one-room apartment in London with an abusive mother who is too embarrassed by Ada's twisted foot to let her outside. But when Ada's brother is being shipped out to London to escape the war, she sneaks out to join him.
This begins Ada and Jamie's adventure, and for Susan Smith, the woman who decides to take them in. Ada begins to trust Susan and everyone begins to bond…but will their bond be strong enough to keep them together during wartime? Or will Ada and Jamie land back in the hands of their cruel mothers?

---
This post was written by Joelle Shusterman, the Marketing Intern at BookPal. She is currently reading Criers War by Nina Varela.
Recent Posts
Reduce, Reuse, Recycle. We've all heard this slogan but you may be asking why is it important to tea …

How to Lead Your Team with Empathy Although empathy has been classified as a soft skill for b …

Explore these ten fantasy books for fifth graders Magic and fantasy books are a perfect way for …