Inspire your kindergarten students with these read aloud books.
Students in kindergarten are in the process of writing their first words and sentences. They need modeling and practice in order to learn vocabulary and sentence structure. This is also a good time for them to work on their comprehension skills by reading aloud together.
Reading aloud allows children to hear the sound of the language, learn new vocabulary from context clues, and learn from a skilled reader who models good listening behaviors. Reading aloud will also help your child develop word recognition through repeated exposure.
Read-aloud books should be taught to kindergarten children on a regular basis. In fact, it is so important that it should be the first activity of the day. Some teachers begin kindergarten with fifteen minutes of reading aloud to their students, and continue this pattern until the children leave for elementary school.
It is one of the most important things that teachers can do for students to polish their communication and comprehension skills. Children who are read to, at home and in the kindergarten classroom, will bring that practice into school, and their rich listening experiences at home will make them better listeners in your classroom as well.
Today, we discuss our top picks for the best read-aloud books for kindergarten children. Our list of the top 20 read-alouds include classics and classroom favorites which are sure to delight young readers.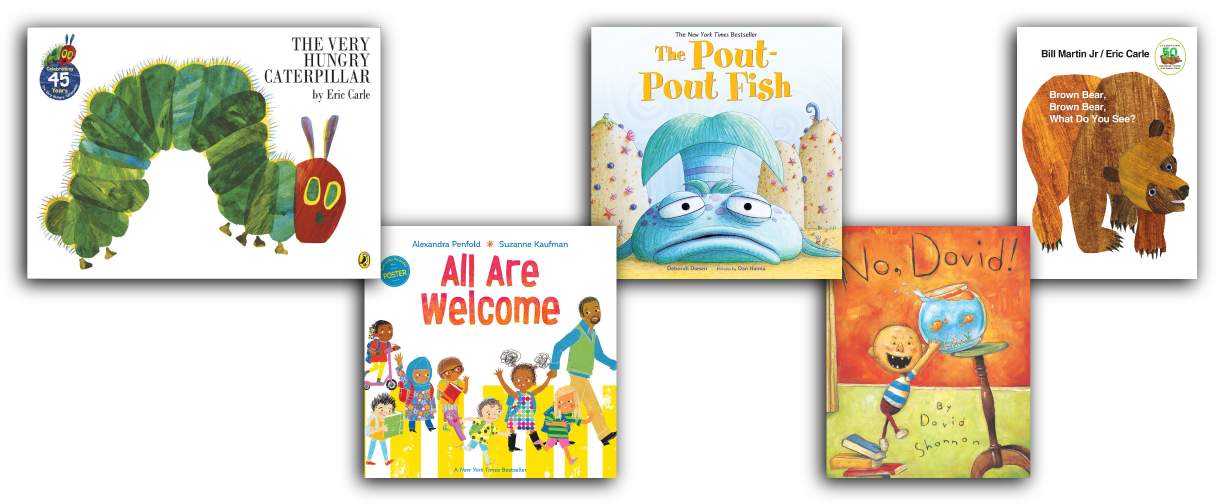 1) The Very Hungry Caterpillar by Eric Carle
A tale infused with life-long lessons on patience, growth and change, The Very Hungry Caterpillar by Eric Carle is one of the most enriched read-aloud books for kindergarten children. The hungry caterpillar is all alone in the wilderness, searching for food for survival and keeping his hunger satisfied. The beautiful illustrations and bright colors are sure to warm the hearts of kindergarten students.
2) All Are Welcome by Alexandra Penfold & Suzanne Kaufman
A classic tale that combines diversity and inclusion in a single plot, this warm and welcoming book encourages all children to be themselves and tolerate others. The book follows a group of children through the day in which everyone is welcomed with open arms irrespective of religion, culture, and appearances. This is a school in which children learn and grow from each other's traditions.
3) The Pout-Pout Fish by Deborah Diesen & Dan Hannah
This story covers the tale of a fish who has a perpetual frown on his face. The Pout-Pout fish pouts his way through the story and other sea creatures try to get him to cheer up. It's never too late to make a happy face, so this story teaches children not to give up when they want to be happy. Children will love the facial expressions in this book and will also enjoy learning about different sea creatures involved in the story.
4) No, David! By David Shannon
A humorous story with expressive illustrations, No, David! follows a troublemaking kid and his mischievous antics. This funny picture book is about David doing a list of things he is not supposed to do. This delightful tale always rattles laughter out of children and remains a favorite even after more than a decade.
5) Brown Bear, Brown Bear, What Do You See? By Bill Martin Jr. & Eric Carle
This classic picture book is a great choice for kindergarteners because it introduces animals and colors in a fun way. The repetitiveness of the title question will help children start to learn how to follow directions and also helps the children learn patterns, color concepts, and animal names. There are a lot of details present in the illustrations that young listeners can look out for. This book is best read aloud as opposed to having a child read it alone.
6) The Pigeon Has to Go to School! By Mo Willems
The Pigeon Has to Go to School! is all about those first-day and school jitters which are very common with kindergarten children. Pigeon is resistant to going to school and thinks he already knows everything. However, Pigeon eventually comes around to the idea that there are things to learn at school and it might actually be fun! This funny tale not only melts the heart of the children but also teaches them a thing or two about how fun school can be.
7) Goodnight Moon by Margaret Wise Brown & Clement Hurd
There is nothing better than a bedtime story to put your children to sleep which has calming illustrations and soft, gentle poetry. This book is about a small bunny tucked inside the bed of a green room and says his goodnights to everything including the room and the moon.
This bedtime story is a staple in most children's picture book collections. Children can learn from the repetition of the words "dark" and "quiet" in the story that they have to say goodnight without any distractions. This book is perfect for parents with small children who often interrupt their parents with questions, leaving their parents wishing they would just quiet down once in a while!
8) I Am Every Good Thing by Derrick Barnes & Gordon C. James
An upbeat and empowering picture book, I Am Every Good Thing features a confident black narrator who is proud of everything that makes him who he is. The visual textures and painted illustrations will draw the readers in and the poetry of the work will inspire young readers far and wide.
I Am Every Good Thing is the winner of the 2020 Outstanding Works of Literature Award in the Picture Book category.
9) Llama Llama Red Pajama by Anna Dewdney
An infectious read-aloud with rhyming lines, Anna Dewdney's bestseller is about a young llama who is waiting for his mother to come home. With mama not home yet, Llama Llama begins to fret. The book beautifully explores how children feel inside while their parents are away. Younger children will like this book because of all the rhyming in it—which has also been proven to aid in language learning. It is best read aloud to the children in a fun and engaging way to avoid the repetitive nature of the tale from boring the listeners.
10) The Snowy Day by Ezra Jack Keats
The Snowy Day by Ezra Jack Keats is a classic, perennial favorite book complete with colorful illustrations and an engaging story for budding learners. This book holds a universal appeal and revolves around the wonder a child holds for the world while exploring it. This story on Peter's adventures in the deep snow is a perfect read for a cozy, winter day tucked inside the sheets.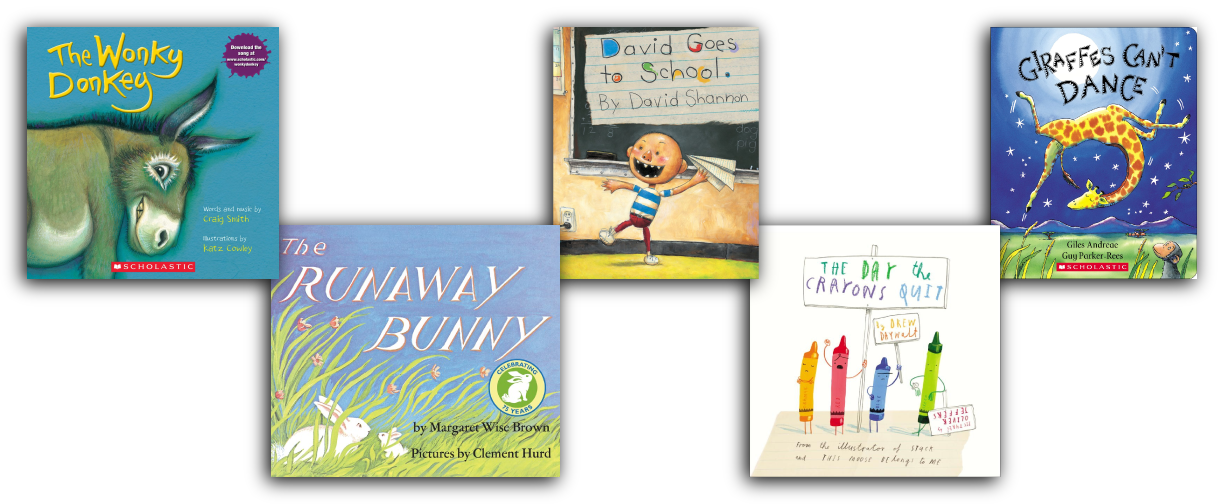 11) The Wonky Donkey by Craig Smith & Katz Cowley
What do you call a donkey with three legs? A wonkey donkey! In this funny tale based on the wonky donkey, each page covers new features about the donkey until the readers end up with ith a spunky, hanky-panky, cranky, stinky, dinky, lanky, honky-tonky, winky wonky, donkey, which will have children in fits of laughter!
12) The Runaway Bunny by Magaret Wise Brown & Clement Hurd
Complete with colorful illustrations yet minimalistic enough for the young minds to grasp the concept, The Runaway Bunny is a story of a rabbit who is quite profound in his imaginary game of hide and seek but his dedicated mother manages to find him, each time. This classic read-aloud book is perfect for budding learners.
13) David Goes to School by David Shannon
A school-time companion to the book, No, David!, David Goes to School is another hilarious book by the same author. This story is all about David's antics and the trials and tribulations it causes to his teacher who certainly has her hands full. His unceasing pranks and naughtiness will have the class in fits of laughter as they thoroughly enjoy this fantastic and best-selling book.
14) The Day the Crayons Quit by Drew Daywalt & Oliver Jeffers
This creative plot is about a little boy named Duncan and his set of crayons which, one fine day, decide to go on a strike because they are not satisfied with how they are used. Duncan goes on a journey to find a solution to this problem and keep his crayons happy so he is able to draw again. This hilarious and colorful tale warms the hearts of the readers with its creative plot and theme of empathy.
15) Giraffes Can't Dance by Giles Andreae & Guy Parker-Rees
A beautifully and expressively illustrated book, Giraffes Can't Dance is a fantasy tale about a gangly giraffe who could not participate in the jungle dance. Gerald longs to dance but unfortunately, his neck is too long and his legs are dangly and knees buckle whenever he tries. With some sound advice, Gerald dances to his own tune with his own style.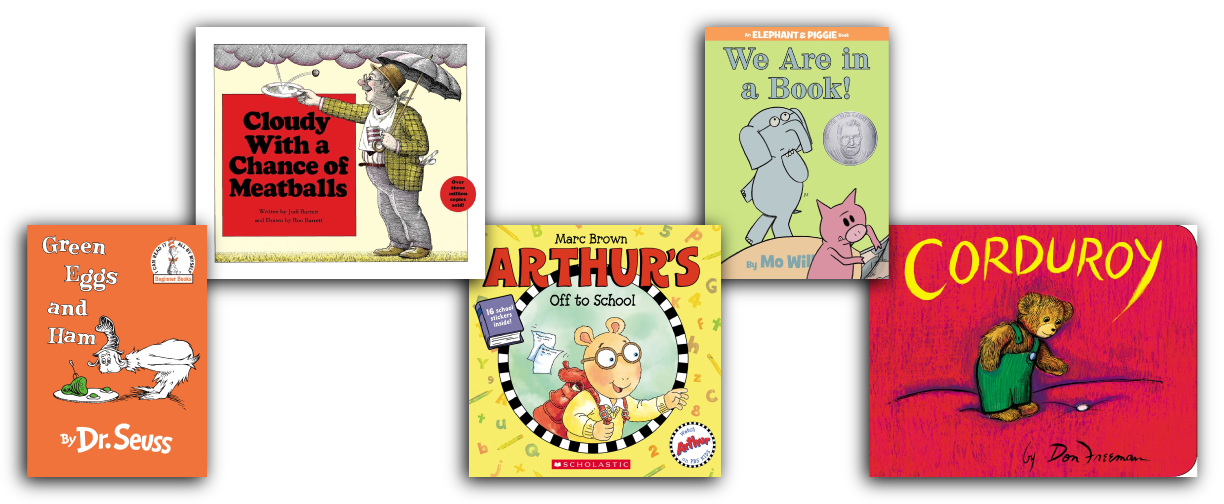 16) Green Eggs and Ham by Dr. Seuss
One of the most well-known and well-loved tales by Dr. Seuss, Green Eggs and Ham is a rhyming read-aloud book featuring all the places to enjoy green eggs and ham. With fun-filled characters and infectious rhymes, this classic book is sure to grab the attention of kindergarten children.
17) Cloudy With a Chance of Meatballs by Judi Barrett & Ron Barrett
Another creative, fantasy story, Cloudy With a Chance of Meatballs takes place in the tiny town of Chewandswallow—where the weather brings food instead of rain and snow. Life was great for the town until the food started getting bigger and damaging the town with storms of huge food. Kindergarten students will enjoy getting swept away in this fantastical story.
18) Arthur's Off to School by Marc Brown
It's important to have some fun books about school too while compiling a read-aloud book list for kindergarten children. Arthur's Off to School by Marc Brown is an exciting tale about Arthur and his friends who go to school and have a power-packed routine. The book offers a sneak peek into the routines of all the beloved characters—which is sure to light the spark of some school-loving in the hearts of students.
19) We Are in a Book! by Mo Willems
Piggie and Gerald discover the joy of being read in this book. They find out that they are in a book and they can make the reader say a funny word out aloud—Piggie is tickled pink! It's all fun and games till Gerald realizes that the book will end soon. The book covers an interesting theme and makes the readers question what they know and how they know what they know.
20) Corduroy by Don Freeman
A thoroughly heartwarming story, Corduroy is a story about a teddy bear who is stacked on a shelf in a department store and waits every day for someone to take him home. One fine day, Lisa spots Corduroy and wants him till her mother spots that he is missing a button on his overalls. This fantasy story teaches children a few vital lessons on life including looking beyond first impressions and looks and also saving money.

---
This post was written by Megan Habel, the Brand Strategist at BookPal. She is currently reading Switch by A.S. King.
Recent Posts
Introducing five books to improve your relationships Nancy won't stop gossiping abo …

Introducing ten books that will enhance your brand How can your company exceed cust …

How to Inspire Creativity in the Workplace Being creative and thinking of original ideas in the …