Posted by Sophie Butler on Jun 07, 2023
Color Your Bookshelf for Pride Month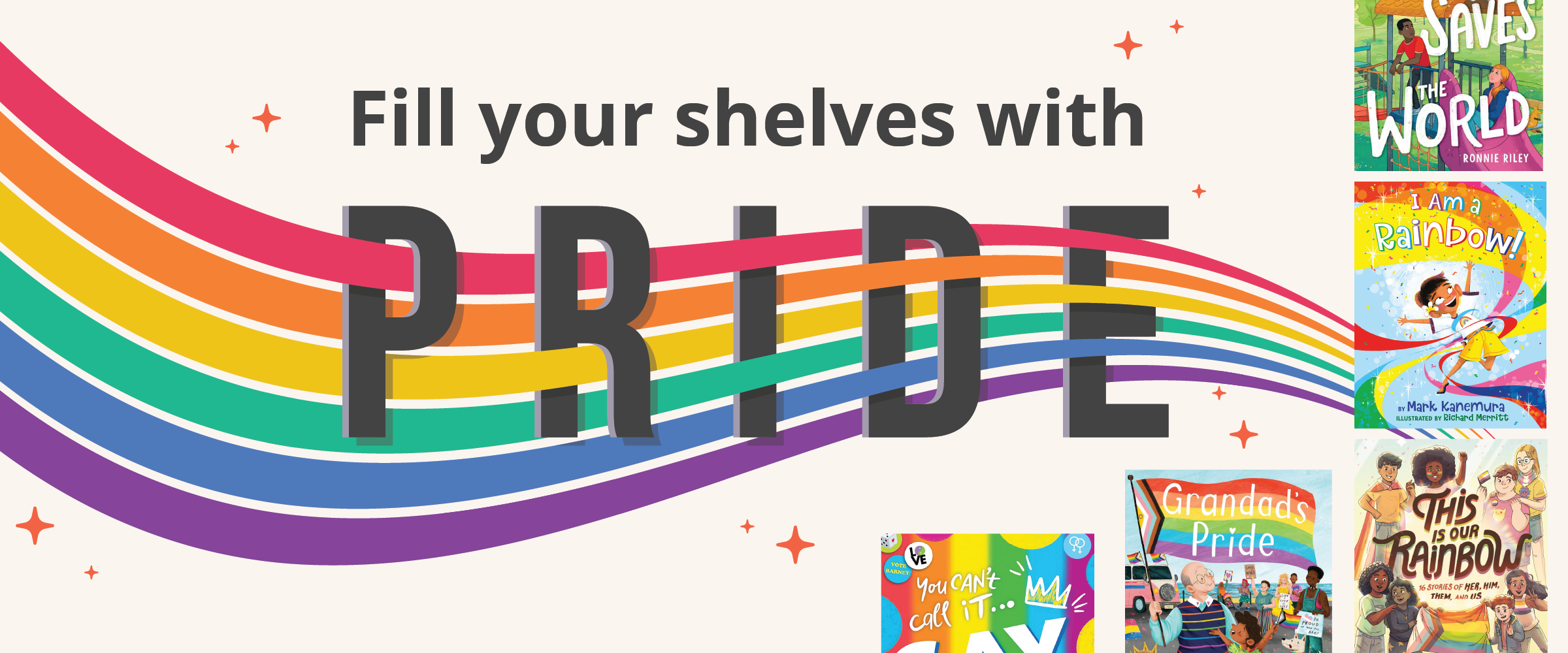 It's that time of year again when the world gets painted in vibrant colors, love fills the air, and we get to celebrate the amazing contributions by the LGBTQ+ community. The Pride celebrations are kicking off because, that's right it's Pride Month 2023!
Every year we love to highlight some amazing new titles coming out to make sure your kiddos feel seen and known. From playing princess dress up with your best friend to entering a rap battle, our lineup of titles this year share unique stories with LGBTQ+ characters you'll love at the forefront.
So without further ado raise those rainbow flags and get ready to read these 15 LGBTQ books for Pride Month!
Picture Books
1. I Am a Rainbow! by Mark Kanemura
Mark loves performing, wearing costumes, and dancing. However, his interests are ridiculed by his peers at school. To remind Mark of his uniqueness, his parents surprise him with a gorgeous cape. This gift makes Mark feel powerful and confident, allowing him to connect with other vibrant children in Honolulu.
Unfortunately, when the cape goes missing, Mark loses his newfound self-assurance. The question remains: how will he regain his ability to stand out and shine?
2. The Wishing Flower by A.J. Irving
Birdie finds comfort in nature and books, but more than anything she longs for connection, to be understood. At school, Birdie feels like an outsider. She prefers to read by herself, rather than jump rope or swing with the other kids.
That all changes when Sunny, the new girl, comes along. Like Birdie, Sunny has a nature name. She also likes to read, and loves to rescue bugs. And when Sunny smiles at her, Birdie's heart balloons like a parachute.
3. Grandad's Pride by Harry Woodgate
After Milly discovers a pride flag in Grandad's attic, this adorable pair are motivated by the past to start a pride parade in their small town. Activism and celebration go hand in hand as the town gathers to help "build a world where everyone is proud to be themselves."
4. The Fairest in the Land by Leslea Newman
When it comes to playing dress-up, best friends Annabelle and Benjamin both want to be the bride, the ballerina, and the princess. Can they both be the fairest in the land?
Follow along as two friends ultimately realize that they can both be their authentic selves—and that having two princesses means twice the fun.
5. You Need to Chill! by Juno Dawson
When Bill can't be found at school one day, the imaginations of the other children run wild. Is he on vacation? Has he been eaten by a shark? It's up to Bill's sister to explain that everyone needs to chill.
Juno Dawson's debut LGBTQ children's book is a witty and fun-filled rhyming story about family, identity, and acceptance.

Middle School
6. Jude Saves the World by Ronnie Riley
Twelve-year-old Jude struggles sometimes. But Jude doesn't struggle with Dallas, their best friend in the whole world.
Jude and Dallas's world takes a turn when they learn Stevie, a girl in their class, has been ousted from the popular clique at school. Worried it had something to do with Stevie's rumored crush on another girl, Jude reaches out to see if Stevie is okay and a friendship forms.
As their friendship deepens, Stevie's unconditional and open acceptance when Jude comes out to her motivates them to create a queer safe space in their community. But will they be able to find the support they need to make their Diversity Club happen?
7. Joy, to the World by Kai Shappley and Lisa Bunker
Joy, a twelve-year-old trans girl, just moved to Texas with her mother and older brother. Her family has accepted Joy as the girl she is early in her transition, with little fuss, leaving Joy to explore her love of sports, competition, teamwork, school spirit, and worship.
But when she is told she's off the cheerleading team, Joy wants to fight for her right to cheer. As her battle with the school board picks up momentum, Joy attracts support from kids all around the country.
8. This Is Our Rainbow: 16 Stories of Her, Him, Them, and Us edited by Katherine Locke and Nicole Melleby
A boyband fandom becomes a conduit to coming out. One nonbinary kid searches for an inclusive athletic community after quitting gymnastics. A trans girl empowers her online bestie to come out.
From wind-breathing dragons to first crushes, This Is Our Rainbow features story after story of joyful, proud LGBTQA+ representation. You will fall in love with this insightful, poignant anthology of queer fantasy, historical, and contemporary stories from many authors.
9. Camp Quiltbag by Nicole Melleby and A.J. Sass
Twelve-year-old Abigail is so excited to spend her summer at Camp QUILTBAG, an inclusive retreat for queer and trans kids. Thirteen-year-old Kai is not as excited.
After a bit of a rocky start at camp, Abigail and Kai make a pact: If Kai helps Abigail make new friends, Abigail will help Kai's cabin with the all-camp competition. But as they navigate a summer full of crushes, queer identity exploration, and more, they learn what's really important.
10. Skating on Mars by Caroline Huntoon
A heartwarming middle grade debut about a young figure skater discovering who they are on and off the ice. Life isn't easy on twelve-year-old Mars. As if seventh grade isn't hard enough, Mars is also grappling with the recent death of their father and a realization they never got to share with him: they're nonbinary.
But with their skates laced up and the ice under their feet, all of those struggles melt away. When Mar's is challenged to a competition and it draws near, the struggles of life off the rink start to complicate their performance in the rink, and Mars begins to second guess if there's a place for them on the ice at all.

Young Adult
11. Rana Joon and the One and Only Now by Shideh Etaat
Perfect Iranian girls are straight A students, always polite, and grow up to marry respectable Iranian boys. But Rana Joon is far from perfect—she smokes weed and loves Tupac, and she has a secret: she likes girls.
As if that weren't enough, her best friend, Louie died almost a year ago, and she's still having trouble processing her grief. To honor him, Rana enters the rap battle he dreamed of competing in, even though she's terrified of public speaking. To get herself to the stage and fulfill her promise before her senior year ends, Rana will have to learn to speak her truth and live in the one and only now.
12. Time Out by Sean Hayes and Todd Milliner with Carlyn Greenwald
In his small Georgia town, Barclay Elliot is basically a basketball legend. Until he decides to use the biggest pep rally in the town's history to come out to his school. And things change quickly.
Barclay is faced with hostility he never expected. But he soon finds Christopher. He and Barclay have never been each other's biggest fans, but as Barclay starts to explore parts of himself he's been hiding away, they find they might have much more in common than they originally thought. Can he take a real shot at the love he was fighting for in the first place?
13. I Have Something to Tell You- For Young Adults: A Memoir by Chasten Buttigieg
Growing up, Chasten Glezman Buttigieg didn't always fit in. He felt different from his father and brothers, who loved to hunt and go camping, and out of place in the rural, conservative small town where he lived. Back then, blending in was more important than feeling seen.
So, when Chasten realized he was gay, he kept that part of himself hidden away for a long, painful time. With incredible bravery, and the support of his loved ones, Chasten eventually came out—and when he did, he learned that being true to himself was the most rewarding journey of all.
14. Gay Club! by Simon James Green
Barney's a shoo-in for his school's LGBTQ+ Society President at the club's next election. But when the vote is opened up to the entire student body, the whole school starts paying attention. How low will the candidates go to win? Buckle up for some serious shade, scandals and sleazy shenanigans.
But when the group faces an unexpected threat can the club members put politics aside and stand united?
15. Only This Beautiful Moment by Abdi Nazemian
2019. Moud (short for Mahmoud) is an out gay teen living in Los Angeles with his distant father, Saeed. When Moud gets the news that his grandfather in Iran is dying, he accompanies his dad to Tehran, where the revelation of family secrets will force Moud into a new understanding of his history, his culture, and himself.
1978. Saeed is an engineering student with a promising future ahead of him in Tehran. But when his parents discover his involvement in the country's burgeoning revolution, they send him to safety in America, a country Saeed despises. And even worse—he's forced to live with the American grandmother he never knew existed.
1939. Bobby, the son of a calculating Hollywood stage mother, lands a coveted MGM studio contract. But the fairy-tale world of glamour he's thrust into has a dark side.
Set against the backdrop of Tehran and Los Angeles in three different eras, this sweeping tale of intergenerational trauma and love is an ode to the fragile bonds of family, the hidden secrets of history, and all the beautiful moments that make us who we are today.
We hope these books helped inspire some love and creativity into your bookshelves for this Pride Month! If you want to explore more LGBTQ+ titles then be sure to check out our Pride Collection. Don't see a title your are looking for on our website? Our dedicated account managers would love to help you with title recommendations or quote requests. Happy Pride!