Posted by Sophie Butler on Oct 23, 2023
How to Ease School Anxiety in Young Students
A Q&A with Child's Play
Ring… Ring… School is in session! The first few months of school can be an exciting but challenging journey for young kids. The bustling classrooms, new faces, and unfamiliar routines can overwhelm even the most adventurous little learners. And while some children have been able to adapt seamlessly these past few months, it's important to take some time to acknowledge and help the others who may still be struggling with the transition and back to school anxiety.
We had the privilege to talk to Kelsea Jeffries, UK Marketing Coordinator at Child's Play. This independent publisher specializes in child development and life skills, developing their books around the needs of children to bring out the best in them. Our goal with this Q&A is to bridge teachers with a publishing expert to bring you valuable resources and books designed to ease your young learners into this new adventure.
Because whether they are struggling with feeling anxious around daily routines or making new friends at recess, there are ways to nurture a supportive environment that helps your new student thrive. Read on to find out how Child's Play is creating books and experiences that are helping children make this big transition.
---
1. What are some common struggles you have seen children face when starting school and in terms of experiences they face during the first few months?
The start of school can be a difficult time for young children as they adjust to a new environment, new people, and changes in their daily routine. It's therefore not uncommon to see signs of anxiety and stress. For neurodivergent children, having to navigate these realities often comes with the additional burden of trying to figure out how to "fit in". It's a delicate balance that can often lead to discomfort. Developing the skills needed for coping, making new friends and feeling comfortable and safe in a new environment is really the key to success.
2. What inspired Child's Play to create books that cover the many different first experiences kids face in school?
Attending school is often isolating and scary. Since these formative years are some of the most important in a child's development, it has always been important for us, as a publisher, to publish stories that can validate their feelings and help them to build a solid foundation. Ensuring that children can recognize themselves in the characters in our stories and feel heard is crucial. And reflecting these situations back with positive outcomes is also vital for social and emotional health, as well as for the development of a sense of self awareness and self-worth.
3. What are some of the common key themes and messages you focus on when it comes to books related to first experiences children face at school?
We cover many aspects of the school experience. For younger readers, we have books that focus on preparing for school. As an example, in Clive Is A Teacher, by Jessica Spanyol, Clive and his group of friends role-play a school day. Clive takes attendance, teaches lessons on the environment, eats snacks and together, the group tidies up for the day before saying good-bye. Role-playing can benefit language development, social skills and boost self-confidence—all crucial skills that become integral in navigating through the day.
First Time: School, illustrated by Jan Lewis, is part of a series of books tailored towards children's first experiences. In this story, we also document the structure of a school day, from packing a lunch box, to settling into a classroom, to playing with friends outside at recess. By understanding what goes on during the day at school, children who struggle with new routines can anticipate and benefit from knowing what to expect. Most pages also offer common questions from the perspective of the child or from adults they may encounter. First Time: Nursery follows similar themes for toddlers.
For slightly older children, we've found that struggles tend to stem from a growing self-awareness and need to fit in. In A New School For Charlie, by Courtney Dicmas, for example, a dog named Charlie is excited for his first day of school, only to realize that he's the only canine in a school full of cats! It's a story about overcoming differences and making friends.
In Best Friends, Busy Friends, written by Susan Rollings, a rhyming text is used to engage young readers, with a diverse cast of characters, illustrated by Nichola Cowdery. The use of a variety of characters (tall, small, sometimes not so kind) introduces children to just how different we all are, encouraging empathy and the acceptance of our uniqueness.

4. Books can be a powerful tool for addressing emotional and social issues. Can you share some more of Child's Play's hopes in publishing books that address such important topics?
We've had great responses to previously published titles that address social and emotional health head-on. Positive feedback on books such as Big Dance, by Aoife Greenham, featuring Pippa, who learns to look inwards and find her special dance through gentle encouragement from those around her, inspire us to continue on the path of publishing books that reflect the realities of a child's experience. We already have more titles scheduled in late 2024 with themes of self-identity, new experiences and refuge.
5. In your experience, how can teachers effectively incorporate books into their classroom routines to assist students in adapting to a new school environment?
Incorporating reading into any classroom can be a challenge, especially for those wary of change. Books can and should be used as great tools for self-regulation, especially when children are feeling overstimulated and unable to manage emotions on their own.
Reading group sessions where everyone in the class is included, especially with interactive activities that pair with the narrative, can help break the ice and get children engaged with one another, learning as they play. Alternatively, independent reading time, where children are given the opportunity to decompress and escape into a story at their own pace, can help them feel as though they are in a safe environment, easing nerves and making for a smoother adjustment. Teachers can also encourage reading at home, making school feel like a less daunting and more enjoyable environment.
6. Do you have any specific resources or titles you would recommend to teachers looking to address these school-related challenges in their classrooms?
I would recommend Gently Bentley, by Caragh Buxton, as the rambunctious rhino is often used as an example of neurodivergent behavior in children. His exuberant personality, which on occasion leads to clumsiness, is met with light-hearted humor and the overarching message to take it down a notch. It's important for children to be introduced to characters like Bentley, where they might be able to see themselves, and in turn come to a greater understanding of those around us.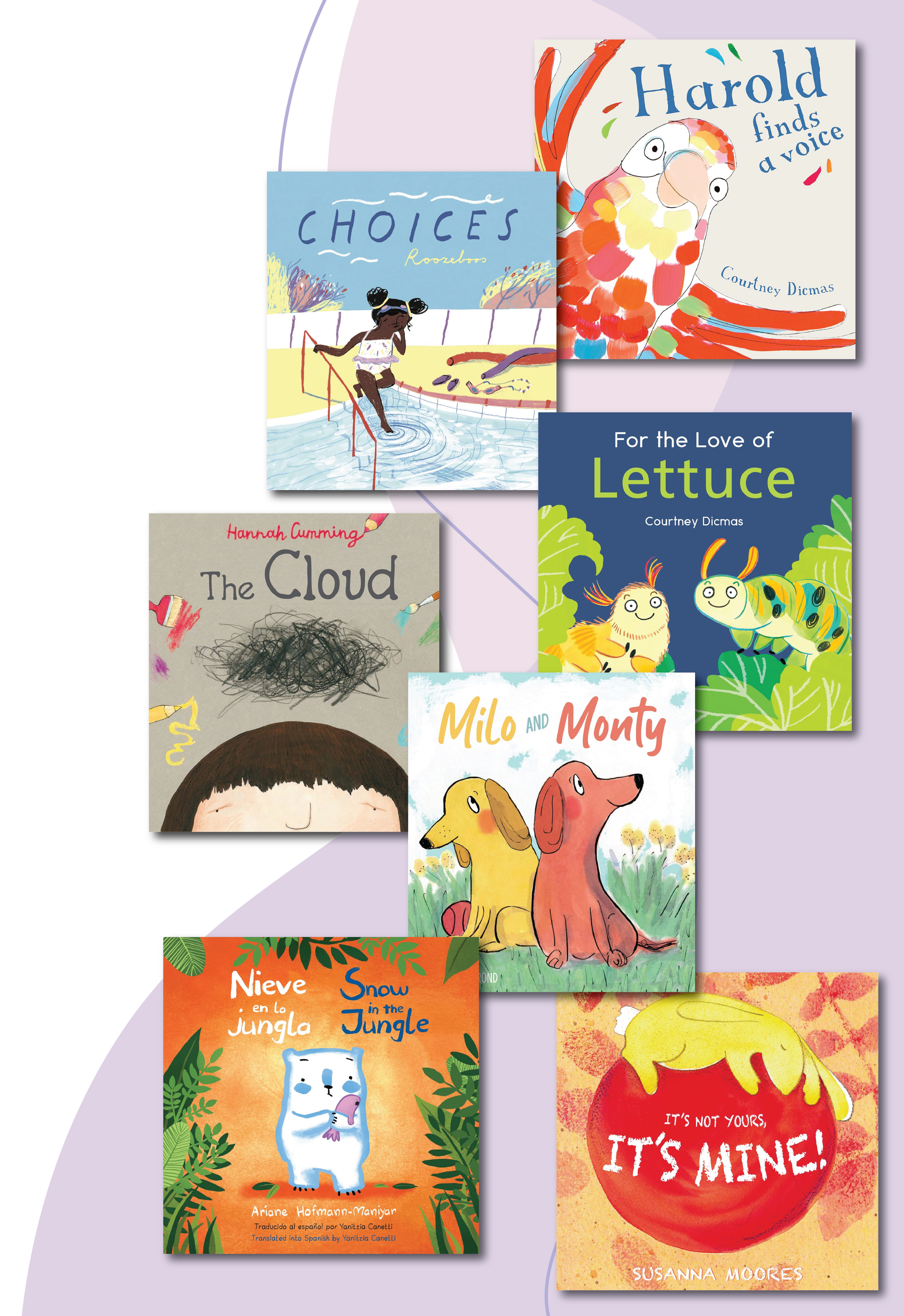 Want more recommendations for school-related topics? Child's Play has a variety of options available in both hardcover and paperback, or Spanish/bilingual editions:
*Harold Finds A Voice, by Courtney Dicmas—self- identity, making friends
*Choices, written and illustrated by Roozeboos-- decision making
*The Cloud, by Hannah Cumming—mental well-being, making friends
*For The Love of Lettuce, by Courtney Dicmas—understanding differences, friendship
*Snow in the Jungle, written and illustrated by Ariane Hofmann-Maniyar, new experiences
*Milo and Monty, written and illustrated by Roxana De Rond—understanding differences
*It's Not Yours, It's Mine, by Susanna Moores—sharing, friendship
*First Feelings board books, illustrated by Paula Bowles—feelings and coping strategies
We wanted to thank Kelsea Jeffries from Child's Play for taking the time to speak to us. Be sure to check out the rest of Child's Play's Library to see all the other amazing titles they are publishing. If you want help getting any of the titles mentioned above or any other title for your classroom you can request a quote and an account manager would be happy to help you out. Wishing you a happy and safe school year ahead!