Posted by Joelle Shusterman on Sep 1st 2022
Inspiring Creativity in the Workplace
How to Inspire Creativity in the Workplace
Being creative and thinking of original ideas in the workplace is essential for any company to get ahead and succeed. That's why we are introducing our bestselling books focused on creativity in the workplace. We want to help you to figure out what gets those gears turning and help your employees build their creative thinking. But first, why is being creative in the workplace so important?
Businesses that focus on brainstorming new ideas are not just taking unneeded risks. By only sticking with previous business campaigns companies end up becoming stagnant and have the potential to lose out against competitors that are more free-thinking. Oftentimes however businesses are still afraid to take that leap. What is proven is that new approaches often lead to lucrative outcomes when companies find new innovative ways to reach customers that they otherwise wouldn't have thought of. How then, exactly do businesses inspire creativity in the workplace?
Businesses can enhance the productivity of their employees, thus inspiring creativity by recognizing intrinsic motivation. According to a study conducted by Center for Creative Leadership, 300 U.S. managers were tested, and it was found that high internal motivation was key to unlocking employee engagement, satisfaction, commitment, and performance. This means that organizations that were more focused on their manager's intrinsic value had more success. It is so important for employees to be able to perform tasks that they not only excel in but want to perform better in which will have not only a positive impact on your business but also a positive impact on their success within the company. Focusing on what boosts your employees productivity is a great way to foster a creative environment.
Explore these top business books that will get those creative juices flowing on any given day. These books will give you the basis for how to work creatively which will increase your potential.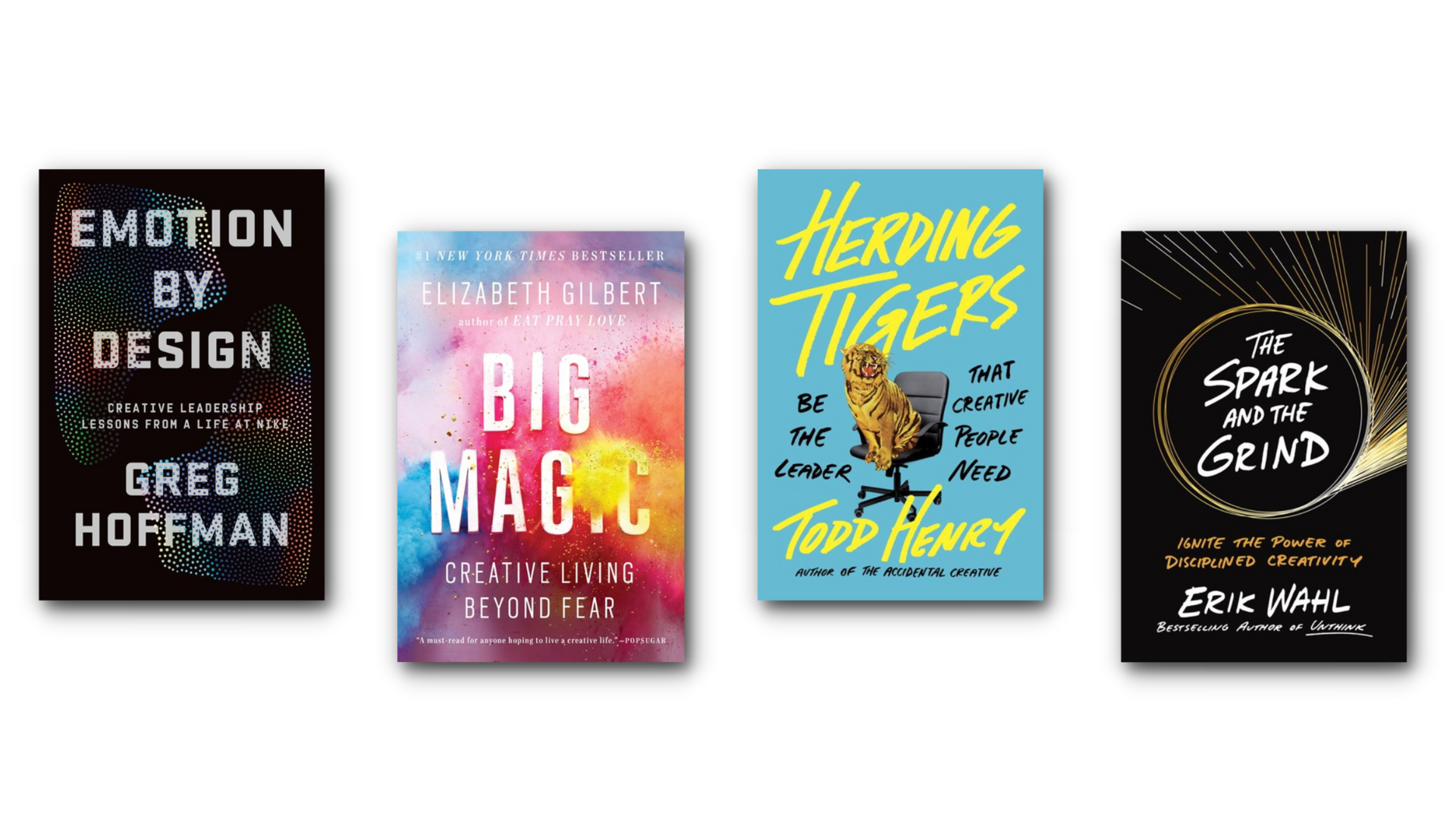 1. Emotion by Design: Creative Leadership Lessons From a Life at Nike by Greg Hoffman
In this breakthrough novel, Greg Hoffman, former CMO of Nike shares his valuable knowledge on how he helped build the brand by focusing on the power of creativity. With a twenty-seven-year-long Nike career, Hoffman shares his experience from starting out as an intern to moving up and becoming the CMO of the company. He explains how to unlock inspiration within a brand and build strong emotional connections through his three guiding principles: Creativity is a Team Sport, Dare to be Remembered, and Leave a Legacy, Not a Memory. Hoffman shows how he created Nike's vision through unique storytelling.
Emotion by Design will teach you how to find your own greatness and success from invaluable branding lessons that have been a blueprint for Nike's image. You will not only find out how Nike has built an emotional connection with their consumers, but also will be inspired to shape your own creative ideas. Hoffman's inspirational messages throughout the book will make even your most audacious dreams seem possible. This rich novel full of indispensable advice will ultimately empower you to find creativity within your organization and unleash what you have learned into the world.
2. Big Magic: Creative Living Beyond Fear by Elizabeth Gilbert
Elizabeth Gilbert, the bestselling author of Eat, Pray, Love, now shows us potent insights into the mysterious nature of inspiration. By digging deep into her own generative process she shares her unique perspective and wisdom on creativity. She helps us uncover the "strange jewels" that are hidden within us and opens our world up to wonder and joy. Gilbert's book can be both inspiring in the workplace and outside in your day-to-day life. Like if you are making art, writing a book, or even trying to challenge your fears. Gilbert discusses the hardest parts of creative living, and how to overcome rejection as well as doubt. This book will teach you to overcome your fears and will dare you to be brave.
Big Magic is a soulfully spiritual book that will enhance your career. Whether you are leading an organization, looking to solve new challenges at work, or want to infuse your life with mindfulness and passion, this book will be your go-to for inspiring creativity.
3. Herding Tigers: Be the Leader That Creative People Need by Todd Henry
Herding Tigers is a great read for any manager looking to take a creative approach at leading their employees toward success. Todd Henry gives managers the tools they need to lead people who are creative thinkers which will inspire them in the workplace to perform at their best. Rather than leading by control, managers will learn to lead through influence. Henry takes a creative approach for managers to guide their teams and by taking bold creative risks managers will learn how to create a stable culture that empowers their team.
This book will transform managers into free-thinking creatives. Your organization will be challenged to come up with new innovations that will spark the creativity of everyone within and even more importantly managers will now know how to deal with headstrong, and possibly overqualified creatives. Herding Tigers exposes the brilliance and talent within your team that is so valuable for your business to grow.
4. The Spark and the Grind: Ignite the Power of Disciplined Creativity by Erik Wahl
A visual artist, speaker, and entrepreneur, Erik Wahl challenges how we think about creativity in his latest novel, The Spark and the Grind. He tells us that it is important to realize that there is both inspiration and the "grind" when it comes to being creative, which means that being creative is mostly a lot of hard practice and work. Wahl explains that there is both a yin and a yang to creativity — The spark and the grind. He says the world needs creators that can keep the two in balance.
From Wahl's expert words of advice, you will learn how to trigger the spark and increase your grinds productivity. With wisdom from genius artists and philosophers, scientists, and business visionaries Wahl provides in-depth knowledge on how to complete creative tasks that are daunting. Perfect for teaching employees how to garner their own creative skills and increase their productivity as well as inspiration, this novel will teach you not only how to think of great things, but how to make it all come to fruition.
5. InGenius: A Crash Course on Creativity by Tina Seelig
InGenius is filled with concepts, tools, and techniques essential for your organization. In this book, Tina Seelig, a bestselling author, and professor at Stanford School of Engineering teaches that creativity is not something you just think about, it is something you just do. Although Creativity comes as naturally as breathing it can be taught as well. With plenty of years of experience, Seelig tells us that a creative goal should always be pushed beyond the limits of what seems possible. She reveals ways to increase creativity whether you are in a classroom, conference room, or at home.
The biggest point of InGenius is that it costs virtually nothing to generate amazing ideas and your business can have results that have the potential to be priceless. So why not pick up this enjoyable read and discover how you can push your creativity beyond its limits?
6. Inside the Box: A Proven System of Creativity for Breakthrough Results by Drew Boyd

Have you ever heard the phrase, "to think outside the box"? But what if thinking outside the box when approaching creative thinking is the wrong mentality? Inside the Box, by Drew Boyd shows us that innovation happens when recognizing rules and patterns within a structure. The traditional view is that creativity is unstructured. That you should brainstorm new ideas. This read introduces SIT or Systematic inventive thinking. A strategy that hundreds of corporations use including industry leaders. These companies creatively solve problems before they develop by recognizing patterns from a commonly found researched system.
By reading Inside the Box employees can learn how to be innovative. Inside the Box was a finalist for AMA Marketing Book of the year and has been considered a go-to for creative thinkers around the world.
7. Out of Our Minds: The Power of Being Creative by Ken Robinson

What happens to our creativity as we mature and why do children seem more creative than adults? Out of Our Minds explores why adults are losing their creativity and how businesses can get it back. The author, Ken Robinson gives us a clear notion that the rate of innovation is speeding up. Organizations need people who are not only flexible and can easily adapt to changes in the world, but also creative and able to solve problems old and new. By fostering creativity businesses can achieve their true potential.
The issue is that while most children think they are creative, most adults think they are not. By having your business read Out of Our Minds, employees' perceptions of creativity will shift in a more positive direction. They will understand why they are so resistant, ultimately identifying their unique talents. Ken helps us come to the realization that everyone has the potential to be creative. The challenge is developing your potential.
8. Unlocking Creativity: How to Solve Any Problem and Make the Best Decisions by Shifting Creative Mindsets by Michael A. Roberto
Deeply entrenched organizational cultures can be detrimental to employees who want to express their innovative ideas. Michael A. Roberto's book goes into detail about the resistance organizations face against new ideas - resistance that arises from stubborn yet creative individuals. Roberto challenges business visionaries by teaching us how to break barriers to spark creativity and foster new ideas. He expresses how important it is for leaders to open the path for creative and curious employees. Because it is not a leader's job to conceive innovative ideas, but it is their job to foster the opportunity for creative thinking. He allows organization leaders to realize four key points that aid organizations in removing obstacles in the creative process.
Unlocking Creativity will teach your company how to harness the power of their employees' artistic minds. From Roberto, you'll learn that enterprise-wide mindsets stifle creativity on a daily basis, but you have the ability to recognize the habits that might be preventing creativity from sparking. His colorful examples will guide you and his abundant researched evidence will be startling. You will finally discover the insight you need to make your company thrive.
---
This post was written by Joelle Shusterman, the Marketing Intern at Bookpal. She is currently reading Work-From-Home Hacks by Aja Frost.