Posted by Sophie Butler on Oct 19, 2023
Unwrap Success: Book Ideas to Gift Your Corporate Clients
The holiday season is upon us, and it's time to put on our festive sweaters and spread the holiday cheer. And while you're getting in the festive mood can you guess which simple gesture you can do this holiday season to help retain clients, build relationships, increase engagement, strengthen brand loyalty, and give you a competitive edge? Client gifts! Because your clients deserve a big thank you for all they've done for you and your organization this past year.
But hold on! Before you dive into the sea of cliché corporate holiday gifts, let us suggest a gift idea that actually has a long-lasting impact: a thoughtful, handpicked book. Because while delicious treats are perishable and gift baskets lack a personal touch, books are ever-lasting and make more of an impact than any coffee mug could.
Books add that personal touch when you tailor your choice to your clients' interests and preferences and demonstrates that you have taken the time to get to know them on a personal level. It's also a conversation starter about new ideas they learn or exciting new stories they read. You can inspire, motivate, promote relaxation, entertain, create laughter, and so much more simply by picking the perfect book.

Let's ditch the boring go-to corporate gifts for clients and instead give a gift that transcends materialistic items. Our book experts handpicked a few titles across our most popular client gift categories to point you in the right direction. Whether you are looking for a gift to impress or to stay on budget, read on to share an inspiring story with a memoir, enjoy a fresh perspective with a new release, or explore something (or somewhere) new with a travel or cookbook.
Share an Inspiring Story
Imagine handing your clients a backstage pass to the most fascinating stories ever told. Their own personal VIP passes to the lives of extraordinary business moguls or respected public figures. That's the magic of memoirs and biographies!
These captivating books aren't just gifts, their guided journeys through the inspiring lives of visionaries, explorers, and pioneers. Motivate and inspire your clients or colleagues in their personal and professional lives by checking out these memoirs/ biographies that make the perfect gift.
Gifts to Impress:
1. Elon Musk by Walter Isaacson
Elon Musk is one of the most recognizable names today. Now you can discover the extraordinary journey of Elon Musk, from the scars of childhood to the cusp of galactic triumphs.
For two years, Isaacson shadowed Musk, attended his meetings, walked his factories with him, and spent hours interviewing him, his family, friends, coworkers, and adversaries. The result is the revealing inside story, filled with amazing tales of triumphs and turmoil, that addresses the question: are the demons that drive Musk also what it takes to drive innovation and progress?
In a world where women of all backgrounds and talents walk diverse paths, there lies an untold tapestry of resilience, courage, and sheer tenacity. From gifted artists and musicians to trailblazing entrepreneurs and authors, this book gathers the stories of women and illuminates the raw and authentic spectrum of human experience, proving that real life, with all its complexities, is where true strength shines.
Explore the depths of your own strength, celebrate your uniqueness, and boldly embark on the journey toward the life you've always desired with this powerful read.
Budget-Friendly:

Have you ever asked yourself if you can turn a bobby pin into a house? This is the question Demi Skipper set out to answer in May 2020, when she posted an ordinary bobby pin to trade on Facebook Marketplace. She had two rules: no trading with anyone she knew, and no spending her own money on trades. Twenty months and 28 trades later, she completed the final trade and took possession of a house.
From the crushing disappointments to the surprising successes, Demi shares the behind-the-scenes stories of her first successful trading project and the life lessons she's applying as she starts the process again in this fun
From humble beginnings as a schoolgirl and young violinist in Maywood, Illinois, Sheila Johnson rose to become one of the most accomplished businesswomen in America. A cofounder of Black Entertainment Television, she became an entrepreneur and philanthropist at the highest levels.
Filled with sharply drawn, emotionally powerful scenes, Walk Through Fire is a uniquely American success story. And it is the deeply personal portrait of one woman who, despite heartache and obstacles, finally found herself and her place in the world.
Enjoy a Fresh Perspective
Bring the wow factor to your corporate holiday gifts by kickstarting creativity, sparking innovation, and setting the stage for success with a groundbreaking new release.
From learning the secret to achieve greatness to exploring how creativity can impact your daily lives, these fresh new perspectives are all the buzz right now in the publishing industry. Why settle for ordinary when you can gift extraordinary with these big idea bestsellers.
Gifts to Impress: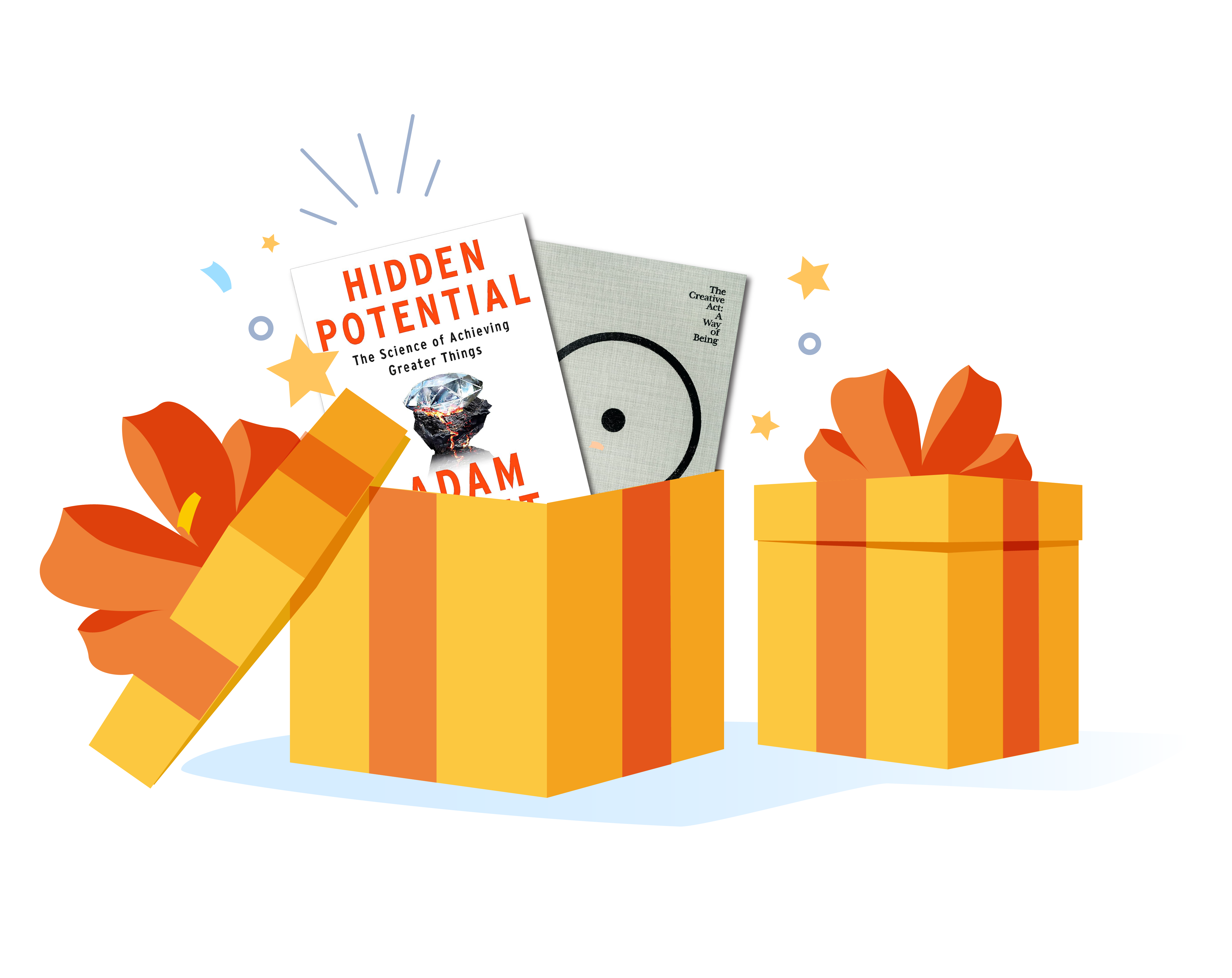 Creativity has a place in everyone's life, and everyone can make that place larger. In fact, there are few more important responsibilities.
The Creative Act is a beautiful and generous course of study that illuminates the path of the artist as a road we all can follow. It distills the wisdom gleaned from a lifetime's work into a luminous reading experience that puts the power to create moments—and lifetimes—of exhilaration and transcendence within closer reach for all of us.
We live in a world that's obsessed with talent. But admiring people who start out with innate advantages leads us to overlook the distance we ourselves can travel.
Hidden Potential offers a new framework for raising aspirations and exceeding expectations. This book reveals how anyone can rise to achieve greater things. The true measure of your potential is not the height of the peak you've reached, but how far you've climbed to get there.
Budget-Friendly: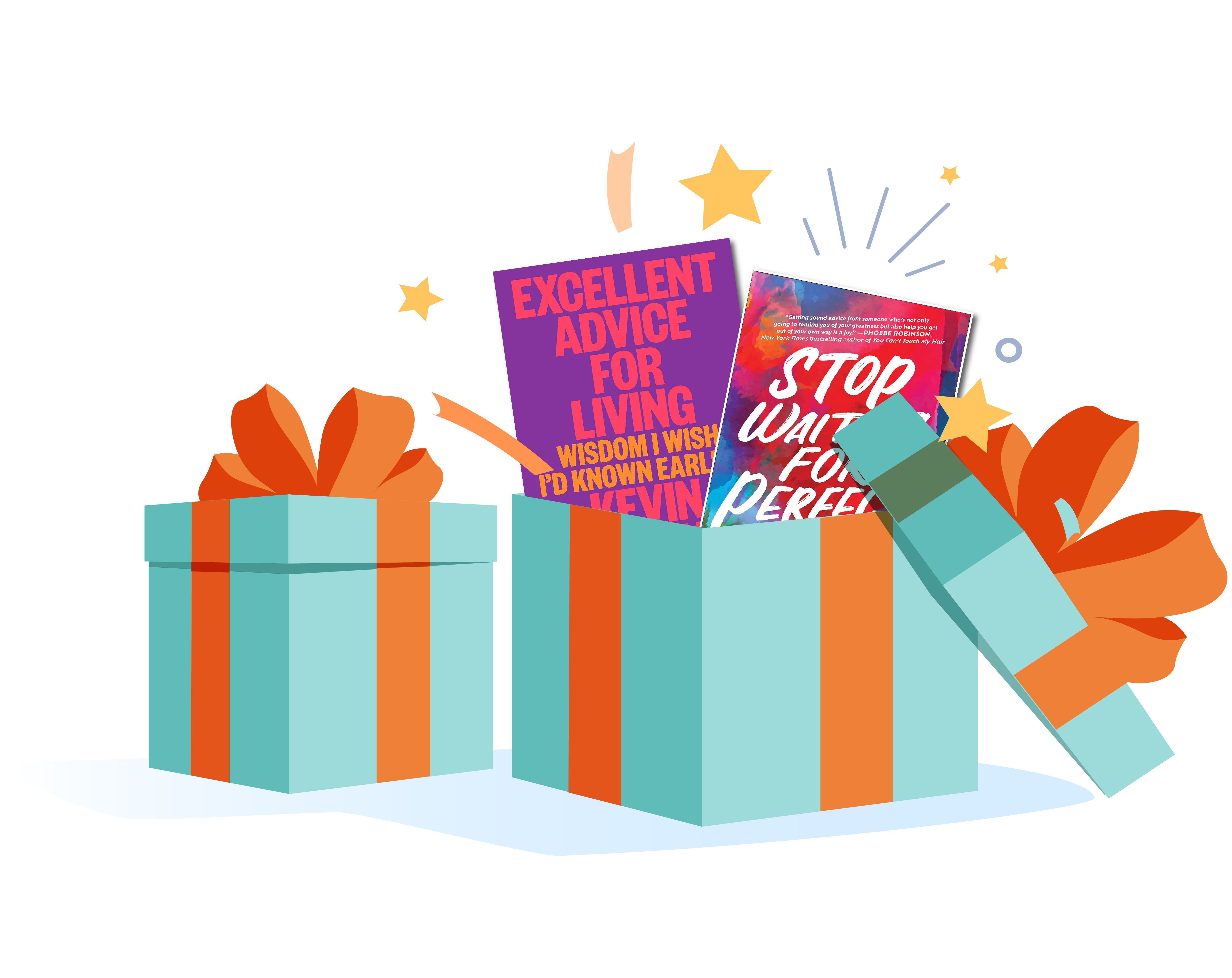 On his 68th birthday, Kevin Kelly began to write down for his young adult children some things he had learned about life that he wished he had known earlier. To his surprise, Kelly had more to say than he thought, and kept adding to the advice over the years, compiling a life's wisdom into these pages.
Kelly's timeless advice covers an astonishing range, from right living to setting ambitious goals, optimizing generosity, and cultivating compassion. This is the perfect book for anyone seeking to navigate life with grace and creativity.
Award-winning journalist, motivational speaker, and blogger L'Oreal Thompson Payton is a self-professed success junkie and poster girl for "overly" ambitious high achievers everywhere. She's penned the pocket-sized pep talk to walk with you through any obstacle in your career or personal life.
This book will force you to stop playing small and encourage you to fully step into your power and walk in your purpose. It will awaken the dreams you buried deep within your soul long ago because you thought they were impossible, unattainable—available to other people, but not you. Until now.
Explore Something (or Somewhere) New
Ignite wanderlust and whisk your clients on a mouthwatering adventure around the world with travel and cookbooks perfect for this holiday season. These specialty topic books spice up your corporate gifting game and inspire not just meals, but memories for your clients.
Gifts to Impress: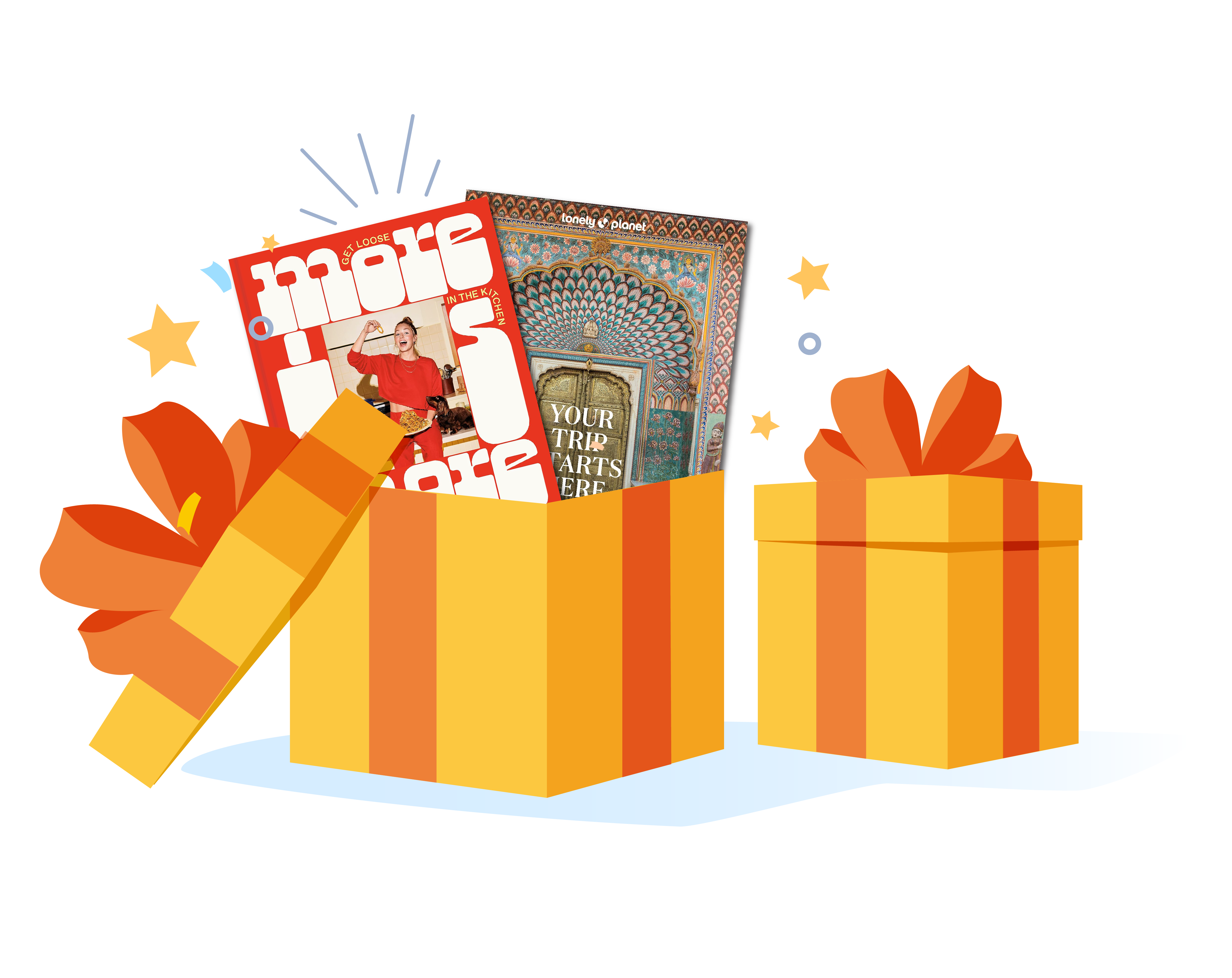 It's time to crank up the heat and lose the measuring spoons because the secret to cooking is hiding in one simple motto: MORE IS MORE. Molly Baz is teaching cooks how to level up their cooking, loosen up in front of that ripping hot pan, and seek deliciousness at all costs.
With intoxicatingly delicious recipes, vivid photographs, and Molly's one-of-a-kind playful guidance and whimsy, More Is More will inspire cooks to embrace a fearless mindset to level up their cooking—for life.
Embark on over 50 of the world's most life-affirming journeys and nurture your path to self-discovery. Packed with beautiful photography and inspiring first-person insights for each trip this gorgeous book is a must read.
Your Trip Starts Here is the ultimate travel book for anyone longing to immerse themselves in a different culture, grow as a person or reflect and reset their focus. Gift this collection of journeys to the explorer in your life who wishes to travel with purpose or inspire your own adventure using this unique guide.
Budget-Friendly:
11. Raising the Bar by Brett Adams and Jacob Grier
If you've ever dreamed of concocting fantastic cocktails at home without the hassle of esoteric bottles of liquor, complicated syrups, and obscure sodas then this book is for you! Raising the Bar takes readers through the home bar bottle by bottle, ensuring that every ingredient is versatile enough to be used to the last drop.
With beautiful graphics and a smart focus on what's already in stock, it's what home mixologists can turn to when they want creative and delightful drinks without a bar cart full of single-use bottles. Get ready to raise your clients spirits with this fun book.
Grab your tickets, pack your bags, and get ready to embark on a journey that'll awaken your inner explorer with this fun adventure packed book. For years Patricia Schultz has been telling us where to travel, and we love listening. Now, she's telling us WHY we should travel. Whether you're planning an epic adventure or simply dreaming of your next escape, this book is your passport to the thrill of a lifetime.
We hope this gift guide sparked some inspiration to make your gifts one to remember. If you have another title in mind, connect with an account manager to get a custom quote. Happy gifting and may this holiday season be one for the books!