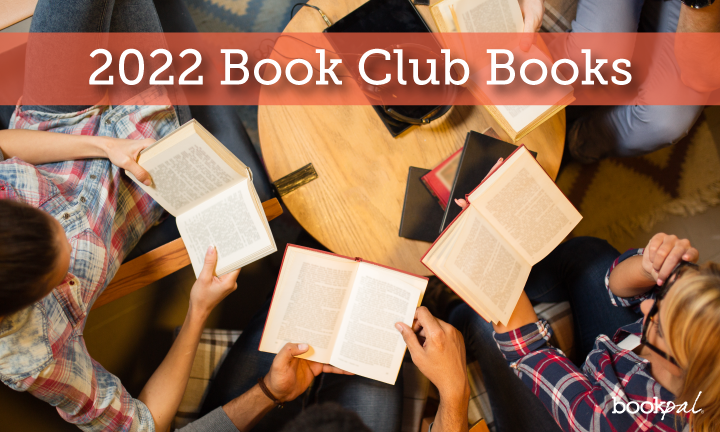 Explore new stories with the best book club books of 2022.
As we start this new year, BookPal continues to search for excellent books that not only keep us enticed but help us grow as individuals. Below, we have comprised the best book club books of 2022.
Hosting a book club is not only is a great way to socialize with your friends, it also opens up possibilities for learning new things. With each book comes an imaginative way of thinking. You may be overwhelmed by all of the authors that are out there and may have a hard time choosing the perfect book for your club. That's when we step in. BookPal has titles in categories ranging from sci-fi & thriller, and memoirs, to books featuring diverse characters and women in literature. We believe that these stories are perfect to discuss during book club meetings and get-togethers, which is why we chose them for the best book club books of 2022. Whether you are searching for the optimal book that suits your desire to traverse new worlds or just looking for some fresh inspiration, these stories would be an excellent guide for you!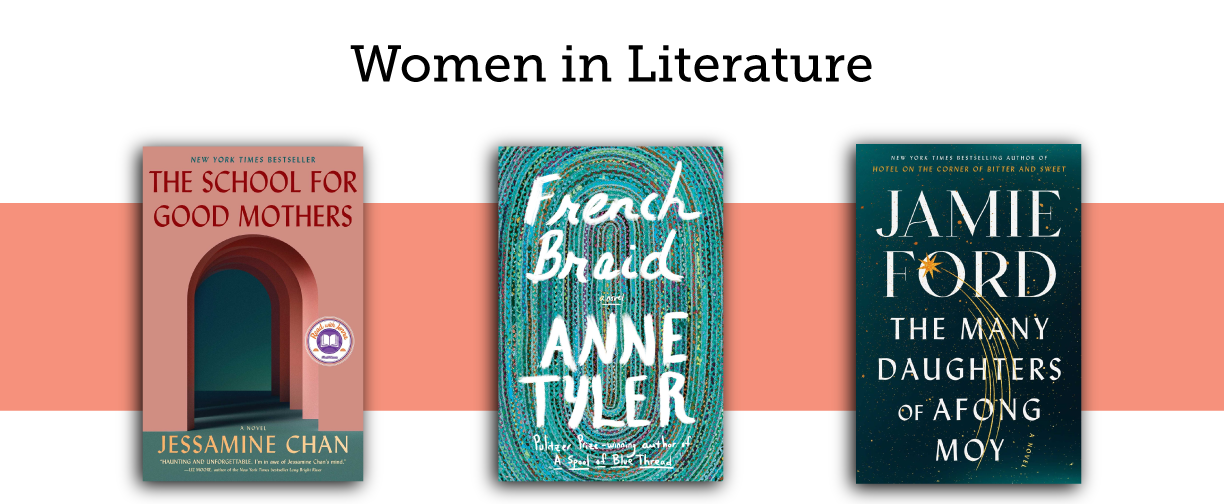 Set in the near future, young mother Frida Liu is struggling to keep custody of her child and is faced to be put in a reform program by the government. Is Frida living a life worthy of her Chinese immigrant parents' sacrifices? Frida may very well be a candidate for this Big Brother-like institution that will put her devotion as a mother to the test. One lapse in judgment may cause her to lose her daughter Harriet. Will a bad mother learn to be good?
2. French Braid by Anne Tyler
This look into a Baltimore family's foibles makes for an interesting read full of humor and heartbreak. From Pulitzer Prize-winning author and bestseller Anne Tyler comes a story about The Garretts, a family on the brink of a new journey. Mercy wants to be a painter, which means less time keeping house for her husband, Robin. Their teenage daughters struggle to relate to each other, while their youngest, David, is already ready to escape.
Through these characters, we learn how humor can shine kindness even on the darkest of days and the mystery of families still waiting to be uncovered.
3. The Many Daughters of Afong Moy by Jamie Ford
Poet Dorothy Moy channels her dissociative episodes and mental health into her art, but when her five-year-old daughter starts to exhibit some of the same qualities that she possesses, recalling events from their past ancestors, Dorothy feels like she's reliving her past trauma all over again. Dorothy seeks help and from an experimental treatment, she intimately connects with women of her past generations.
She learns that there is a stranger who loves her through each memory and endeavors to ultimately break the cycle of trauma and abandonment and find peace for her daughter and herself.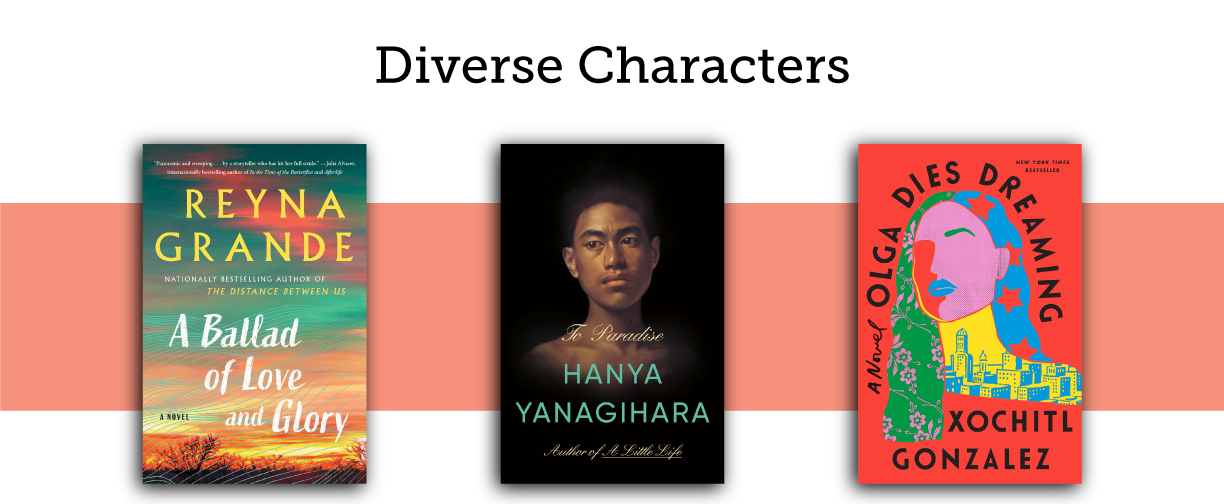 A love story set during the Mexican-American War, between a nurse and an Irish soldier, Reyna Grande tells the tale of two lovers forced to face the harshness of reality.
Ximena Salomé, who dreams of starting a family, must face the fact that her husband has been shot by the Texas Rangers who storm her ranch. Meanwhile, John Riley, who is sickened by the atrocities against his countryman by the native officers, joins the Mexican Army–a decision that may have him executed. A dangerous and riveting attraction blooms between Ximena and John who must both fight for the fate of their nation and their future. Inspired by true events, the diverse display of characterization throughout the story is unforgettable.
5. To Paradise by Hanya Yanagihara
Three worlds are bound together in this novel where the characters are each put through emotional strain that ultimately unites them through the qualities that make them human: Fear. Love. Shame. Need. Loneliness.
In an alternate version of 1893 America, a fragile scion's life is altered when he resists betrothal to a worthy suitor and is instead drawn to a music teacher of no means. In 1993 Manhattan in a world besieged by the AIDS epidemic, a young Hawaiian man living with a wealthier partner hides his troubled childhood and the fate of his father. In 2093, in a world govern by totalitarian rule, an influential scientist's granddaughter searches for the answers behind her husband's disappearances. These diverse characters learn how to navigate through pain and hardship, without realizing how closely they're tied together.
6. Olga Dies Dreaming by Xochitl Gonzalez
Olga and her brother Prieto both hold popular titles among the Manhattan elites. Olga, a status-driven wedding planner, has a flourishing life, despite her self-doubt and guilt that she has disappointed her mother. Prieto on the other hand holds a powerful position as a congressman, however, he is subject to pressure and blackmail as a closeted homosexual. Behind closed doors both of their lives seem to be hanging on a thread and to make matters worse their radical mother who left them when they were children, has decided to come barreling back into their lives. Olga Dies Dreaming is a must-read full of twists and unlikely turns with a diverse set of characters that help push the reader forward into uncharted territories.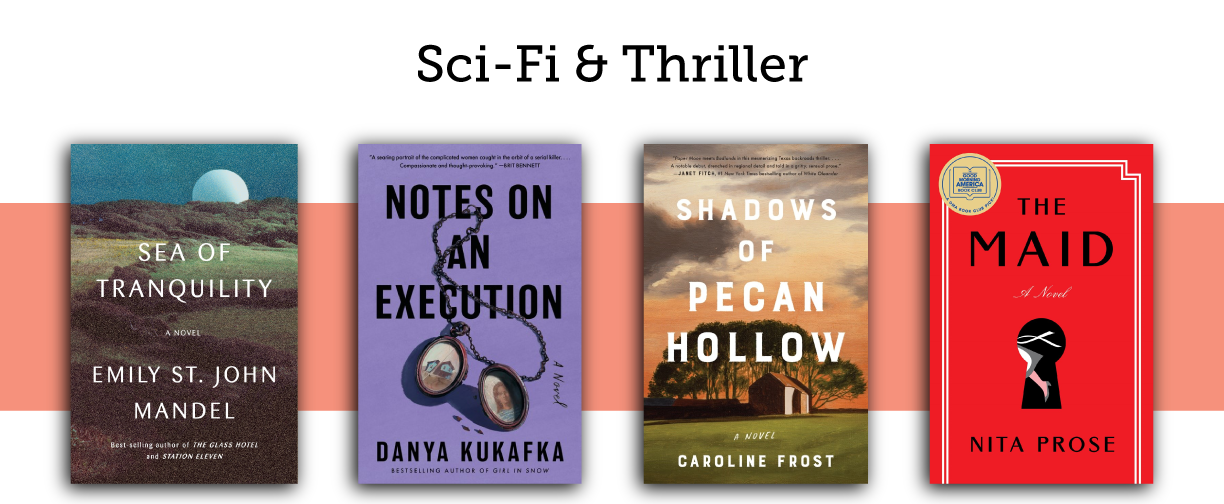 Entering the Canadian wilderness spellbound by its beauty, Edwin St. Andrew becomes witness to an experience that shocks him to the core–the notes of a violin echoing in an airship terminal. Two centuries later this phenomenon is experienced again, but through the famous writer named Olive Llewellyn, whose home is the second moon colony. Detective Gaspery-Jacques Roberts investigates an anomaly in the wilderness and discovers a chance to do something extraordinary that will disrupt the timeline of the universe. Sea of Tranquility ties together time itself and captures reality in an entirely new way, which is what makes this novel so gripping.
8. Notes on an Execution by Danya Kukafka
Scheduled to be executed, Serial killer Ansel Packer will be punished for his crimes. However, through the lives of women, we learn about Ansel's background that paints a disturbing portrait in the minds of it's readers–The desperation of a seventeen-year-old mother, and a detective that struggles to see her own life clearly. By unraveling the secrets behind an American serial killer, and the world's own cultural obsession with crime stories, Notes on an Execution reveals the destruction behind the violent man's psyche.
9. Shadows of Pecan Hollow by Caroline Frost
In 1970, vulnerable thirteen-year-old Kit was abducted by Manny Romero and turned to a criminal lifestyle to survive. At that time she was Manny's partner-in-crime, and they were known as the Texaco Twosome. Now, twenty years later, Kit has made a new life for herself and her daughter. But when Manny shows up at her doorstep declaring he's a changed man after prison, Kit's dark past comes back and her community becomes overshadowed.
10. The Maid by Nita Prose
Molly's Gran was her interpreter of the world, and gave her granddaughter a code to live by, but since she died Molly has to figure out life all on her own. Molly's obsessive love for cleaning makes her the perfect fit for being a maid, so that was what she chose to do. But when the infamous and wealthy Charles Black books his stay for the Regency hotel and Molly finds him dead in his suite, the maid is easily targeted as the killer. Unlikely friends unite with Molly to search for clues to prove her innocence, but will they be able to find the real killer before it is too late?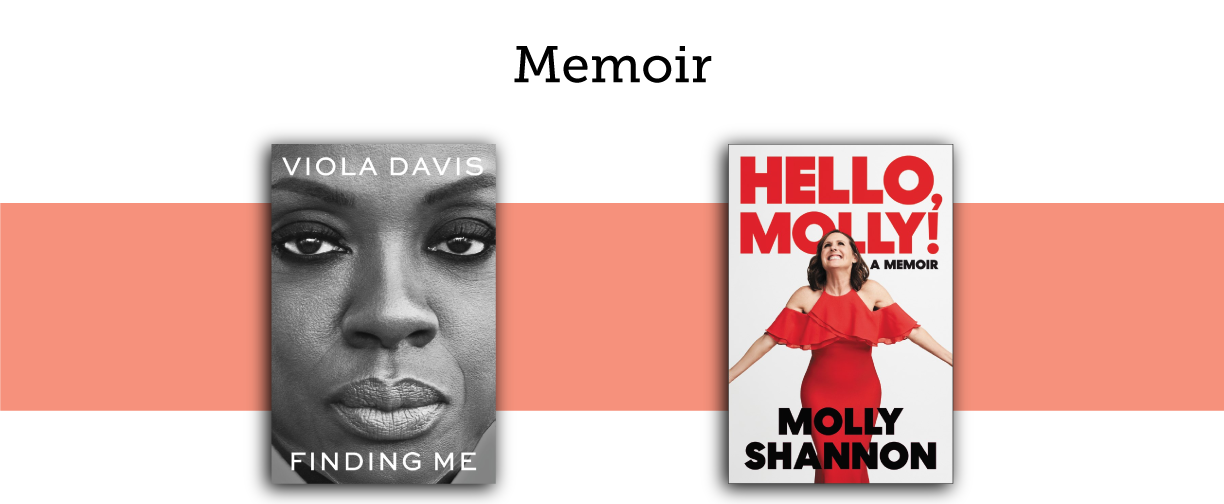 11. Finding Me by Viola Davis
Viola shares her life story and how she ultimately sheds her past self to become who she is. From a crumbling apartment in Central Falls, Rhode island to the stage in New York City, Viola finds a path with purpose and learns how to find her voice. Through this book you will learn how to let go of shame and find acceptance, overcome the facades of a past you, and become inspired on how to light up your own life.
12. Hello Molly! by Molly Shannon
This memoir about Molly Shannon, Saturday Night Live personality and actress, isn't just full of laughs and celebrations, but it also displays extreme vulnerability. Reflecting on her past, Molly shares her unconventional childhood and struggles in Los Angeles. She also shares how her life was forever changed when her mother, baby sister, and cousin lost their lives in a car accident with her father at the wheel when she was just four years old. At the same time, Molly's story is told wittily and explores humor in a way that heals the heart and sheds new light on the actress's free-spirited personality.

---
This post was written by Joelle Shusterman, the Marketing Intern at BookPal. She is currently reading Cloud Cuckoo Land by Anthony Doerr.
Recent Posts
World Autism Awareness month is all about kindness and encouraging acceptance! Take some time this A …

Two, four, six, eight… Who do we appreciate? TEACHERS!Teacher appreciation day is coming up in early …

Whether it's for employee onboarding, employee appreciation gifts, development and training programs …