For years, mentoring in the workplace has been proven to be one of the most influential and mutually beneficial workplace relationships. More employees than ever before are looking for a mentor, and more organizations are looking to implement learning and development initiatives. 71% of Fortune 500 companies are already implementing mentoring programs, showing that organizations are seeing the mutual benefits of these relationships. Countless studies have already shown that mentoring can increase employee retention, increase job satisfaction, and encourage personal development. Mentoring in the workplace is an invaluable resource that allows employees to feel that they are doing meaningful work that not only results in professional development but also personal growth.
Now that we've established that mentorship in the workplace is an invaluable resource, you may be wondering how to get started.
Here are our top 8 book recommendations on mentoring in the workplace to make you a better coach and mentor to your employees.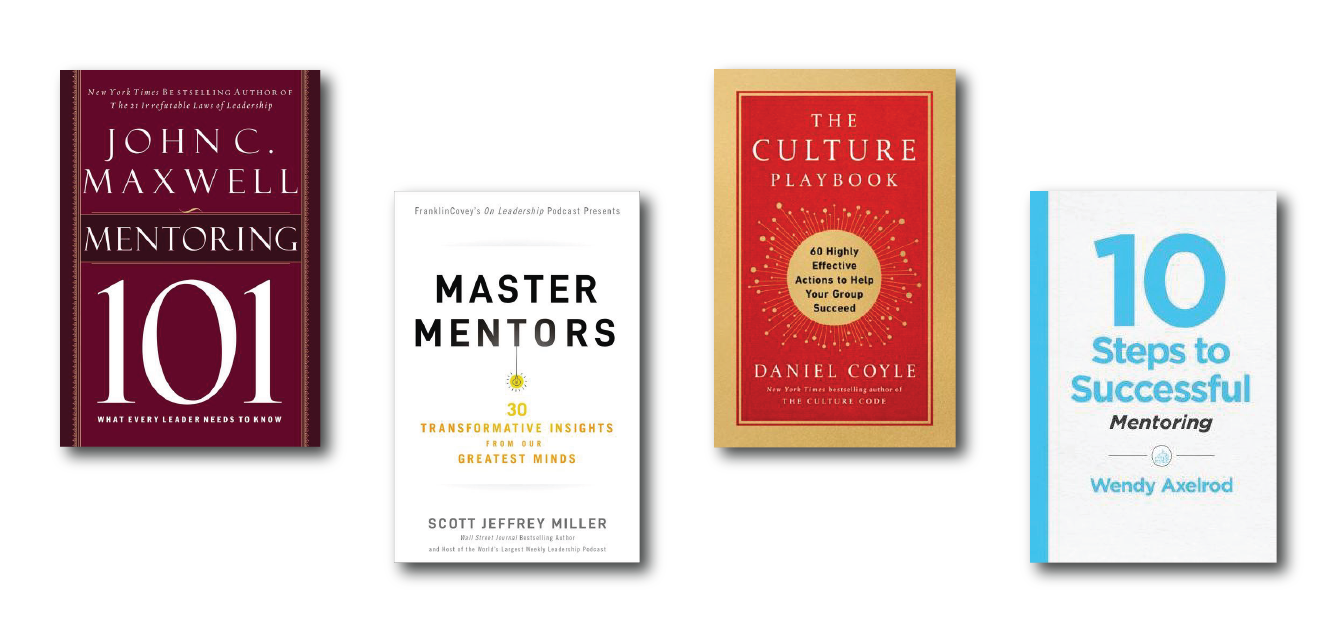 1. Mentoring 101: What Every Leader Needs to Know by John C Maxwell
If you are looking for the right place to start, this is it. John C Maxwell does a great job at laying the foundation for mentoring- what it is, why you should do it, and how you can do it most effectively.
Maxwell covers important topics throughout this engaging reference book explaining how to choose the right mentor, how to create the right environment for mentors to thrive and grow in, how to help people become better, and how to get started. He focuses on essential and time-tested qualities necessary to develop mentoring relationships that make a difference in the lives of your colleagues and your business.
2. Master Mentors: 30 Transformative Insights from Our Greatest Minds by Scott Jeffrey Miller
The author of this bestseller, Scott Miller, pulls key takeaways from 30 of the most powerful interviews conducted on his podcast. His podcast, On Leadership with Scott Miller, interviews the leading thinkers of our time, such as Seth Godin and Kim Scott, to share the most transformative insights from each of them.
Miller shares the key learning that made the greatest impact on his life and career, describes how he currently uses it and the impact it continues to have on him, and then gives readers simple steps to implement it in their own lives. Master Mentors will: challenge your current mindset and beliefs, leading to what could be the most important career and thought- process shifts of your life! It guarantees you will experience a transformative shift in your personal mindset, life skill set, and career toolset.
3. The Culture Playbook: 60 Highly Effective Actions to Help Your Group Succeed by Daniel Coyle
This new release is the ultimate guide for fostering and cultivating strong team culture. Daniel Coyle has spent time with elite teams around the world, studying the ways they support each other, manage conflict, and move toward a common goal and he shares his findings in this comprehensive handbook.
Coyle shows that safety, vulnerability, and purpose are the three essential skills that build great team culture. Within this framework, he shows us how we can better serve our teammates, ourselves, and our shared purpose. With practical tips that will prove to be invaluable to companies, The Culture Playbook is a must read to ensure your team performs at its best.
4. 10 Steps to Successful Mentoring by Wendy Axelrod
Whether mentoring is a calling or a choice, you're new to it or a seasoned veteran, or you're in a formal program of your own, 10 Steps to Successful Mentoring is the resource you'll return to again and again. Drawing on more than 20 years of experience with mentors, Wendy Axelrod delves into proven approaches to use in your workplace.

Axelrod covers topics such as understanding mentees, mentoring techniques, building relationships, and more. You will be able to become the best possible mentor, and deliver memorable experiences to your mentees and create a lasting legacy through this book.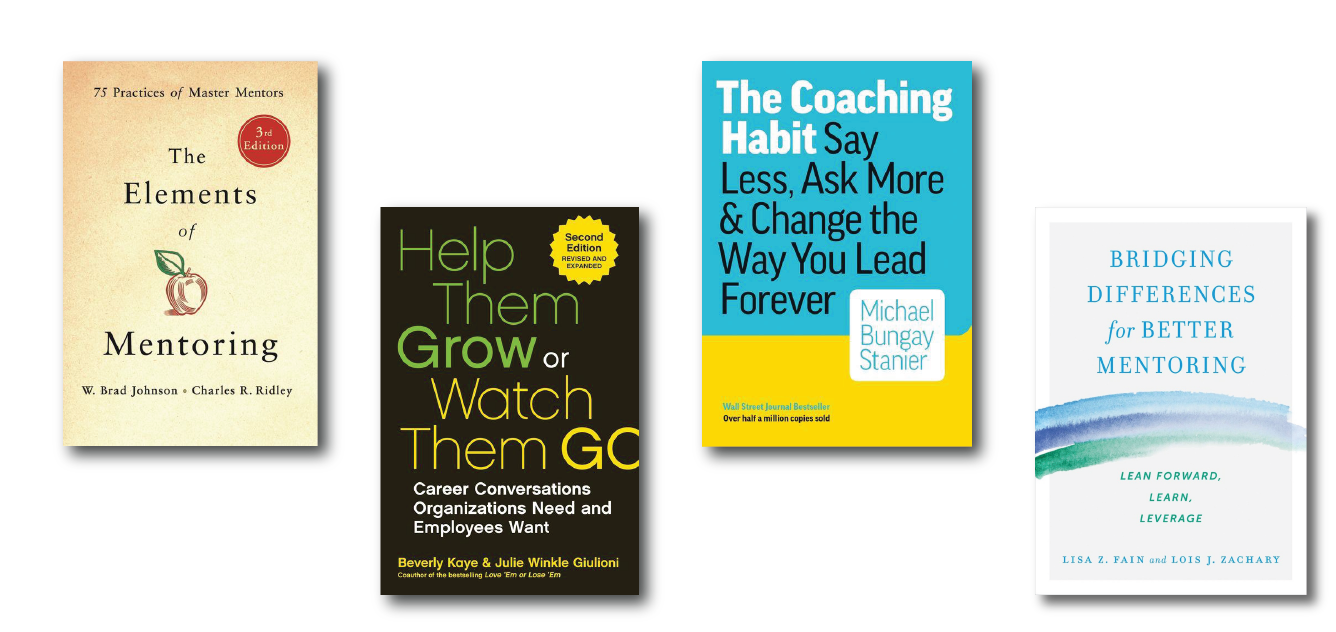 5. The Elements of Mentoring: 75 Practices of Master Mentors by W. Brad Johnson and Charles R. Ridley
This comprehensive, easily laid out guide is a must-have for any mentors or individuals looking to get into mentoring. W. Brad Johnson and Charles R. Ridley look into existing research on mentoring and pull the top 75 truths from master mentors that you can implement into your workplace.

Throughout this guide they cover what excellent mentors do, what makes an excellent mentor, how to set up a successful mentor-mentee relationship, how to work through problems that develop between mentoring pairs, how to mentor with cultural humility and in diverse mentorships, and what it means to mentor with integrity. This concise approach shows the value in helping to create success for individuals committed to helping others achieve more.
6. Help Them Grow or Watch Them Go: Career Conversations Organizations Need and Employees Want by Beverly Kaye and Julie Winkle Giulioni
If you are looking on how to get started one conversation at a time, Help Them Grow or Watch Them Go lays out the best ways for driving employee retention, engagement, productivity, and results by starting with frequent, short conversations with employees. These conversations about themselves, their goals, and the business can be seamlessly integrated into the normal course of business.

Beverly Kaye and Julie Winkle Giulioni focus on three types of conversations with employees that will ultimately help them become more aware of their strengths, weaknesses, and interests; point out where their organization and their industry are headed; and help them pull all of that together to create forward momentum. This easy to implement book proves that careers are best developed one conversation at a time.
7. The Coaching Habit: Say Less, Ask More & Change the Way You Lead Forever by Michael Bungay Stanier
The Coaching Habit shows how effective coaching and mentoring should be an essential skill for leaders. In this inspiring book, Michael Stanier shares seven transformative questions to demonstrate how- by saying less and asking more- you can develop coaching methods that produce great results.

Stanier introduces an innovative take on the traditional how-to manual by giving you the insider information with research based in neuroscience and behavioral economics combined with easy to implement training tools. He shows how coaching can become a regular, informal part of your day so managers and their teams can have more of an impact.
8. Bridging Differences for Better Mentoring: Lean Forward, Learn, Leverage by Lisa Z. Fain and Lois J. Zachary
This comprehensive guide helps mentors and mentees bridge the gap between and among cultures in the workplace leading to meaningful relationships. Lisa Fain and Lois Zachary put an emphasis on the power of mentoring and its ability to not only create these meaningful relationships, but also further professional development and increase engagement and retention within your organization.

Bridging Differences for Better Mentoring offers an array of accessible tools and strategies designed to help you increase your self-awareness and prepare you to embrace and leverage differences in your mentoring relationships. This evidence-based, practical guide helps mentors develop the level of cultural competency needed to bridge differences while putting an emphasis on authenticity. The ultimate purpose of this book is to help the mentor and mentee make a genuine connection and learn from each other.

This post was written by Sophie Butler, the Marketing Associate at BookPal. She is currently reading The Cost of Knowing by Brittney Morris.
Recent Posts
Must-reads for middle grade students In the world of reading, there are countless bo …

Gift your employees these 7 motivational books. One of the largest concerns for any business is ho …

12 captivating mystery books for fifth graders Many students are drawn to the myster …