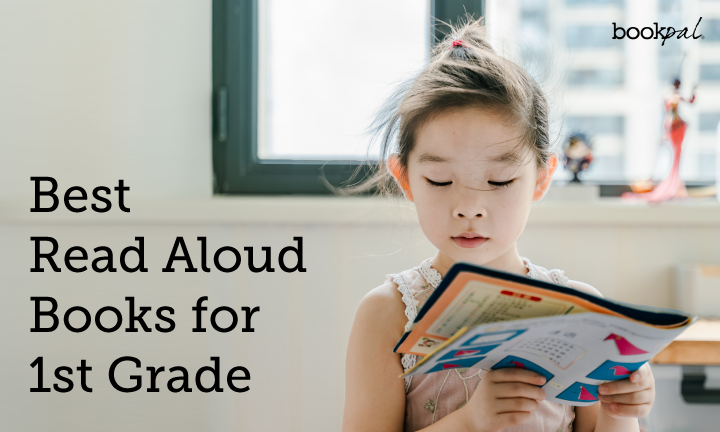 Inspire your first grade students with these read aloud books.
If you are looking for some new books to share with your first graders, look no further than these 12 best read alouds. These coming of age, classic, and realistic fiction stories will captivate your class and give them a chance to be entertained by the storyteller's voice.
Read-alouds are important because they allow students to develop their listening skills as well as learn vocabulary words that are difficult for them but important in the elementary classroom. They also promote discussion opportunities through the book's characters or plot elements that relate back to life in school or relate back to their lives outside of school.
The best way to decide what read-aloud books are right for your group of students is to figure out their reading levels, interests, and abilities. Then choose books that are at or just above their reading level, because this will help them better understand the story and connect it to the other types of literature they encounter in class.
For first graders especially, read-alouds should be filled with action and should be somewhat suspenseful. They like to be amused and should like the variety that comes with short chapter books as opposed to longer beginning reader books.
These stories should also present characters who students can relate to; those with personalities similar to those of students.
So without further ado, here are the top 12 read-aloud books that we chose keeping all the above-mentioned factors in mind: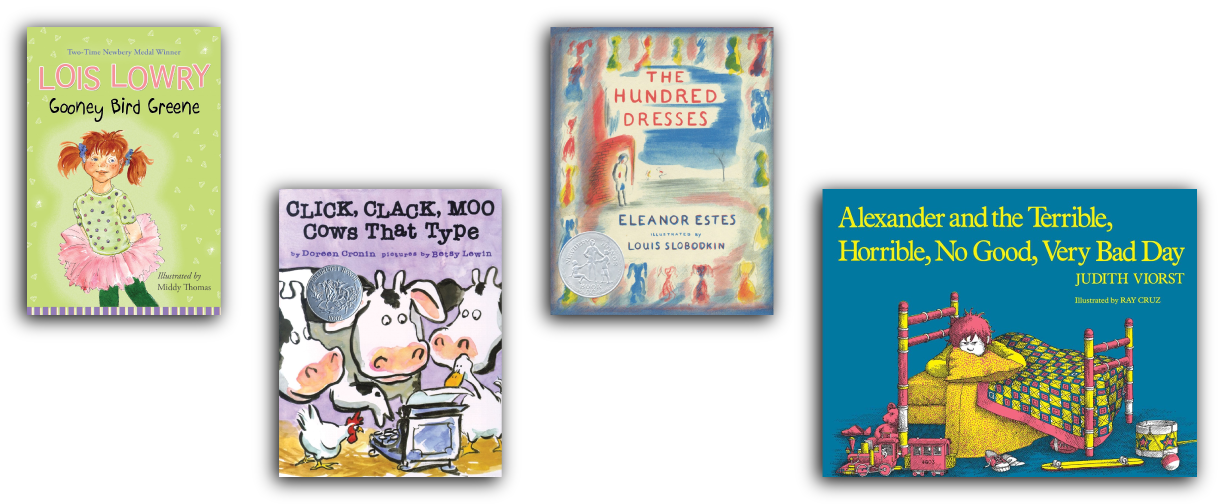 1. Gooney Bird Greene by Lois Lowry
Gooney Bird Greene is the first book of a series of children's novels by Lois Lowry about a second-grade girl and her storytelling abilities. She loves being the center of attention and tells the most entertaining stories which she claims are ''absolutely true''. Gooney Bird has to be at the heart of everything that happens and even sits smack in the middle of the class! Her stories are quite enrapturing and keeps the teacher and students on the edge of their seats. But what about her other classmates? Can they match her storytelling ability? Find out in this heartwarming story.
2. Click, Clack, Moo: Cows that Type by Doreen Cronin & Betsy Lewin
One of the loveliest children book series, the Click Clack books have been widely admired by readers around the globe. This favorite book has many interesting characters which leave a lasting emotional imprint on readers. Click Clack Moo: Cows that Type, as the name suggests, is a story about cows who like to type all day long. Farmer Brown hears click, clack, moo as the cows type in between their moos.
But Farmer Brown's problems really begin when the cows start leaving him notes. This tale will have the young ones in laughter as the literate and quite intelligent cows turn the farm upside down! The book is a perfect nexus between themes of creative thinking, communication and perspective. It really opens up the minds of the readers to these themes.
3. The Hundred Dresses by Eleanor Estes & Louis Slobodkin
This book is about a young Polish girl, Wanda Petronski, who is bullied at school for being different in an American town. She is ridiculed by her classmates for wearing the same faded blue dress every day. She tells her classmates that even though she wears the same dress every day, she has a hundred dresses at home. The entire class knows she doesn't but the bullying does not stop until one day, Wanda is pulled out of school.
A beautifully written book about empathy, kindness, and the lasting imprint of bullying, this is a must read for first-graders to open their hearts and minds to the vices of bullying and being silent observers of injustice.
4. Alexander and the Terrible, Horrible, No Good, Very Bad Day by Judith Viorst & Ray Cruz
Alexander's day is full of misadventures. He knew from the moment he woke up that he was going to have a bad day since he woke up with gum in his hair. And it steadily got worse, his best friend deserted him and there was no dessert for lunch! Nothing seems to be going right for Alexander. What would you do on a day like that? This popular book imparts an important lesson that we all have bad days and they make life even more spectacular.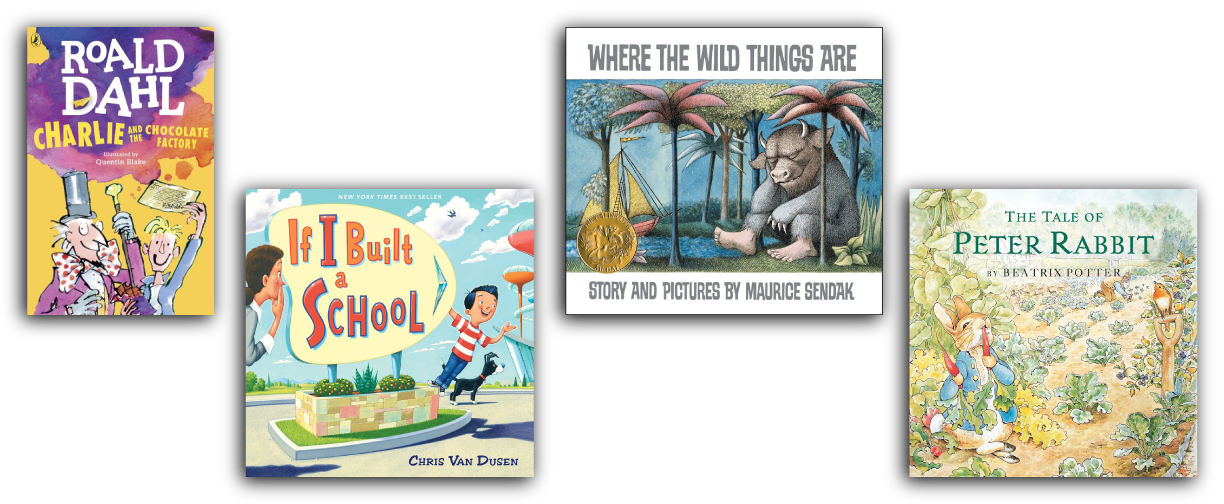 5. Charlie and the Chocolate Factory by Roald Dahl & Quentin Blake
A household name all over the globe for the past many decades, Charlie and the Chocolate Factory by Road Dahl is a fantasy story which has won hearts of millions of readers over the world. An absolute must-read for first graders, the plot revolves around Charlie Bucket and his adventures inside the factory of the eccentric chocolatier, Willy Wonka. The story has a charming and engaging plot, with twists and turns at every step of the tale. First grade students will thoroughly enjoy the escapades of Charlie Bucket in this power-packed story.
6. If I Built a School by Chris Van Dusen
We all have been prisoners to our dreams and fantasies, and there is nothing wrong with that as long as it's achievable. In this story, a boy fantasizes about building his dream school. In his mind, he chalks out the perfect plan—from the classroom to cafeteria to the playground. This exuberant read-aloud will win the hearts of the readers with its carefully crafted and rhyming poetry. Start the school year off right with this fun tale that will get students imagining their own perfect school.
7. Where the Wild Things Are by Maurice Sendak
Where the Wild Things Are by Maurice Sendak is a children's picture book published many decades ago but remains a favorite still today. The story itself focuses on Max and his antics coupled with the trials and tribulations that follow. When Max dresses up in a wolf suit and wreaks havoc in the house, his mom sends him to bed. From there, Max sets sail on a journey filled with unique creatures in a far away world. The perfect blend of creativity and fantasy, Where the Wild Things Are is widely acclaimed for the beautiful and innumerable shades of the story.
8. The Tale of Peter Rabbit by Beatrix Potter
A humorous and fun story about the mischievous Peter Rabbit, this tale is sure to have the children curling up with laughter while enjoying the tactfully crafted tale. Peter Rabbit is a disobedient young rabbit who gets chased around Mr. McGregor's garden for his mischievous antics. Peter manages to escape and comes home to his mother, who makes him chamomile tea and puts him to bed. This fantasy fiction has been a hit with children for over a century.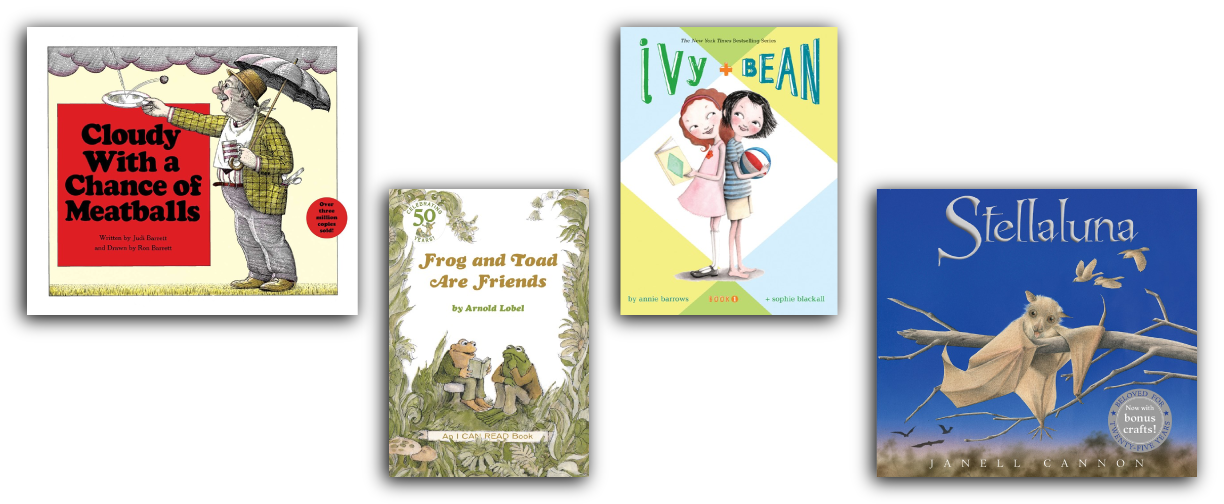 9. Cloudy with a Chance of Meatballs by Judi Barrett & Ron Barrett
Another one of those fantasy stories with a creative spin, Cloudy with a Chance of Meatballs by Judi Barrett & Ron Barrett is one of the best children's books that has engaging text and expressive illustrations. The story is about a magical town with unusual weather patterns and covers the interactions between humans and weather elements.
The tale is set in the town of Chewandswallow and is like any other town, except for its weather pattern which comes three times a day: breakfast, lunch, and dinner. But it never just rains, snows or blows wind. It rains things like soup and snows mashed potatoes. First graders will enjoy this classic read-aloud.
10. Frog and Toad are Friends by Arnold Lobel
Frog and Toad are Friends is a popular children's book with vibrant illustrations and a plot that pulls the young readers in. The story covers the friendship between two amphibians, Frog and Toad, who do everything together. They go swimming, tell stories, and bake cookies. The fun and power packed story combines friendship and adventure in this tale and makes it a fantastic read for first-grade students.
11. Ivy & Bean by Annie Barrows & Sophie Blackall
Ever heard of dislike at first sight? The moment you look at someone and realize you can never be friends? Ivy and Bean had a similar encounter. From the moment they saw each other, they knew they could not be friends. But things take an unexpected turn when Bean plays a joke on her sister, has to find a place to hide, and Ivy comes to the rescue. The story proves that sometimes you find a best friend in someone you disliked. This charming and addictive plot pulls you in with some much-needed humor and vibrant characters.
12. Stellaluna by Janell Cannon
This story is about a young bat, Stellaluna, who becomes separated from her mother and adopted by a family of birds with very different habits. It traces her journey back home as she is finally reunited with her family. It's a beautiful book about learning how to accept diversity and differences and developing friendships. It also imparts knowledge about bats and birds in an engaging manner.

---
This post was written by Megan Habel, the Brand Strategist at BookPal. She is currently reading Flux by April Rinne.
Recent Posts
Introducing the top fifteen books of 2021! At BookPal, we believe in the power of books to …

BookPal customers couldn't get enough of these top-selling titles. January is a great time to look …

At BookPal, we believe in the power of books to ignite continuous learning and growth. Four years …