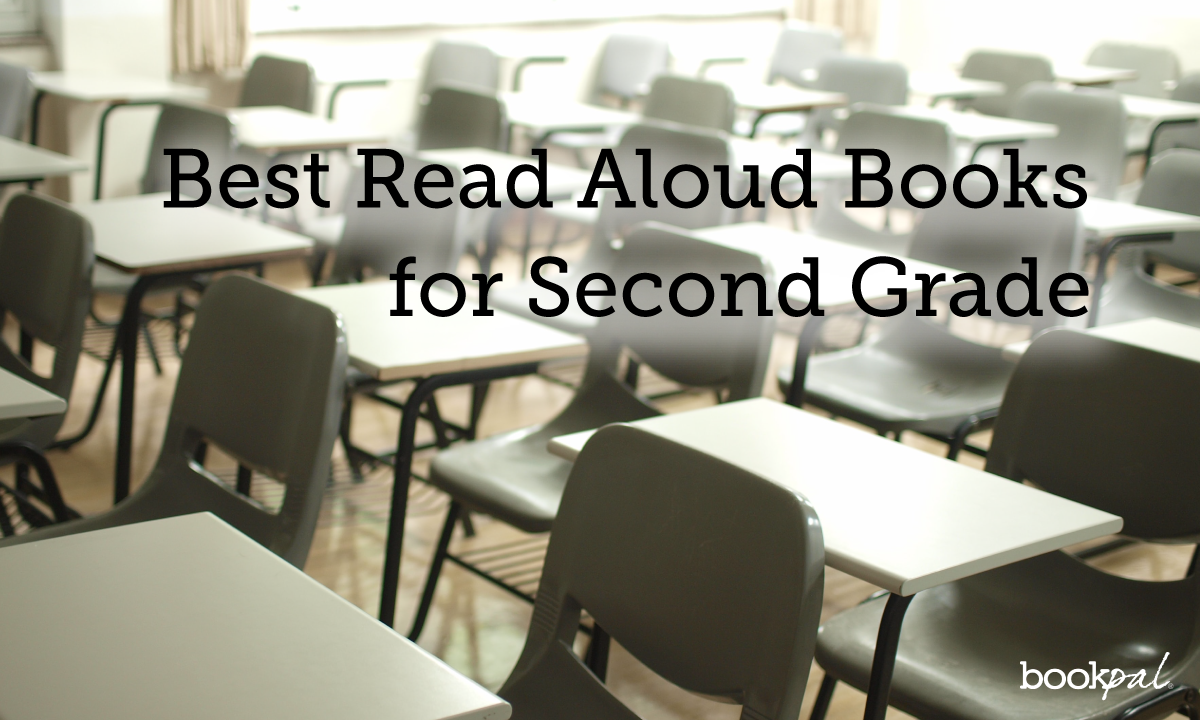 Inspire your second grade students with these read aloud books.
Second grade is a crucial time for all children. This is when children grow the most, learning new skills and developing the knowledge they need to carry them through their education and beyond. Reading aloud is a great way for your child to practice these skills and it's also a great chance for you as a parent or caregiver to bond with your child! That's why we've put together this list of the 12 best read-aloud books for second graders. These books will allow your child to develop their reading and comprehension skills, while also building their vocabulary.
We know that selecting the right book for elementary students can be tricky. Therefore, we've created a list of criteria for selecting the best read-aloud books for second graders:
Is it age-appropriate? Look at the ages of its target readers so you don't choose a picture book when your child is ready for chapter books. The next step is to see what reading level it's aimed at.
Will it complement my child's current skill level? At this age, kids are moving from learning high-frequency words to comprehension.
Is the writing style age-appropriate? Look at the text, illustrations, and design of the publication before you make your choice. If you're not sure, try reading a few pages. Did it engage your child's attention? Are they enjoying it? We suggest books that are easy to read, with fun, engaging stories for younger readers. For older readers, choose a book that is easy to understand, but also is thought-provoking to keep their attention.
Keeping all of this in mind and more, we have compiled the perfect list of the best 2nd grade read-aloud books for children.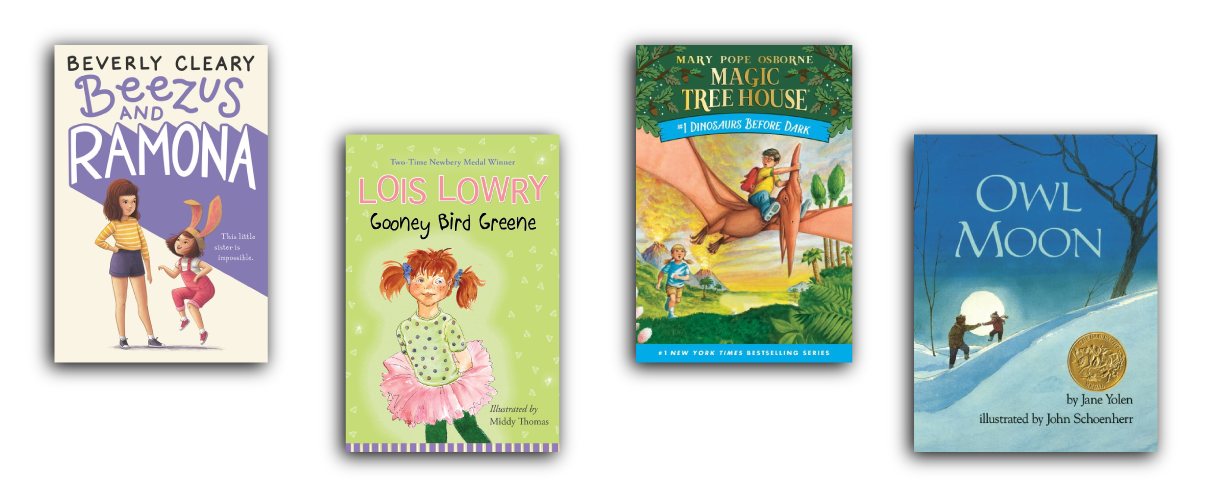 1. Beezus and Ramona by Beverly Cleary
The Ramona books are a series of 8 humorous books for children revolving around Ramona Quimby, her family, and her friends. It's not easy to have a mischievous and chaotic younger sister like Ramona. Beezus has her hands full with Ramona's unceasing antics and it's becoming increasingly difficult for her to be the responsible older sister she hopes to be. Things get especially out of hand when Ramona threatens to ruin Beezus's birthday party.
This book will allow you to laugh out loud and set the tone for a fun and power-filled school year ahead. The second graders will thoroughly enjoy this amusing story filled with humor. Ramana's quirky personality will demonstrate to children what happens when they are thrown into new situations and how to adapt.
2. Gooney Bird Greene by Lois Lowry & Middy Thomas
The perfect blend between rich text and expressive illustrations, Gooney Bird Greene is also one of the installments of a famous children's novel series by acclaimed writer Lois Lowry. Gooney Bird Greene has caught the attention of all her classmates with her unusual style and lunches. It's no wonder that when it is story time, classmates want to hear from Gooney Bird Greene.
Lucky for the classmates, Gooney Bird Greene has a knack for storytelling and tells "absolutely true" stories. But will her classmates be able to match her storytelling ability? This book will always keep its readers guessing what Gooney Bird Greene will come up with next which will inspire some new ways of thinking.
3. Dinosaurs Before Dark by Mary Pope Osborne & Sal Mudocca
A bestseller with over 25 years in the market, Dinosaurs Before Dark is a fantasy story that young readers will find bewildering. Dinosaurs Before Dark is a magical story complete with the elements of creativity and perfect poise that pulls readers in. The storyline revolves around a magical tree that transports the characters, Jack and Annie to prehistoric times.
Now they have to figure out a way home but can they do it before dark? Or will they become dinner for the dinosaurs? This book is one of the best fiction stories for children since it is imaginative and opens an entirely new world for children to explore.
4. Owl Moon by Jane Yolen & John Schoenherr
Own Moon by Jane Yolen is a children's picture book that features expressive illustrations that draw the attention of young readers. The story revolves around a father who takes his child owling on a cold winter night. During their experience, they encounter a great horned owl. The main theme of the story revolves around hope and it imparts a strong message, tying together humankind's closeness with the natural world.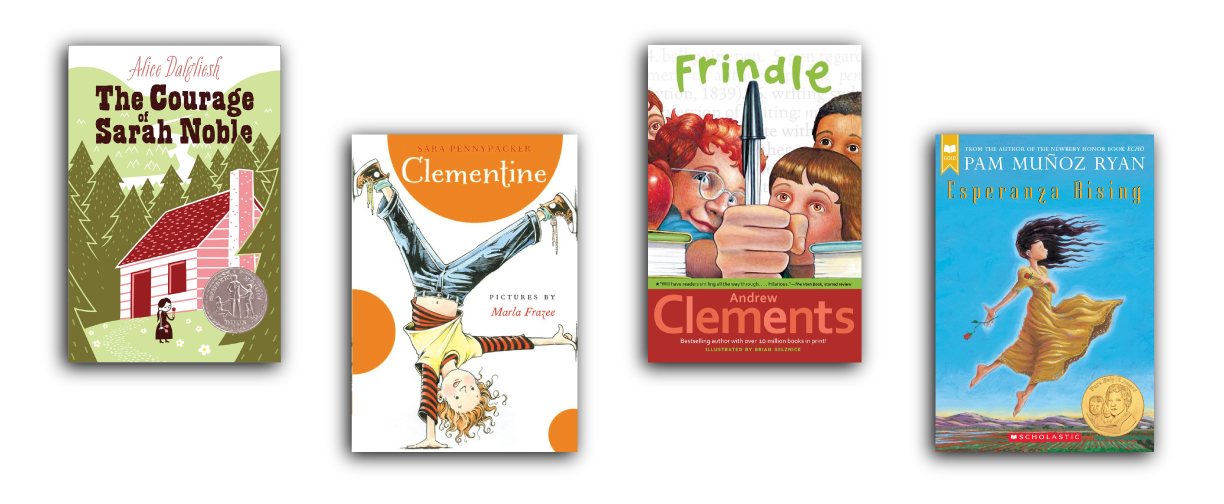 5. The Courage of Sarah Noble by Alice Dalgliesh & Leonard Weisgard
A simple and heartwarming story text coupled with beautiful illustrations has made The Courage of Sarah Noble, by Alice Dalgliesh & Leonard Weisgard, one of the best books for children. The plot is centered around a true story that readers will find inspiring. Sarah Noble was told by her mother to stay brave as they build a new home for their family in the middle of the woods.
At first, Sarah is intimidated by the forest that is mysterious, dark, and unknown to her. Throughout the story, Sarah learns how to fight against her fears and be brave. By befriending the neighbor Indians and taking care of her father she learns that the woods aren't so scary after all. The central theme is courage and can be seen through Sarah's inspirational story.
With this book, children will learn how perseverance plays an important role in this little girl's success as well as how bravery helps her succeed in life despite all of her hardships.
6. Clementine by Sara Pennypacker
Clementine is not having a good day. First, she is sent to the Principal's office for cutting off Margaret's hair. On the next day, Margaret's mother is mad at her. On Wednesday, she is sent to the Principal again. On Thursday, Margaret stops speaking to her altogether. Actually, Clementine is having a horrible week!
Children find the trials and tribulations of Clementine quite relatable as they navigate through elementary school. Also, learning from Clementine's mistakes at school allows children to be prepared for experiences throughout their own lives, which is why this book carries such importance.
7. Frindle by Andrew Clements
All of us have come across the fearless students in a class who go head to head with the teachers, unabashed. Frindle covers the story of a young man who discovers how words are created and suddenly has an epiphany. Who says a pen has to be called a pen and cannot be called a frindle? Initially, Nick's plan is innocent as he gets his friends to use the new word. Soon, the word spreads like wildfire across the school! Nick has become a local hero.
The world frindle does not belong to Nick anymore and starts spreading across the country and there is nothing Nick can do to stop it. This fun and adventurous story is an excellent read for second-grade students to explore.
8. Esperanza Rising by Pam Muñoz Ryan
Esperanza Rising is a young adult fiction book centered around the history of the Great Depression and its events. Esperanza is a young Mexican girl who dreams of a peaceful life on her ranch in Mexico with fancy dresses and servants. Tragedy strikes and Esperanza has to flee to California with her mother during the Great Depression and settle in a camp for Mexican workers.
With a set of new challenges including lack of acceptance, hard and laborious work, Esperanza must now rise to the occasion and face the challenges head-on. A tremendous story about courage, resilience, and pulling through, Esperanza Rising will hammer some important values in young readers' minds.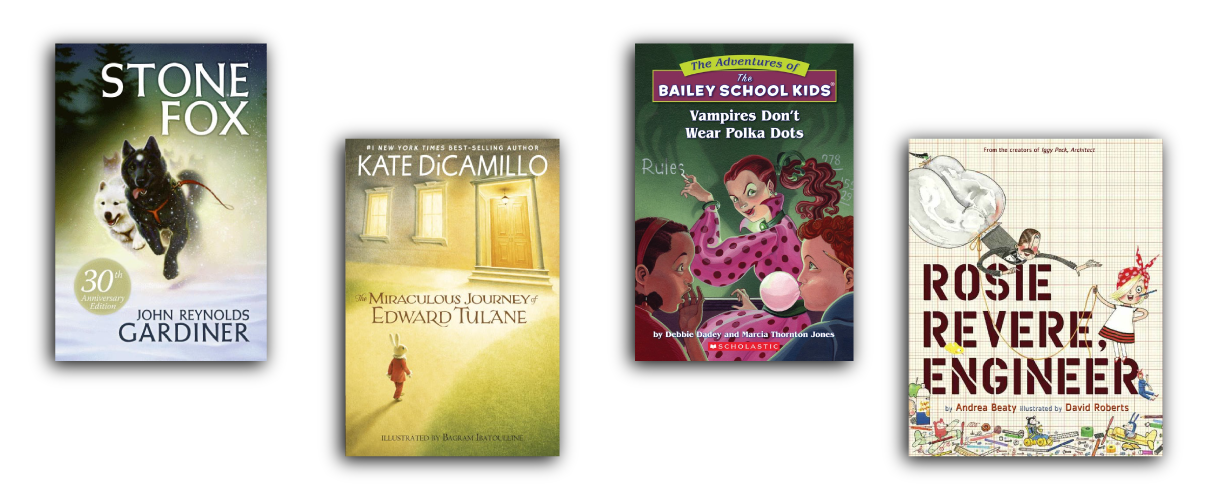 9. Stone Fox by John Reynolds Gardiner
Stone Fox tells the story of Little Willy who lives with his grandfather in Wyoming. When his grandfather falls ill and is no longer able to work at the farm, the farm faces the danger of foreclosure. Little WIlly is now determined to win the National Dogsled Race so he can achieve the prize money for his grandfather and save the farm. But little Willy and his dog face serious competition, especially from a native man, Stone Fox who never loses the race.
This heartwarming and amazing story has won the hearts of millions over the globe and will capture the attention of your child.
10. The Miraculous Journey of Edward Tulane by Kate DiCamillo & Bagram Ibatoulline
The plot of The Miraculous Journey of Edward Tulane revolves around the enduring power of love. The rich text story coupled with the vibrant illustrations really seeps into the hearts and minds of the readers.
The timeliness tale features a China rabbit, Edward Tulane, who lives in the streets of Egypt. The rabbit is quite pleased with himself as he is owned by a girl who takes the utmost care of him. Until one day, he is lost and goes on a journey filled with adventures and twists. The adventure story teaches readers that hearts are malleable, in that they can be reshaped to love.
11. Vampires Don't Wear Polka Dots by Debbie Dadey, Marcia Thornton Jones, & John Steven Gurney
Bailey Elementary is home to some of the most mischievous kids ever - so much so, that all of the new teachers have to quit. Much to their surprise, their new teacher, Mrs. Jeepers, is quite different and sticks around. She has just moved from the Transylvanian Alps and seems to have some hidden powers which keep the mischievous students in check. Although her methods are unorthodox, they seem to be working.
This captivating mystery centered around Mrs. Jeepers' bizarre persona will leave readers on the edge of their seats. This book is the first in a series full of adventures and unforgettable characters that will help your child become a lifelong reader.
12. Rosie Revere, Engineer by Andrea Beaty & David Roberts
In this book, the reader follows the main character, Rosie. When her great-great-aunt Rose (Rosie the Riveter) comes for a visit and mentions her one unfinished goal (to fly), Rosie sets to work building a contraption to make her aunt's wish come true. However, the invention does not function as intended and is a bit of a failure. But her aunt teaches her this lesson, that you only fail if you quit.
The book not only covers the failures in engineering but also teaches the reader how passion and persistence can help one achieve their own dreams. The plot revolves around Rosie Revere, a brilliant inventor of gizmos and gadgets who dreams of becoming a great engineer. Through Rosie's trial and error, the reader can connect and realize that hard work is full of twists and turns. Rosie will be a great role model for your child and inspire them to work hard to acquire their own hopes and dreams in life.

---
This post was written by Joelle Shusterman, the Marketing Intern at BookPal. She is currently reading Cloud Cuckoo Land by Anthony Doerr.
Recent Posts
Explore these ten amazing titles for middle school Middle-grade readers are much more …

For years, mentoring in the workplace has been proven to be one of the most influential and mutually …

Explore these 12 new read aloud books that will inspire fifth gradersIt is extremely important for s …