Business leaders and thinkers continue to publish insightful and informative books on various business principles. There are many great new business books coming out in the next three months, it's hard to keep track. Fortunately, we've narrowed it down to fourteen of the top titles for business professionals.
You won't want to miss these 14 new business books:
1. When: The Scientific Secrets of Perfect Timing by Daniel H. Pink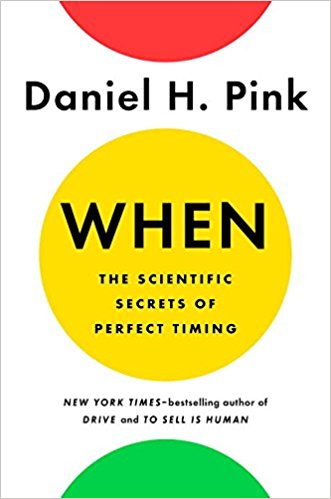 Timing is everything. Bestselling author Daniel H. Pink unlocks the scientific secrets to good timing in order to flourish at work, at school, and at home. With cutting-edge research and data on timing, Pink compiles a readable narrative packed with irresistible stories and practical takeaways that give readers compelling insights into how we can live richer, more engaged lives.
Available January 8, 2018
2. Fifty Million Rising: How a New Generation of Working Women is Revolutionizing the Muslim World by Saadia Zahidi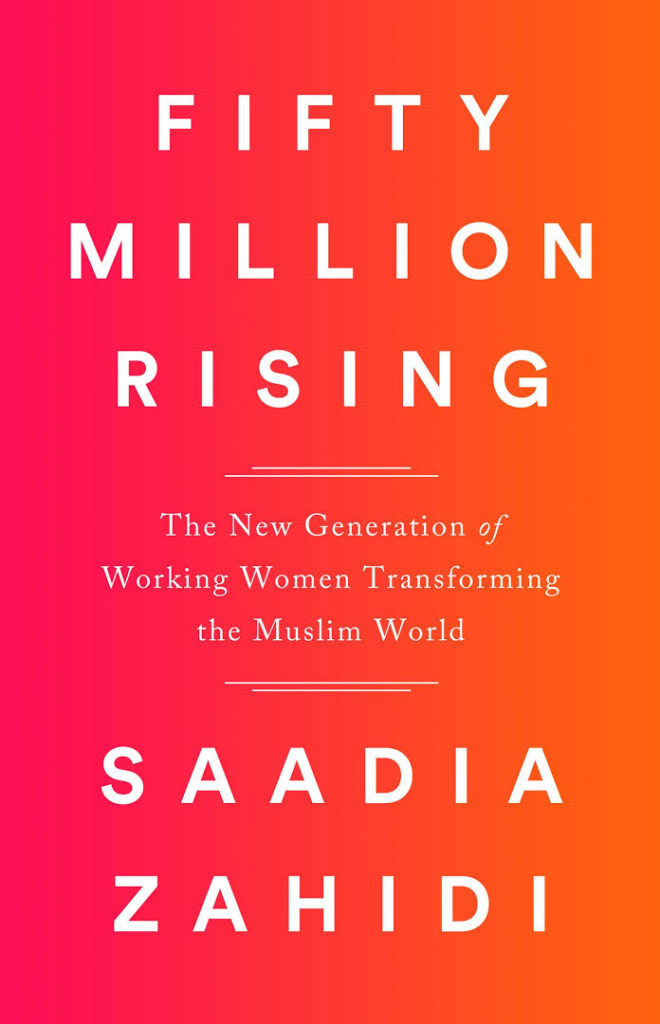 A quiet but powerful shift has been taking place among women of the Muslim world. In the last ten years, nearly fifty million Muslim women have entered the workforce, arming them with more purchasing and earning power and giving them greater autonomy. Saadia Zahidi, Senior Director at the World Economic Forum, documents this revolution through the stories of the remarkable women at the forefront of this shift.
Available January 8, 2018
3. Crushing It! How Great Entrepreneurs Build Business and Influence — And How You Can, Too by Gary Vaynerchuk
Following his 2009 international bestseller, Crush It!, Gary Vaynerchuk offers new lessons and inspiration drawn from the experiences of dozens of influencers and entrepreneurs. The secret to their success? Their understanding of social media platforms and their willingness to do whatever it takes to make these tools work for them. Vaynerchuk expertly unpacks various social media platforms so that anyone can utilize these tools to amplify their personal brand.
Available January 30, 2018
4. The Culture Code: The Secrets of Highly Successful Groups by Daniel Coyle
Daniel Coyle goes inside some of the world's most successful organizations and reveals what makes them tick. He demystifies the culture-building process by identifying three key skills that generate cohesion and cooperation and explains how diverse groups learn to function with a single mind. He unearths helpful stories of failure that illustrate what not to do, troubleshoots common pitfalls, and shares advice about reforming a toxic culture.
Available January 30, 2018
5. Momentum: The 5 Marketing Principles That Will Propel Your Business in the Digital Age by Shama Hyder
With today's overwhelming online ecosystem, business and nonprofit leaders and marketers are faced with the challenge of getting ahead in an environment that makes it seem impossible to keep up. This book will help you figure out what's important and what can safely be set aside. No matter your industry, you can use Hyder's five essential principles required to develop a successful marketing plan that will withstand the digital world's constant changes and result in real ROI.
Available February 5, 2018
6. Finish First: Winning Changes Everything by Scott Hamilton
Stop settling for mediocre and begin to revitalize your intrinsic will to achieve excellence and go for the win with Finish First. Most of us feel we were made for something more, but we're often afraid to allow ourselves to be competitive because we think our finishing first might somehow rob others of their chance to shine. This book encourages the hidden potential, the champion within all of us, to come out — which eventually brings our family, marriage, career, business, and the world around us the greatest possible good.
Available February 5, 2018
7. Quirky: The Remarkable Story of the Traits, Foibles, and Genius of Breakthrough Innovators Who Changed the World by Melissa A. Schilling
Melissa A. Schilling, a leading expert on innovation, examines the lives of seven creative geniuses — Albert Einstein, Benjamin Franklin, Elon Musk, Dean Kamen, Nicola Tesla, Marie Curie, and Steve Jobs — in order to identify the unique traits that led them to become breakthrough innovators. Schilling reveals the science behind the convergence of traits that increase the likelihood of success and explains how to facilitate breakthrough innovation in our own lives.
Available February 12, 2018
8. Nimble: Make Yourself and Your Company Resilient in the Age of Constant Change by Baba Prasad
Management strategist Baba Prasad offers practical advice for executives, entrepreneurs, and anyone else needing the skills to face the unpredictability, risk, and deep uncertainty that lies ahead. Filled with vivid examples and insights from around the world and throughout history, this book reveals what sets the most nimble leaders and organizations apart from the competition, presenting five types of agility that help individuals and companies not just survive but thrive in times of great change.
Available February 19, 2018
9. Superconnector: Stop Networking and Start Building Business Relationships That Matter by Scott Gerber and Ryan Paugh
Abandon the networking-for-networking's-sake mentality in favor of a more powerful and effective approach to creating and enhancing connections. Superconnectors understand the power of relationship-building, problem-solve by connecting the dots at high levels, and purposefully cause different worlds and communities to interact with the intention of creating mutual value. Learn how to systematically manage a professional community and maximize its value in this must-read for business professionals.
Available February 26, 2018
10. Getting to Us: How Great Coaches Make Great Teams by Seth Davis
What makes a coach great? How do great coaches turn a collection of individuals into a coherent team? In Getting to Us, sports journalist Seth Davis interviews some the best active coaches in football and basketball, at college and pro levels, to discover the fundamental ingredients of a great coach. Learn about different coaching styles, what sort of leadership thrives in different types of environments, and how you can apply these principles to your life.
Available March 5, 2018
11. Talent Wins: The New Playbook for Putting People First by Ram Charan, Dominic Barton, and Dennis C. Carey
Business gurus Ram Charan, Dominic Barton, and Dennis C. Carey provide a framework for transforming how companies acquire, manage, and deploy talent for today's technology-driven environment along with effective human resource strategies. Talent Wins provides leaders with a seven-part plan for integrating talent and capital, making talent drive strategy, designing and redesigning the work of the organization, and scaling up individual talent.
Available March 5, 2018
12. Soon: An Overdue History of Procrastination, from Leonardo and Darwin to You and Me by Andrew Santella
Soon is an entertaining, fact-filled defense of the nearly universal tendency to procrastinate that draws on the stories of history's greatest delayers and the work of psychologists, philosophers, and behavioral economists to explain why we put off what we're supposed to be doing and why we shouldn't feel so bad about it.
Available March 12, 2018
13. Meltdown: Why Our Systems Fail and What We Can Do About It by Chris Clearfield and András Tilcsik
Surprising new research shows that the myriad of failures that dominate headlines every day share similar causes. By understanding what lies behind these failures, we can design better systems, make our teams more productive, and transform how we make decisions at work and at home. Weaving together cutting-edge social science with riveting stories, Chris Clearfield and András Tilcsik explain these failures and the solutions for them.
Available March 19, 2018
14. Invested: How Warren Buffett and Charlie Munger Taught Me to Master My Mind, My Emotions, and My Money by Danielle Town and Phil Town
In this essential handbook, Danielle Town shares her yearlong journey learning to invest, as taught to her by her father — hedge fund manager and bestselling author Phil Town. Here, you will learn how to take command of your own life and finances through twelve easy-to-understand lessons. Invested makes the complex world of investing simple, straightforward, and approachable, and will help you formulate your own investment plan — and foster the confidence to put it into action.
Available March 26, 2018
---
This post was written by Megan Habel, the marketing associate at BookPal. She is currently reading Hamilton: The Revolution by Lin-Manuel Miranda & Jeremy McCarter.
Recent Posts
Reduce, Reuse, Recycle. We've all heard this slogan but you may be asking why is it important to tea …

How to Lead Your Team with Empathy Although empathy has been classified as a soft skill for b …

Explore these ten fantasy books for fifth graders Magic and fantasy books are a perfect way for …