So you're tasked with planning your First Year Experience (FYE) or Common Read program for 2023. You know you want to choose an impactful read that will inspire your university and teach valuable lessons for students to learn from, but you don't know where to start. Here's a quick guide to help answer some frequently asked questions.
Why have a First Year Experience/Common Read program?
FYE programs help to build a sense of community at your university or college. The First Year Experience book should be one that not only encourages growth, but allows students to have high-level conversations with their peers, whether that be a hot-button issue, controversy, or new development. This allows students, faculty, and staff to feel connected and empowered to evoke change in their community or even at their university.
What to look for in a First Year Experience title?
Books that challenge the status quo, enlighten, and impart valuable knowledge among readers is the aim of any FYE title. College students need compelling stories that present teachable themes.
Every year Universities are tasked with choosing the right story to shape their students. These books for college students range from a variety of topics, challenging students to engage in discussion - Whether it's learning about the flaws in our legal system and how to be unbiased from stories like Just Pursuit and Marked for Life, or reorienting the way we think about disabilities like in Sitting Pretty and Normal Sucks.
At BookPal we have every book your Common Read program could possibly need! We want to make the choice of selecting your FYE read easy so that your First Year Experience program is memorable.
What's trending?
We've noticed that a common trend with First Year Experience books is that they are tackling social issues. They are timely, yet classic and this year every book we've seen carries a strong message or theme.
These books address pressing issues from racial inequity to the hardships of being an immigrant, and inequalities in our legal system. Some discuss thought-provoking theories, while others provide hard-learned lessons that are impactful.
In our list below, we've highlighted books in biography and memoir, psychology, personal development, social issues, and fiction. Browse our selection of titles and select the right book for your program!
1. Rough Sleepers: Dr. Jim O'Connell's Urgent Mission to Bring Healing to Homeless People by Tracy Kidder
2. The Glass Castle by Jeannette Walls
3. Just Pursuit: A Black Prosecutor's Fight for Fairness by Laura Coates
4. Solito by Javier Zamora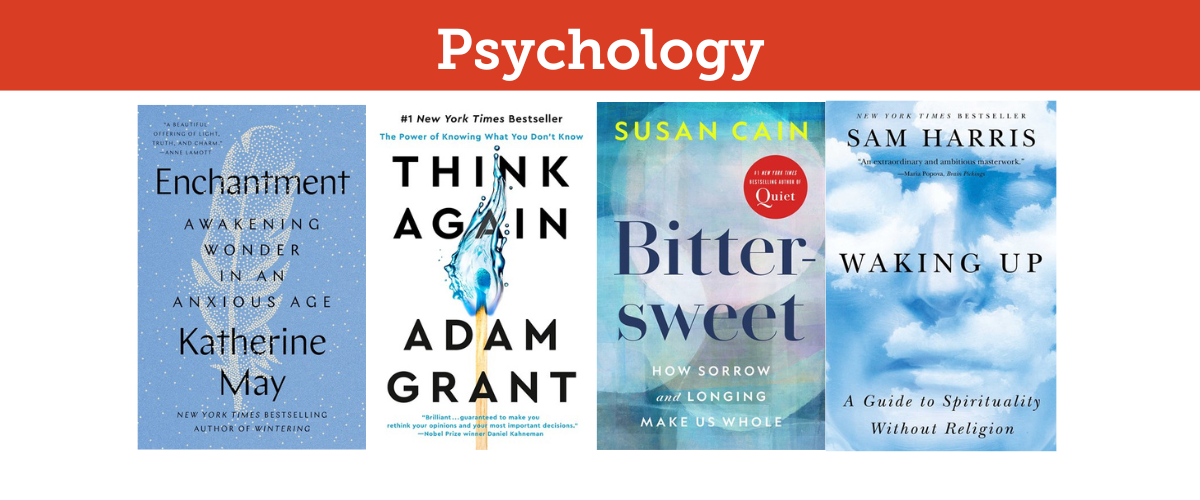 1. Enchantment : Awakening Wonder in an Anxious Age by Katherine May
2. Think Again: The Power of Knowing What You Don't Know by Adam Grant
3. Bittersweet : How Sorrow and Longing Make Us Whole by Susan Cain
4. Waking Up: A Guide to Spirituality Without Religion by Sam Harris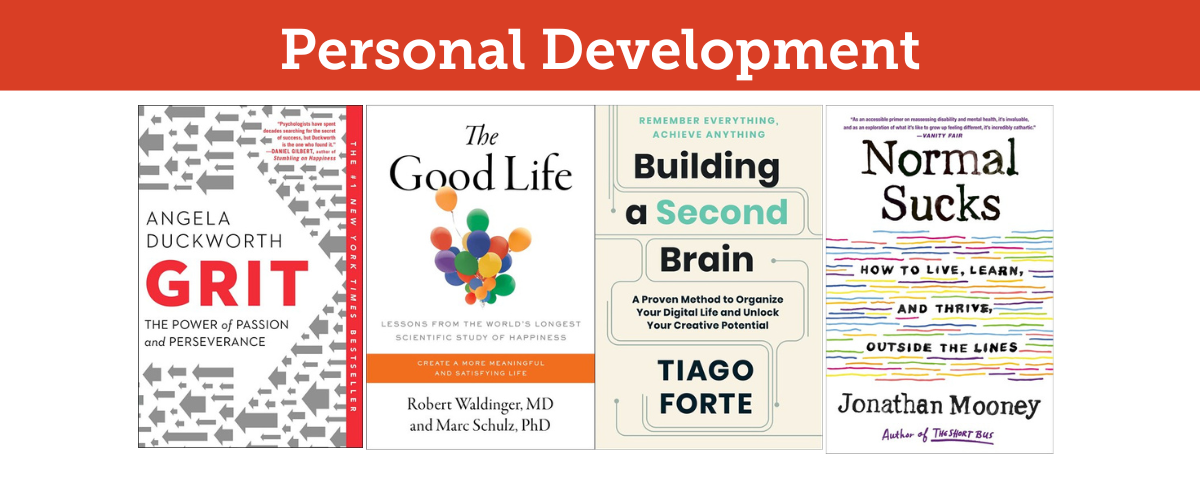 1. Grit: The Power of Passion and Perseverance by Angela Duckworth
2. The Good Life: Lessons from the World's Longest Scientific Study of Happiness by Robert Waldinger & Marc Schulz
3. Building a Second Brain: A Proven Method to Organize Your Digital Life and Unlock Your Creative Potential by Tiago Forte
4. Normal Sucks: How to Live, Learn, and Thrive, Outside the Lines by Jonathan Mooney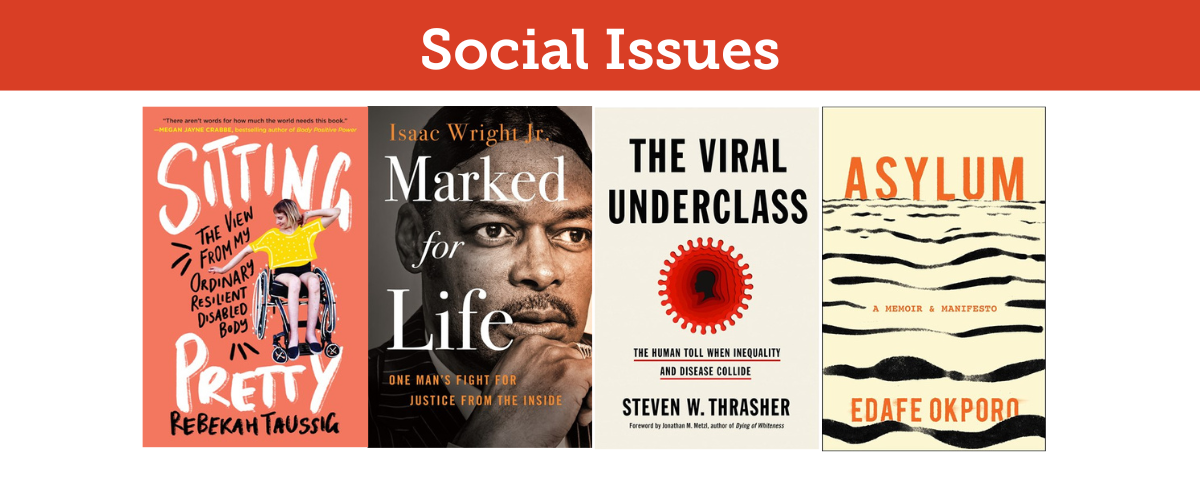 1. Sitting Pretty: The View from My Ordinary Resilient Disabled Body by Rebekah Taussig
2. Marked for Life: One Man's Fight for Justice From the Inside by Isaac Wright Jr.
3. The Viral Underclass: The Human Toll When Inequality and Disease Collide by Steven W. Thrasher
4. Asylum by Edafe Okporo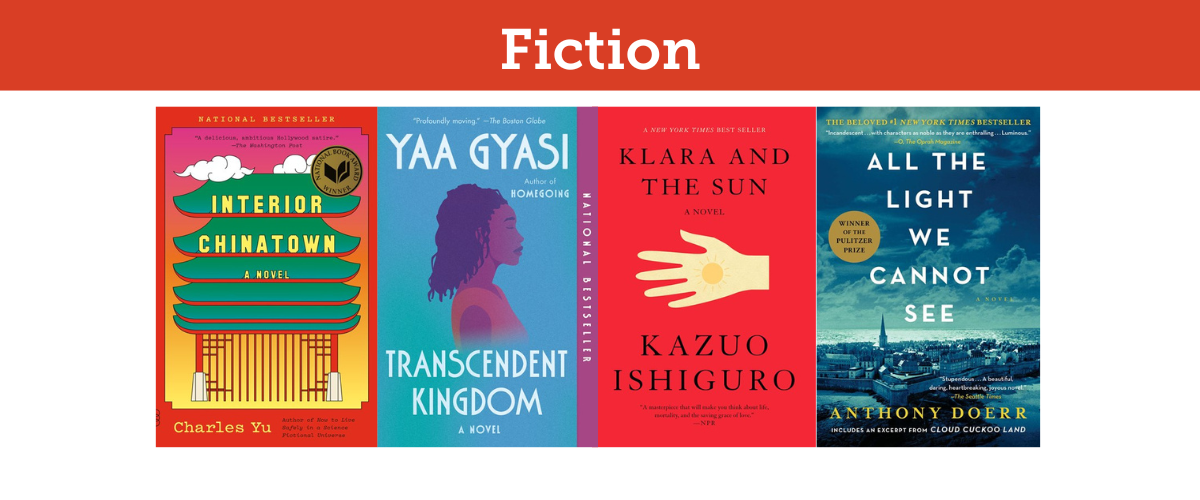 1. Interior Chinatown by Charles Yu
2. Transcendent Kingdom by Yaa Gyasi
3. Klara and the Sun by Kazuo Ishiguro
4. All the light We Cannot See by Anthony Doerr
Want to browse more titles? Visit the BookPal FYE catalog
At BookPal we have a variety of bulk books to choose from! Browse from more categories like comics and graphic novels, history, and science, and we can help provide bulk books for your First Year Experience program that will promote your students, faculty, and staff's learning and growth. So choose a powerful story from our catalog that heightens your students' learning so that their First Year Experience program is one to remember.
Recent Posts
World Autism Awareness month is all about kindness and encouraging acceptance! Take some time this A …

Two, four, six, eight… Who do we appreciate? TEACHERS!Teacher appreciation day is coming up in early …

Whether it's for employee onboarding, employee appreciation gifts, development and training programs …