Get ready to go back to school with these books.
Whether it's a toddler going into preschool or young ones navigating elementary school, the transition back to school is mostly ridden with fears, apprehensions, and excitement. It's very important to pave the road back to school for children across the board using great content and books.
The best back to school books for kids are monumental in setting the tone of the entire year. You should start on a strong foot and lead the young minds into the world of learning with amusing and reassuring stories that students can relate to.
If you're struggling to come up with a list of books to start the year off, look no further! We've put together a list of the best books for kids going back to school. These school-themed books will stimulate learning, healthy discussions, and heartening responses from students across preschool, kindergarten, and early elementary grade levels.
So without further ado, let's dive right into our back to school book list!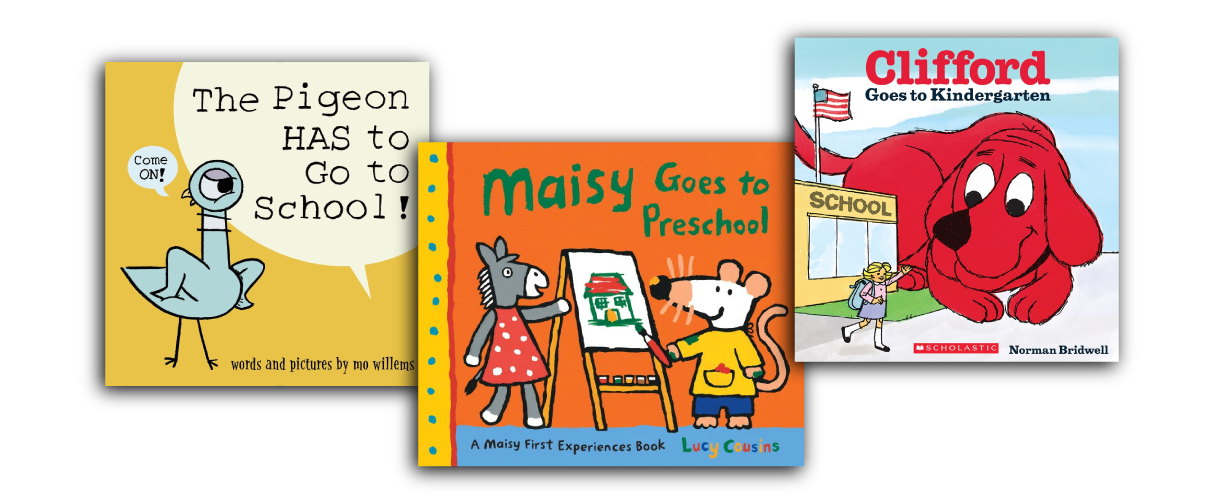 1. The Pigeon Has to Go To School by Mo Willems
Hailed as one of the best books for preschoolers, The Pigeon Has to Go To School by Mo Willems is an endearing tale of a pigeon who is overcome with real anxieties of going back to school. He already knows everything, so why even bother? From worrying about the kind of teachers you'll get to carrying heavy backpacks, Mo Willems uses fun illustration, a touch of humor, and warm dialogue to connect with preschool kids. They'll be laughing along with Pigeon as they face their back to school fears.
2. Maisy Goes to Preschool by Lucy Cousins
Filled with simple, colorful illustrations, this classic picture book chronicles a day in the life of a preschooler in a lighthearted and positive way. Follow along with Maisy as she has a fun-filled and activity-packed day, from the time she hangs her coat to the time she heads out for a slide. Beloved by parents and teachers alike, this sweet story provides the reassurance young ones need ahead of their first day of preschool.
3. Clifford goes to Kindergarten by Norman Bridwell
Emily-Elizabeth has those first-day jitters as she prepares to start kindergarten. Luckily, Clifford the big red dog is by her side to help make the transition easier. In this heartwarming story, Emily-Elizabeth learns that kindergarten can be fun—from singing songs to playing games and making new friends. This is the perfect back to school story to add a flavor of excitement as students prepare to start the new school year.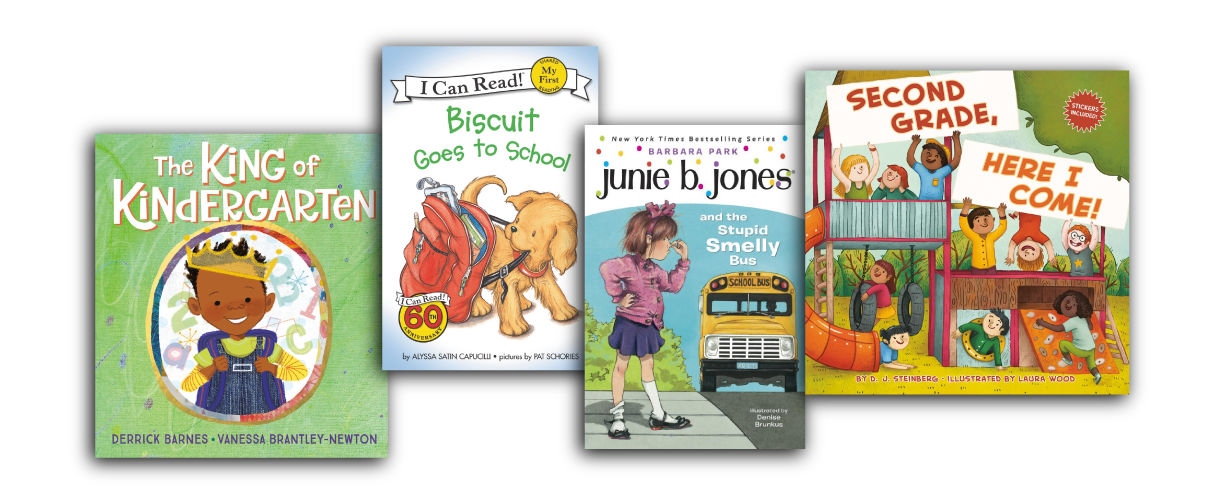 4. The King of Kindergarten by Derrick Barnes & Vanessa Brantley-Newton
A sweet yet empowering story by the New York Times bestselling duo Derrick Barnes & Vanessa Brantley-Newton, The King of Kindergarten tells the story of a boy who breezes through his first day of kindergarten when his mother gives him a sweet nickname: King of Kindergarten. With this confidence boost, there's nothing he can't do. Each new experience he takes in stride and can't wait to get home to tell his parents all about it. Complete with joyful illustrations, kindergarteners will love this sweet story.
5. Biscuit Goes to School by Alyssa Satin Capucilli
Anyone would be tempted to get a glimpse inside a day at school if someone tells you how great it is—from amazing teachers, fun-filled activities, and your own pack of friends—and Biscuit is no exception. After hearing the infectious enthusiasm of his owner about life at school, Biscuit wants to go to school to experience it all, especially meeting the teacher. But will Biscuit be able to accomplish all of this given that he is a dog? Will his own energy and sheer determination help him achieve what he wants? Experience this hilariously cute story from your own eyes and ears—a must read for all young school-goers.
6. Junie B. Jones and the Stupid Smelly Bus by Barbara Park & Denise Brunkus
Six year old Junie B. is starting kindergarten. But first, she has to survive the ride on the bus! She simply doesn't like it and must find a way to avoid it at all costs. This simple chapter book is a great introduction to students entering early elementary grade levels and starting to read on their own. Barbara Park crafts a memorable start to her bestselling Junie B. Jones series with the hijinks Junie B. faces on her first day of kindergarten, keeping readers laughing to the end.
7. Second Grade, Here I Come! By D.J. Steinberg & Laura Wood
Get ready for second grade with this collection of fun and silly poems that highlight the joys of school life, such as reading "big-kid books", auditioning for the school play, and even dance breaks! Spanning an entire year of events, students will find not only entertaining tales but meaningful life lessons in the pages of this picture book. Reading it on the first day of school is sure to get students excited about the year to come.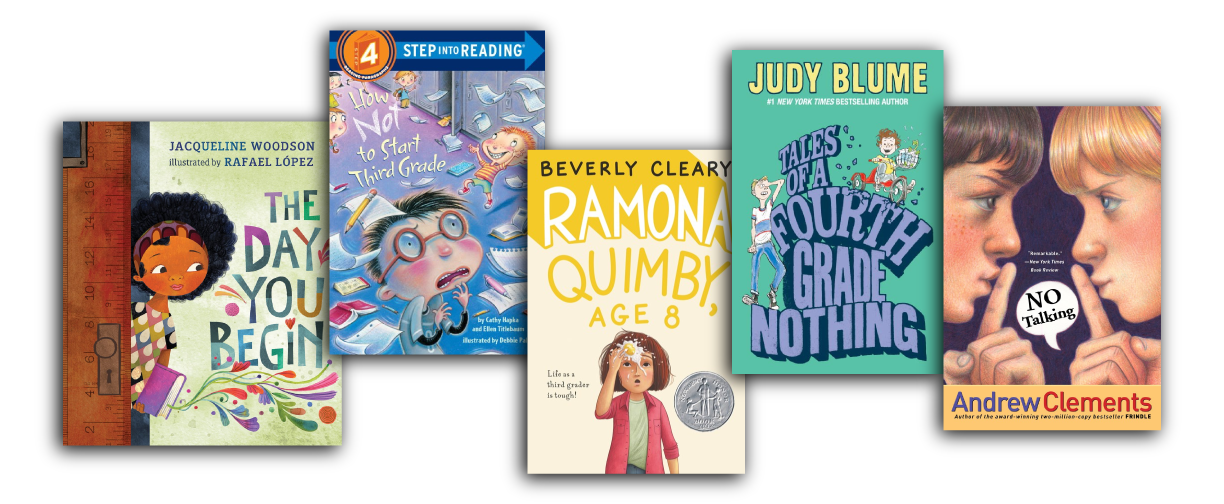 8. The Day You Begin by Jacqueline Woodson & Rafael López
A beautifully crafted picture book, The Day You Begin delivers an empowering message to anyone who has felt out of place. Bright, engaging illustrations paired with lyrical text help set the right tone for the first day of school. This book is an ideal resource for preparing for the new school year, especially for children who feel different because of how they look, talk, or act. It delivers an excellent and deep message for everyone: when we start to reach out and share our unique stories, a world of possibilities emerges. A #1 New York Times bestseller, this book is a must-have for any classroom.
9. How Not to Start Third Grade by Cathy Hapka, Ellen Titlebaum, & Debbie Palm
Third grade is going to be great, as long as Will's little brother, Steve, stays out of trouble and out of his way. This hilarious story illustrates the trials and embarrassments of starting a new school year with a troublemaker for a little brother. Not only is this a fun back-to-school story, How Not to Start Third Grade will also help newly independent readers build confidence in their comprehension and vocabulary.
10. Ramona Quimby, Age 8 by Beverly Cleary
In Ramona's world, being 8 is not as easy as it seems, but it's certainly not dull either! With her parents busy, Ramona must learn to do some things on her own, including riding the bus and putting up with bullies. This classic Newbery Honor Book is a perfect read for middle grade students coming back to school. It teaches them a thing or two about bravery, confidence. and learning how to get things done. Readers have fallen in love with Ramona Quimby for decades and the timeless story continues to delight young readers.
11. Tales of a Fourth Grade Nothing by Judy Blume
One of the most popular books ever written for children, this hilarious tale is crafted by Judy Blume, known for her witty and classical tales for children over the years. In this book, the mischievous Fudge wreaks havoc for his entire family, especially for his older brother Peter. Peter writes about Fudge's tricks and schemes and gives us insight into the sibling rivalry that happens during these adolescent years. Readers are sure to relate to the brothers' antics and laugh along to this amusing story.
12. No Talking by Andrew Clements
Pretty much every teacher can relate to having a noisy class. In No Talking, students can learn they don't have to raise their voices to get their point across. This story follows a competition between the nosiest and most talkative fifth graders as the boys and girls challenge each other to a ''no talking'' competition. One creative teacher realizes that this competition might just serve as one of the most important lessons in communication and allows it. Funny and entertaining, this book is a great choice to add to your class curriculum while providing important discussion topics for students.

---
This post was written by Megan Habel, the Brand Strategist at BookPal. She is currently reading A Court of Mist and Fury by Sarah J. Maas.
Recent Posts
Start kindergarten off right with these back to school books.Starting kindergarten can be a daunting …

Start preschool off right with these back to school books.Going back to school is a bittersweet feel …

Get ready to go back to school with these books.Whether it's a toddler going into preschool or young …