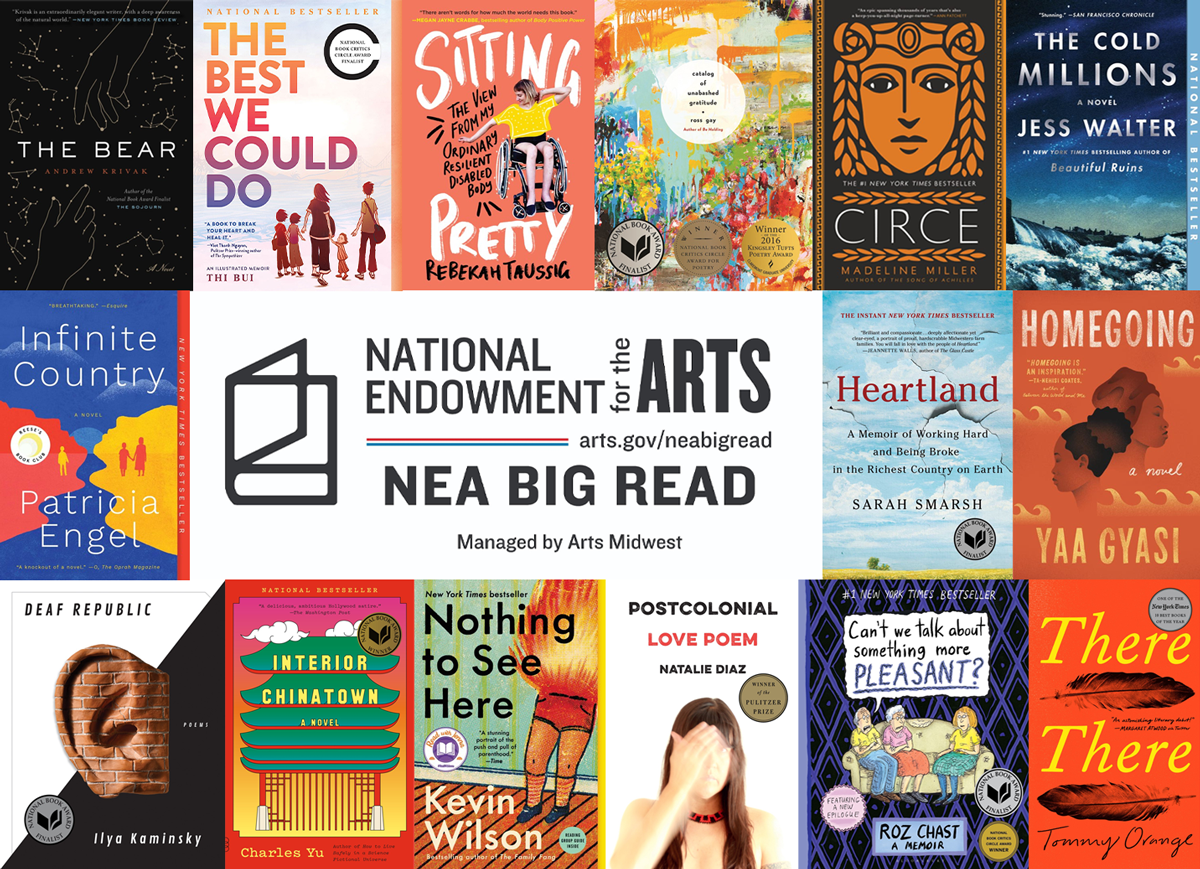 The NEA is back with 15 inspiring titles for the 2022-2023 program.
Every year, we look forward to partnering with various organizations and their Big Read programs. We truly believe in the power of books to ignite continuous learning and growth—something we see happening year after year with these programs. Earlier this month, the National Endowment for the Arts (NEA) and Arts Midwest hosted a webinar where they discussed the new titles for the 2022 Big Read program and answered questions about the application process. Continue reading to learn more about these titles and how you can apply for the grant:
About the NEA Big Read Program:
Since 2006, more than $23 million in grants have been awarded to more than 1,700 Big Read programs in every district in the country. The 15-year history of the NEA Big Read program boasts a staggering $50 million in local funding to make these programs a reality, with over 5.7 million Americans in attendance, over 90,000 volunteers, and more than 40,000 community partner organizations. Each year, the NEA Big Read program grants approximately 75 organizations nationwide between $5,000 and $20,000 each to run their respective Big Read Programs. Communities then gather to host events and discussions surrounding the selected title.
How are books selected for the NEA Big Read library?
First, submitted books are judged on their capacity to:
incite lively and deep discussion (if you know of a title to suggest, reach out to the NEA team)
expand the range of voices, stories, and genres currently represented in the Big Read library
interest lapsed and/or reluctant readers, and to challenge avid readers and introduce them to new voices
inspire innovative programming for communities
Once these criteria are assessed for each submitted title, the committee—made up of booksellers, librarians, and past grantees—read all of the submissions to further assess the titles. American authors are given some level of preference in order to reach the American communities and future readers these books will be serving in their Big Read programs. It also helps if authors are willing and able to travel to some of the communities that will be choosing their titles for Big Read programming.
What books are offered?
This year, there are 15 books to choose from - 12 new and 3 returning.
NEW:
RETURNING:
Who is Eligible?
As always, the Big Read grant is open nationwide to 501(c)(3) non-profits, divisions of state, local, or tribal government, or tax-exempt public libraries. Not eligible? Consider partnering with an eligible organization to help host your Big Read program. Visit the NEA Guidelines and Application Instructions for a full list of guidelines.
Required Events
Though each Big Read program is different, there are a few events that are required: one kick-off event, at least five book discussions, two presentations, and two projects inviting a community response to the book. That being said, these requirements can overlap—meaning, one event can hold more than one requirement. For programming ideas from past grantees, visit the NEA Big Read blog or the community stories section on each book page of the NEA website.
Next Steps
Interested in applying for the grant? Here are a few deadlines to keep in mind:
January 26, 2022: Application deadline (Need a book quote to include in your application? Email stefanie@bookpal.com)
Late April 2022: Grantees are announced
Fall 2021: Program starts; applications open for 2023-2024 Big Read programs
Resources
For more details, examples from past grantees, and to watch the full webinar, visit the NEA website.
We'd love to be of help to you in planning and ordering books for your upcoming NEA Big Read program. As a reminder, we offer special discounting for all NEA Big Read grantees! Please don't hesitate to reach out to us for a custom quote or to answer any questions you may have.
---
This post was written by Megan Habel, the Brand Strategist at BookPal. She is currently reading Get Different by Mike Michalowicz.
Recent Posts
Books on Diversity in the Workplace Diverse teams are 70% more likely to capture new mark …

Happy National Picture Book Month! For decades, picture books have helped children get excited about …

At BookPal we believe in the power of books to ignite continuous learning and growth. That's why fiv …