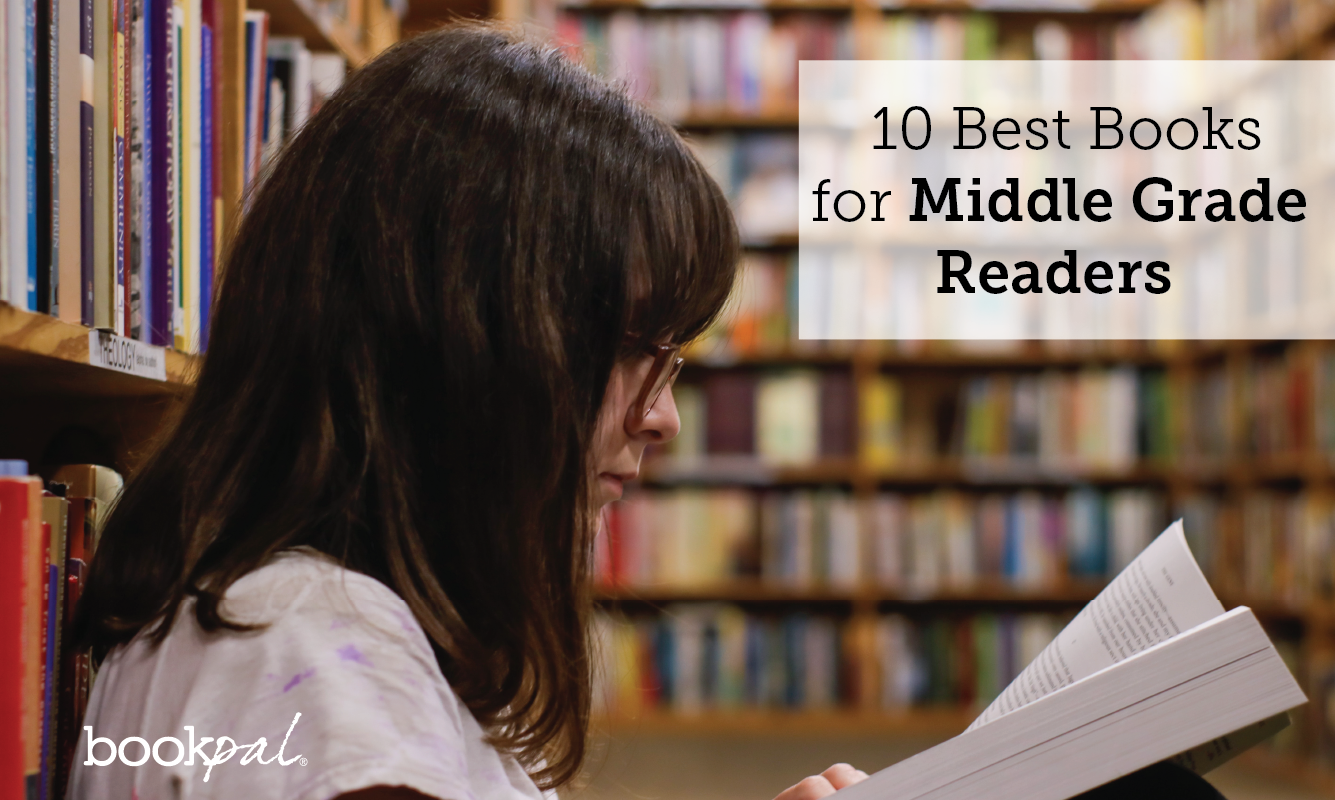 Explore these ten amazing titles for middle school
Middle-grade readers are much more diverse and aware of their surroundings than ever before. In this age of the internet, the digital world, and globalization, it's harder to find pieces of content that can sufficiently engage middle-grade readers and also offer rich and valuable insights and life lessons.
The increasing diversity of middle-grade students also means that middle-grade readers are now coming from a much wider variety of backgrounds than ever before, from single-parent homes to family-oriented homes. This is why it's vital to introduce books with characters from a variety of backgrounds and to have relatable stories that teach universal themes or lessons.
And that's where this list comes in! We've compiled ten books that we think are appropriate for middle-grade readers—books with high-quality writing, unique plots, and characters worth reading about. Finding appropriate books for middle-grade readers was an uphill task but using our formula of engaging plots, enthralling characters, age-appropriate lessons, and ideas, we have managed to put together an unparalleled list of books.
At first, it was hard to pinpoint just ten of the best books for middle schoolers, but you can find below ten books that stand out from many. Whether it's a story about overcoming fear or one about being true to yourself, these stories will challenge young readers and encourage them to be creative and fearless in their own endeavors. This list includes classics, as well as bestsellers and newer titles.
Take your time reading these books and get ready to share them with your peers in the classroom!
1. Anne of Green Gables by L.M. Montgomery
One of the most popular classics of all time, Anne of Green Gables is one gripping tale of an orphan girl, Anne. With a mind that knows no bounds when it comes to creativity, a flair, and way with words, Anne's character is a masterpiece that pulls in readers. When Anne, the orphan girl, is accidentally sent to, Matthew and Mariall Cuthbert, she alters their lives with her personality. The Cuthberts always imagined a young boy would help them work the fields, and they are surprised when this red-headed freckle-faced girl meets them at the Bright River train station.
Although the Cuthbert's are hesitant, Anne falls in love with her new home with its distinctive green gables and red clay roads. She has to convince the Cuthbert's that her showing was no accident and charm their hearts into allowing her to stay. This story will not only keep middle graders engaged, but will offer some important life-changing lessons on gratitude, courage, and love.
Anne of Green Gables has also been adapted for an older audience into a trending Netflix series!
2. Stargirl by Jerry Spinelli
Stargirl is a story about nonconformity and being true to yourself. This book is a perfect choice for middle-grade readers!
From the moment she arrives at Micah High, Stargirl shines, the school bursts with color, with one smile all worries fade away, and everyone is enchanted. Her unique and creative character is what causes everyone to obsess over her and strive to be like Stargirl. She easily captures the heart of Leo Borlock and experiences the thrill and inspiration of her first love. But then something changes. She upsets everyone. Her individuality is viewed as weird, and abnormal. Stargirl is shunned. She loses her popularity and what makes her different begins to separate her from everyone else. Even Leo urges her to be the last thing she wants to be, which is normal. Stargirl loses her sense of self and has to face the challenge of finding out what makes her happy again and feel complete.
This book demonstrates the power of individuality and how it helps in cultivating a positive life and overall happiness. It will teach middle schoolers to be true to themselves and not be easily influenced by others to conform.
3. Wonder by R.J. Palacio
Another classic, Wonder by R.J. Palacio is also a timeless tale that demonstrates the power of tolerance, opening your heart, and acceptance.
Wonder is a powerful story of a ten-year-old boy, August Pullman who suffers from a facial anomaly. He is just your average ten-year-old, but despite his many surgeries, his face will never look ''normal''. The story begins when August, after years of being homeschooled, joins a school in fifth grade. The book outlines all his ups and downs starting from the first day of school till his graduation. He has to deal with bullying, feeling isolated, and not being accepted. He also witnesses the extraordinary compassion and empathy of people who care deeply for him.
This is a realistic, coming-of-age story that imparts valuable lessons such as empathy, compassion, friendship, acceptance, and ultimately kindness. Middle schoolers will learn how to judge their peers based on their character and how to accept those who are different from them. Wonder is a story for everyone, whether at a middle-grade reading level or older reading level.
4. The Unteachables by Gordan Korman
Room 117 is a class full of misfits: Parker, can't read, Aldo has anger management issues and Elaine is a pain. Even the teacher Mr. Kermit, is unmotivated and wants to retire as soon as he can after the cheating scandal that still haunts him. He is one year away from early retirement, but then is given his final task, to lead a class of Unteachables. The misfits in room 117 never thought their teacher would have an even worse attitude than they did. Mayhem and destruction unfold as Mr. Kermit attempts to lead them through his last year at teaching. He has one more shot to prove himself and change his outlook on life. We will now find out if room 117 is really full of incorrigible students or if they are simply misunderstood.
Diverse in temperament, each student comes with their own troubles. When Mr. Kermit unexpectedly stands up for one of the students, does this mean his outlook is suddenly changing? The kids notice his sense of justice and fairness, and their perceptions start to change too.
By the end of the story, this unlikely group becomes heroes! This hilarious story will teach middle-grade readers that even when the odds are sent against them, they still have a shot at redemption.
5. The Call of the Wild by Jack London
A widely popular story, The Call of the Wild, deals with heavy themes that underlie the harshness and reality of the outside world and survival. Civilized and moral Buck must adjust to a life where survival is the only imperative.
Buck is faced with many obstacles and realizes fairly soon that he has to be strong in order to survive among the other dogs of the Klondike. By witnessing the cruel death of his friend Curly, Buck realizes that the frosty North is an uncaring world and the dogs there hold different beliefs that coincide with his own morals. He has to fight for scarce resources and against the frigid temperatures. Will Buck survive when the wild calls out to him?
The Call of the Wild is a more harsh and realistic read, however, it is an important book for middle schoolers to have this outlook on the wilderness so they can not only be grateful for their circumstances but realize that nature is a strong force to be taken seriously. This book can be even more appropriate for eighth graders because of its adult themes.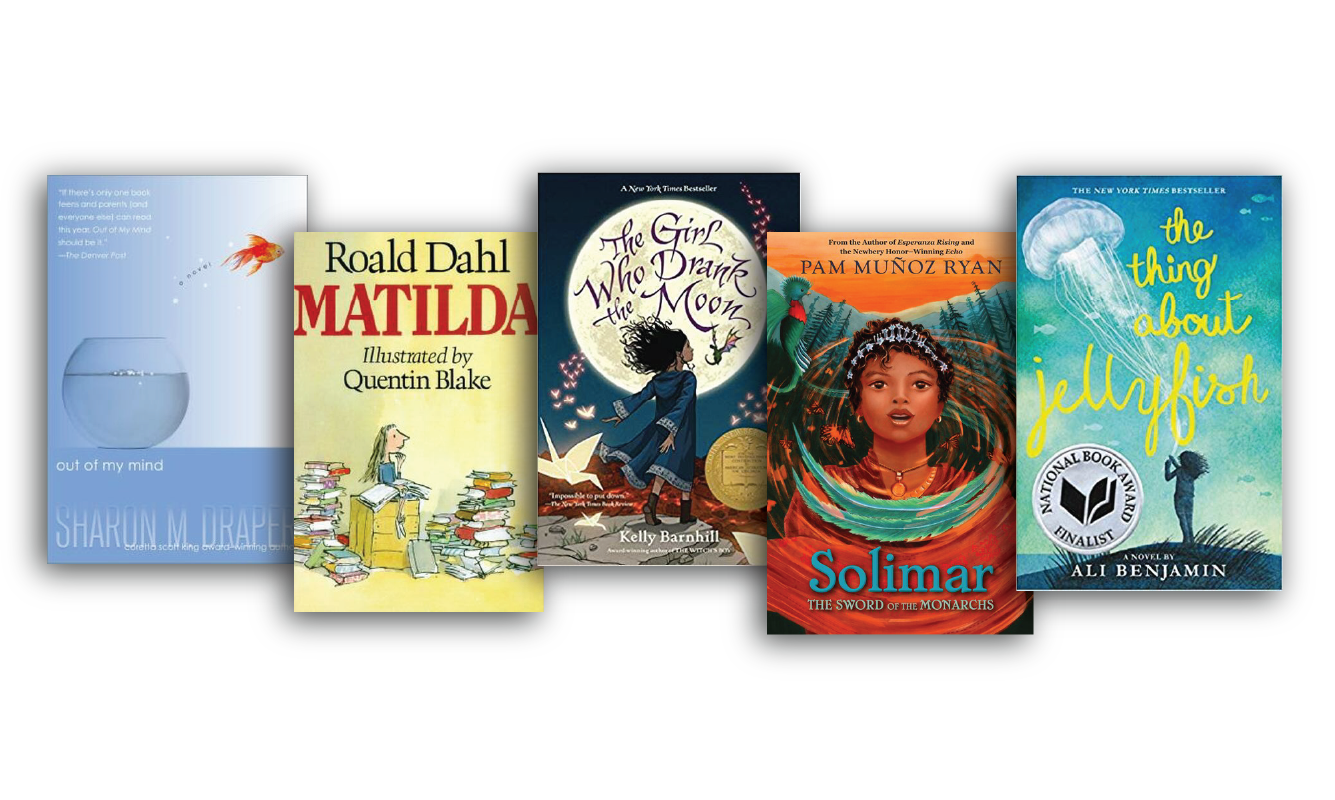 6. Out of My Mind by Sharon M Draper
Another realistic story that will teach middle-grade students valuable lessons, Out of My Mind revolves around the story of Melody who has cerebral palsy. She can't walk, talk, or write because of her condition. However, Melody does not let this define her. She has powers people do not even know of. She can smell and see different styles of music and is gifted with a photographic memory.
Melody is a very bright kid, smarter than the people who diagnose her, and even smarter than the students in her integrated classroom. If only she could speak up and tell everyone what she knows.
Out of My Mind is a story of strength and hope and finding your voice, even if everyone is not ready to hear it. It is a story full of twists and turns, pleasant surprises, and unfortunate events. In addition, Melody's resolve to not let her disability define her, her courage and fierceness make her an awe-inspiring character for readers to look up to.
7. Matilda by Roald Dahl
Matilda is a gifted brilliant child. Her life isn't perfect, even though she is excelling in double-digit multiplication and is the teacher's pet. First off she has to deal with her idiotic and self-centered parents who only view her as a nuisance and secondly the school principal Miss. Trunchbull terrorizes her classmates and cruelly punishes them.
Matilda learns that the only way to teach Miss. Trunchbull a lesson is through revenge. With her secret powers of telekinesis, she enacts the perfect plan to save her school and protect the people she cares about. Matilda is also a story of friendship and resilience. By developing a strong bond with her teacher, Miss, Honey, Matilda is finally accepted and has the urge to excel in other ways besides using her powers. She enters a top-form class where she uses all of her brainpower.
This book is a fun read and like most Roald Dahl books has a quirky storyline to match. Middle-grade readers will be thoroughly entertained by Matilda's character and her unique story.
8. The Girl Who Drank the Moon by Kelly Barnhill
The Girl Who Drank the Moon is perfect for middle-grade readers who want to enjoy a fantasy story and be taken on a magical journey. Barnhill's book is award-winning and imparts the lesson of questioning the status quo.
The story starts by introducing the tales of the evil witch who abducts babies in the forest. The truth, however, is that the witch Xan is not evil at all. Society uses this false story of the witch as scare tactics to control the children, discouraging them from questioning authority. Xan really finds babies abandoned at her doorstep and makes them Star children by feeding them starlight and finding them loving homes. Luna becomes incredibly powerful when she is fed moonlight instead of starlight. Xan adopts her and on Luna's thirteenth birthday her magic begins to emerge.
This modern classic, coming-of-age fairy tale appeals to a wider range of middle-grade readers and it is perfect to spark students' imaginations.
9. Solimar by Pam Muñoz Ryan
Middle-grade fans of Esperanza Rising will love this new story by Pam Muñoz Ryan! This new story is a fantasy-filled adventure about a princess named Solimar who is forced to fight for her kingdom when it's put under threat.
Each year, Solimar visits the magical monarch butterflies as they migrate. On her quinceañera, she goes to see the monarch butterflies again, but this time a mysterious event gives her a gift- a silk shawl. She now knows that as a princess, it is her duty to protect them.
When her father and brother leave, however, Solimar is all alone. And to make things worse the neighboring king threatens her kingdom. Solimar now has to embark on a dangerous journey to save her home. With her pet bird Lázaro, the monarch butterflies, and her magical rag doll Zarita, along with the help of a river boy, Solimar knows she's not alone. She faces a perilous journey down the river rapids, and through a bat-infested cavern. Will Solimar have the courage to make it through these dangerous situations and save her village? Find out in this adventurous read!
10. The Thing About Jellyfish by Ali Benjamin
Suzy and Franny have been best friends since they were five years old, but when Franny joins a new social circle to be popular in sixth grade, Suzy feels left out. Franny and Suzy have a falling out. Their relationship never fully heals, and during that summer Franny mysteriously dies in a drowning accident.
Now it's her seventh-grade year and Suzy is convinced that her friend didn't die by drowning, but by a rare jellyfish sting. She confides in her science teacher and finds even more about jellyfish than she could ever imagine. Her teacher then helps her form a theory about her friend's death. Suzy wants to prove her theory even if it means traveling alone around the globe. She gets in contact with brave scientists who study jellyfish and works as a team to uncover what exactly happened.
Full of grief and wonder, The Thing about Jellyfish is about learning how to still find love in the world and nature when everything is falling apart around you. This heartfelt book explores complex themes such as life, death, and the power of everlasting hope.

---
This post was written by Joelle Shusterman, the Marketing Intern at BookPal. She is currently reading Criers War by Nina Varela.
Recent Posts
Have you ever had to sit through the same training and development courses with the cheesy videos or …

The Best Bilingual Children's Books For Your Child's Reading List! With bilingualism on the ris …

It is your time to show the backbone of your company that you appreciate them… your employees! This …