Posted by Joelle Shusterman on Dec 13, 2022
Gifts for Book Lovers 2022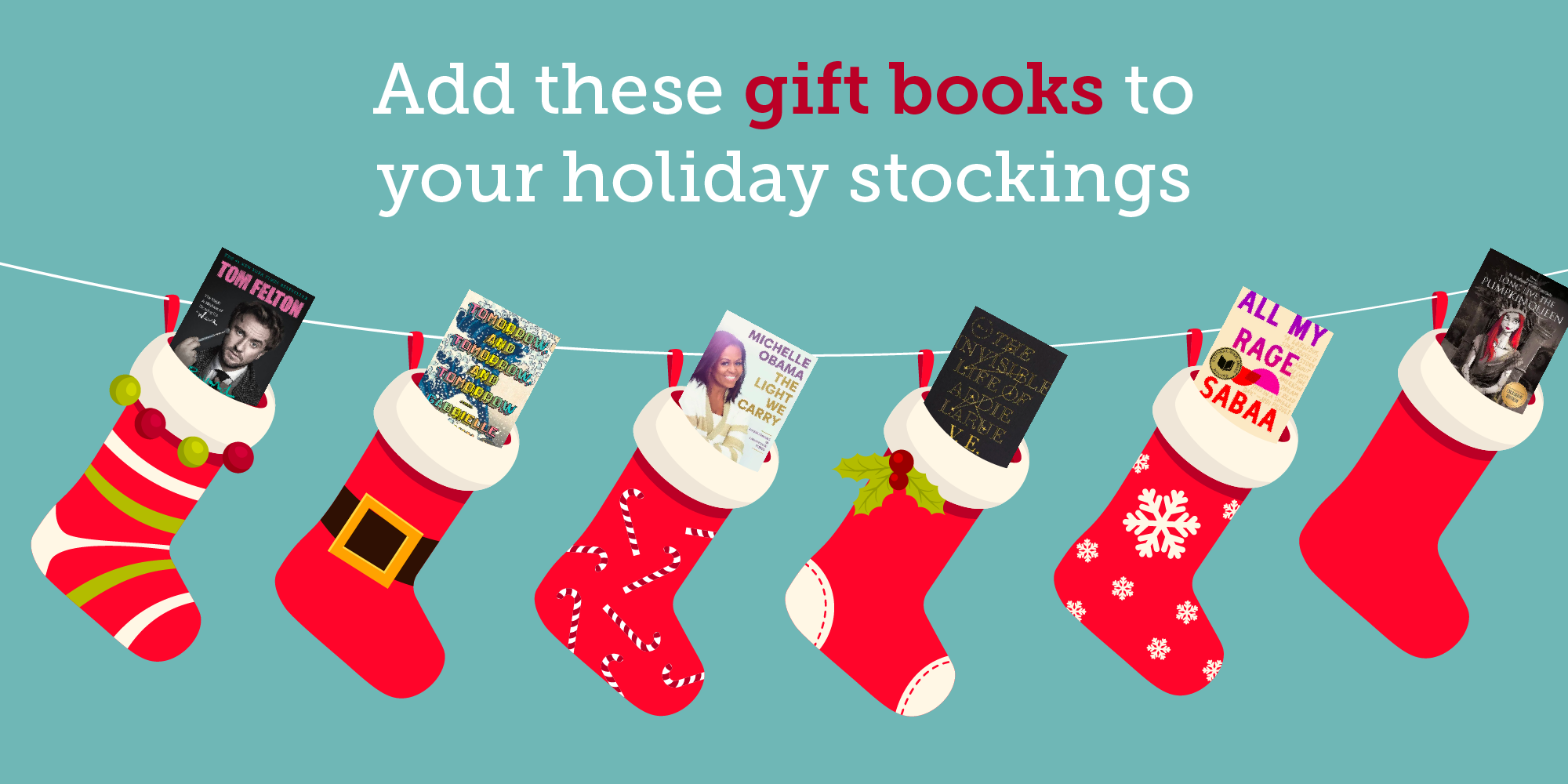 Find the best book gifts this season to delight your book lover friends and family! We created this list to inspire you to grow and learn from a story that you don't already know. Then you can spread the holiday cheer by showing appreciation this year and gifting these titles to your friends and colleagues. We invite you to try something new, like starting a reading group or to work on you, and aspire to be the best version of yourself. Whether you are searching for book lover gifts for an avid reader, or want to share something special with family and friends - This will be your go-to guide!
Books That Make You Want to Start a Bookclub

1. Where the Crawdads Sing by Delia Owens
Where the Crawdads Sing just recently came out as a major motion picture on Netflix and it is time for you to discover what the hype is all about. In this heartbreaking coming-of-age novel, Kya Clark is targeted as the prime suspect in a murder. Not only is her wild beauty captivating two young men in town, but it is causing her to stand out in unimaginable ways. Now she has to figure out the mystery behind the murder that disrupts the quiet town while becoming subject to the beautiful and violent secrets that nature keeps.
2. Tomorrow, and Tomorrow, and Tomorrow by Gabrielle Zevin
This novel is a top book club pick, beautifully written and with a romance so magical that you will feel many emotions, from joy to sadness, and ultimately to undying love. Sam and Sadie create their very first blockbuster that grants them success, and at twenty-five years old they both are rich. Except will their brilliance be enough to save them from their own creative ambition and the betrayals they feel in their hearts? Find out more by picking up this read that examines the nature of identity, disability, and the strength needed for redemption.
3. Remarkably Bright Creatures by Shelby Van Pelt
Remarkably Bright Creatures is one of the perfect book gifts for your book club participants! This charming read explores the unlikely friendship between Marcellus the octopus and Tova, an employee working the night shift at the aquarium. Tova doesn't know what happened the day her son mysteriously disappeared 30 years ago, but Marcellus holds the truth, and he must tell her before it is too late. Clever and full of wit, this read will ignite your imagination
4. The Invisible Life of Addie La Rue by V.E. Schwab
A gripping book full of twists, this is a story you will never forget. Addie makes a deal, that will forever change her life, She can live forever, but theirs a catch, no one will remember her. Struggling through life Addie has to survive on her own and learn what it means to truly be forgotten. But then one stranger recognizes her in a bookshop - A stranger with secrets of his own. Will they be able to live freely together, forgetting about their worries or will the dark past come creeping back to them, overshadowing their future? Find out in this brilliant novel!
Memoirs That Inspire You to be Your Best Self

1. The Light We Carry by Michelle Obama
Bring light into your holiday season by reading Michelle Obama's hopeful and inspiring read! Achieve profound advice from one of our nation's most influential women. The Light We Carry reflects on our highly uncertain future by telling readers to move past their fears and focus on the strength that community brings. Michelle challenges us to live boldly, recognize our own light, and become empowered to use it. The powerful stories in this book will inspire you to examine your own life and will light a pathway for you to find greatness.
2. I'm Glad My Mom Died by Jennette McCurdy
This memoir is both heartbreaking and hilarious. Former iCarly star Jennette McCurdy reflects upon her life growing up as a child actor, what it did to her psyche, her struggles, her mother's influence, and ultimately her resilience. This book is darkly humorous and by going through Jennette's journey, her anxiety, shame, but ultimate embarkment toward recovery, you'll realize the joy of being independent. Take control of your own life by reading this refreshing new memoir!
3. Beyond the Wand by Tom Felton
Harry Potter fans will love reading all about Tom Felton's journey of being Draco and the center of a huge pop culture phenomenon. Learn from Tom Felton's fascinating experiences as he navigates the wizarding world on screen and then his own muggle life off the screen. Find out the lasting friendships he makes with the entire Harry Potter cast and exclusive details of what it was like being a part of the wizarding world. Not only is this book a must-read, but it is the perfect gift for anyone who loves Harry Potter!
4. Crying in H Mart by Michelle Zauner
Intimate and honest, Michelle Zauner recalls her disconnection from growing up Korean American, in this unforgettable memoir. Being one of the few Asian American kids at her school in Eugene, Oregon was difficult, but also, was meeting her mother's unrealistic expectations. Once she moves to the East Coast to find work away from her mother, she realizes that this disconnection from her Korean heritage has grown even more. Then her mother is diagnosed with cancer. When everything seems lost, she instead reflects upon her identity and is gifted with the taste, language, and history that her mother had given her. Not only will this book make you rethink your own life, but it is a book to cherish and share with those you love.
Business Books that Motivate You to Succeed

1. Financial Feminist by Tori Dunlap
Worried about your spending habits, this December? Just know that every business professional and consumer should read this book that will give you an inclusive guide to all things money. Find out the secret behind this TikTok star's rise to success and how she had not only managed her debt but also learned how to invest her money and watch it grow. She believes there's no equality without financial equality and will teach you how to overcome your unique obstacles standing in the way of your financial freedom.
2. Atomic Habits by James Clear
Don't repeat a bad habit over and over when it can be easily fixed. Form good habits, break bad ones, and achieve amazing results with this read- a great gift for you or a friend that is interested in mastering their craft and being at the top of their field. Also great for any business professional wanting to learn from a proven system that will allow them to be taken to new heights in their career. Reimagine the way you think about progress and success with Atomic Habits, and transform your life for the better.
3. Unreasonable Hospitality by Will Guidara
Unreasonable Hospitality is a significant book for any entrepreneur and business owner. Learn from the man who created what was considered the best restaurant in the world. Former co-owner of Eleven Madison Park, Will Guidara, shows how every business can transform ordinary interactions with their customers by providing extraordinary experiences. Find the magic in what you do by gifting this book for your next event or company meeting.
4. The Gift of Influence by Tommy Spaulding
A great choice for any business leader or anyone who wants to be more mindful, The Gift of Influence will challenge you to reflect upon yourself and your influence over people. If you had the chance to look back at everyone you met, would you say you influenced them in a positive way? Would you change the way you acted and went through life if some answers were neutral, or even negative and unmemorable? Would you live differently, put down your phone and interact with the people right in front of you? Change the way you interact with people with this essential business book, and learn how to give the gift of your influence this holiday season.
Best Young Adult Books for Your Holiday list

1. Violet Made of Thorns by Gina Chen
This dark fantasy is as enchanting as it is thrilling. Violet Made of Thorns is a story about a lying witch and her prophecies, a cursed prince, and the future of their lives that hang by the thread. Violet awakens to a dreaded curse when her false prophecies determine whether she will gain control over the kingdom or fall in love with the not-so-charming prince, a threat to her power. As the boundary between love and hate grows thinner, can Violet untangle this wicked web of deceit in order to save the kingdom and herself?
2. All My Rage by Sabaa Tahir
Get wrapped in this addictive and heartrending novel that will keep you flipping through page after page. From a family living in Pakistan to their journey to start anew in America, this is a story about love, and loss, but also a story of redemption and forgiveness. Noor and Sal are close. Sal struggles to run the family motel while his mother's health is failing and his father is losing himself to alcoholism. Noor is trying to escape by applying to college as Sal tries to keep the motel from spiraling. Discover if they have what it takes to work through their family struggles and find clarity within themselves.
3. I Must Betray You by Ruta Sepetys
A historical thriller that takes place in Romania during the communist regime in 1989. This startling story will cause you to experience the frightening feeling of what it was like to be watched. Cristian is blackmailed by the secret police and now is put in the position of betraying everyone. Instead of giving in, he joins the revolution, but at what cost? Uncover secrets and betrayals in a country ruled by isolation and fear by following Cristian's tragic journey in I Must Betray You.
4. Long Live the Pumpkin Queen by Shea Ernshaw
The iconic Nightmare before Christmas now has a new story and this one is told through the eyes of Sally Skellington. Sally is the official pumpkin queen and after her courtship with Jack who she adores, she is assigned many queenly duties. However, she realizes how difficult ruling Halloween Town is and fears she is trapped by her duties just like how she was when held captive by Dr. Finklestein until a magical door opens before her, and she stumbles into Dream Town. Unknowingly she sets in motion a chain of events that could truly destroy the future of Halloween town. Will she be able to escape this new nightmare?

Celebrate this holiday season with sharing some special stories with the ones you love! Whether you want to get some bulk Christmas books for your classroom or give the gift of a holiday book to your staff we want to help you. Request a quote today to connect with one of our account managers and ask about our discounted, wholesale pricing. And from your friends at BookPal we wanted to wish you a happy holiday season!