Our highly anticipated Spring Spotlight Business Catalog is here! The BookPal Owls have their eyes on what books are creating buzz in the industry and wanted to share some exciting new titles SPRINGing up soon!
Whether it's for employee onboarding, events, or gifts these books are a great way to learn and share valuable insights with your teams. Our book experts compiled these top picks of new titles publishing in spring 2023-the perfect addition to your teams and organization.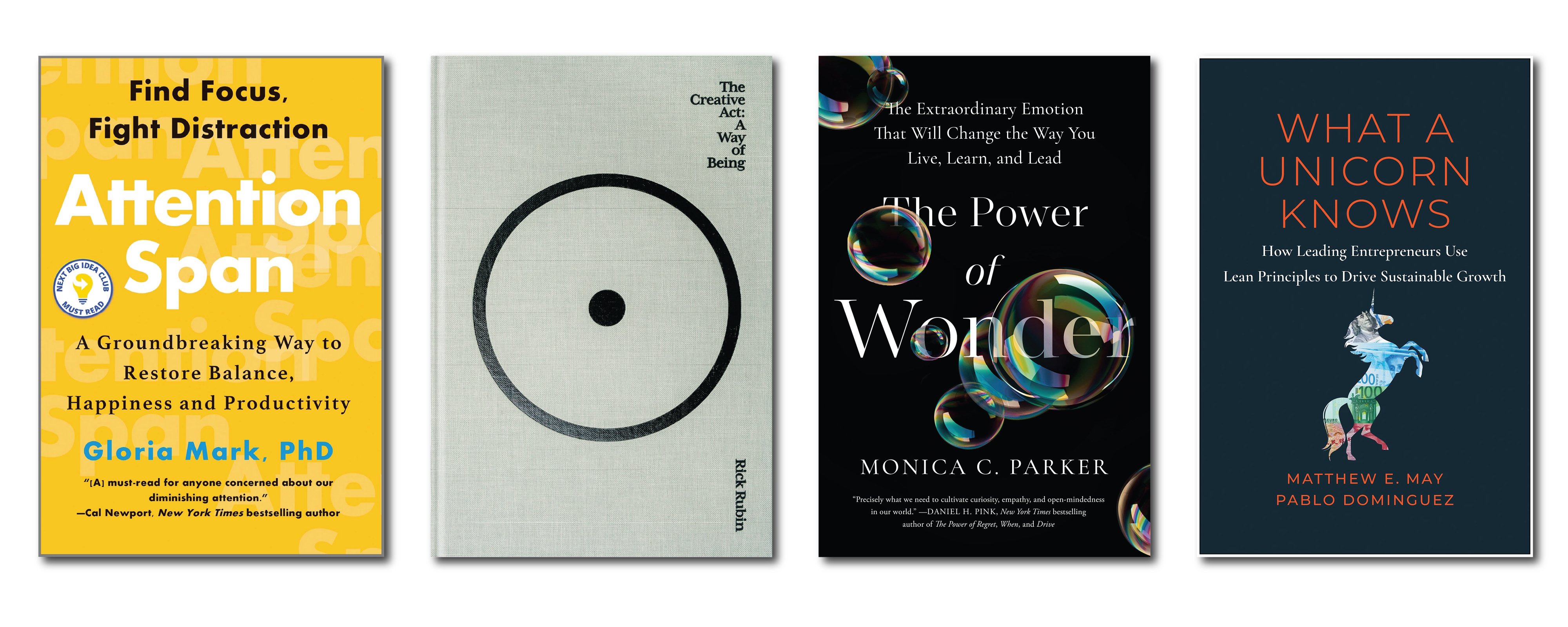 1. Attention Span: A Groundbreaking Way to Restore Balance, Happiness and Productivity by Gloria Mark (Pub: 1/10/2023)
We spend an average of just 47 seconds on any screen before shifting our attention. It takes 25 minutes to bring our attention back to a task after an interruption. And we interrupt ourselves more than we're interrupted by others. Psychologist Gloria Mark reveals these and more surprising results from her decades of research into how technology affects our attention in this exciting new release.
2. The Creative ACT: A Way of Being by Rick Rubin (Pub: 1/17/2023)
Over the years, as Rick Rubin has thought deeply about where creativity comes from and where it doesn't, he has learned that being an artist isn't about your specific output, it's about your relationship to the world. Creativity has a place in everyone's life, and everyone can make that place larger.
The Creative Act is a beautiful and generous course of study that illuminates the path of the artist as a road we all can follow. It distills the wisdom gleaned from a lifetime's work into a luminous reading experience that puts the power to create moments—and lifetimes—of exhilaration and transcendence within closer reach for all of us.
3. The Power of Wonder: The Extraordinary Emotion That Will Change the Way You Live, Learn, and Lead by Monica C. Parker (Pub: 2/21/2023)
The Power of Wonder takes readers on a multidisciplinary journey through psychology, neuroscience, philosophy, literature, and business to share some of the surprising secrets behind the mechanics of wonder and guides readers in bringing more of it into their lives.
This inspiring book from thought leader Monica Parker explores the power of wonder to transform the way we learn, develop new ideas, drive social change, and ultimately become better humans.
4. What a Unicorn Knows: How Leading Entrepreneurs Use Lean Principles to Drive Sustainable Growth by Matthew E. May and Pablo Dominguez (Pub: 2/21/2023)
Why do some young companies become unicorns, while others don't? Offered as a playbook for exponential growth, What a Unicorn Knows offers a field-tested approach to delivering superior customer value and reaching unicorn status by removing the potential inhibitors to organizational scale and speed.
As more companies than ever vie for unicorn status, competitive edge will depend on learning from the best. The Unicorn Model™ promises to keep your company speeding toward lasting marketplace success.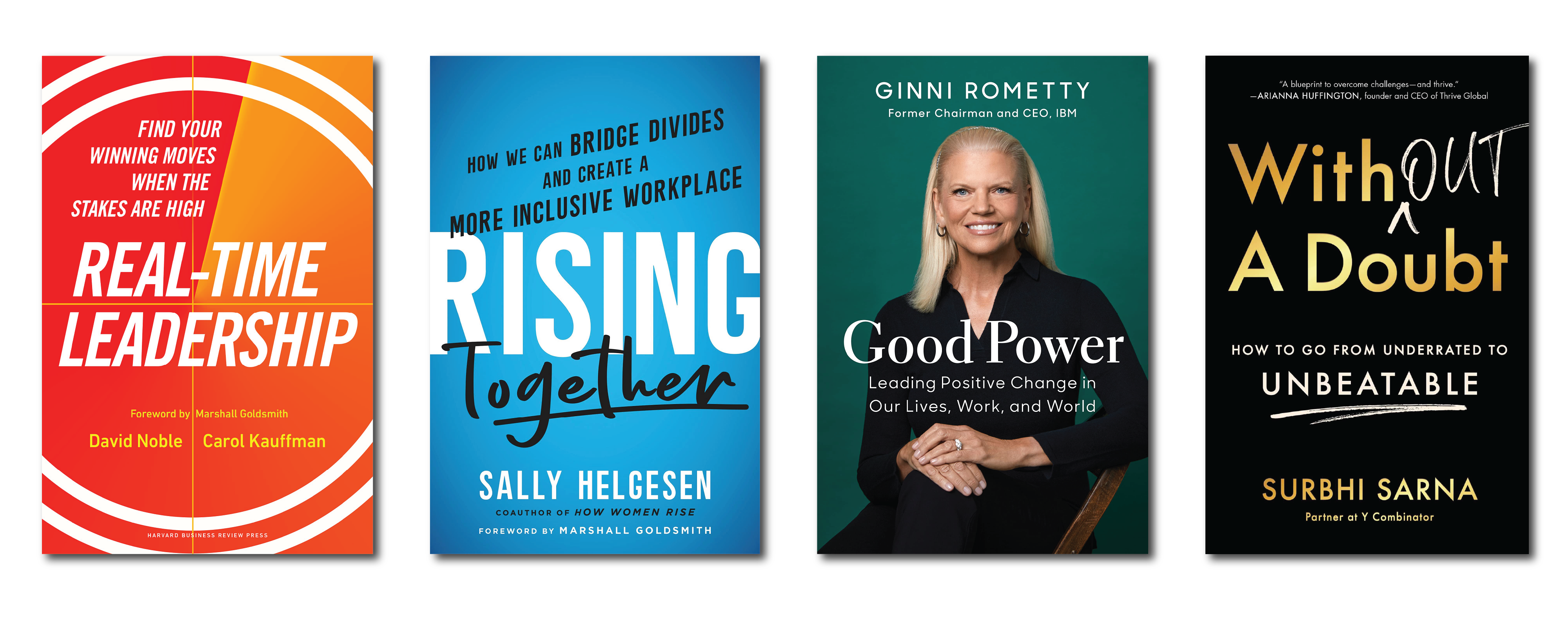 5. Real-Time Leadership: Find Your Winning Moves When the Stakes Are High by David Noble and Carol Kauffman (Pub: 2/21/2023)
The hardest part of leadership is mastering the inevitable high-risk, high-stakes challenges you will face. Leadership coaching legends David Noble and Carol Kauffman show you how with their innovative new framework—MOVE—which equips you with the tactics you need to slow down high-stakes situations before they speed you up.
Real-Time Leadership is a compelling and demystifying look at how the MOVE framework delivered positive results for them—and how it can for you, too.
6. Rising Together: How We Can Bridge Divides and Create a More Inclusive Workplace by Sally Helgesen (Pub: 2/28/2023)
Sally Helgesen draws on three decades of work with executives and aspiring leaders around the world to offer practical ways to build more inclusive relationships, teams, and workplaces.
Rising Together is for readers at every stage and level in their careers who recognize that building a broad range of relationships is essential to their advancement, now and in the future. This book also serves as an indispensable guide for HR, diversity, and leadership professionals
7. Good Power: Leading Positive Change in Our Lives, Work, and World by Ginni Rometty (Pub: 3/7/2023)
Ginni Rometty led one of the world's most iconic companies, and in Good Power she recounts her groundbreaking path from a challenging childhood to becoming the CEO of IBM and one of the world's most influential business leaders.
With candor and depth, Rometty shares milestones from her life and career while redefining power as a way to drive meaningful change in positive ways for ourselves, our organizations, and for the many, not just the few—a concept she calls "good power."
8. Without a Doubt: How to Go from Underrated to Unbeatable by Surbhi Sarna (Pub: 3/7/2023)
Without a Doubt is Sarna's powerful story of becoming a leader without an MBA, networking without a network, and raising funds when she didn't know a single venture capitalist, teaching you how to do the same. Using her own experience, she shows you how to face setbacks, not let impossible standards get in the way, lead empathetically, empower others to think differently, and how to convince the right people to help you accomplish your goals.
Without a Doubt reveals that your power lies in recognizing the qualities that make you different and leveraging them to pursue your dreams.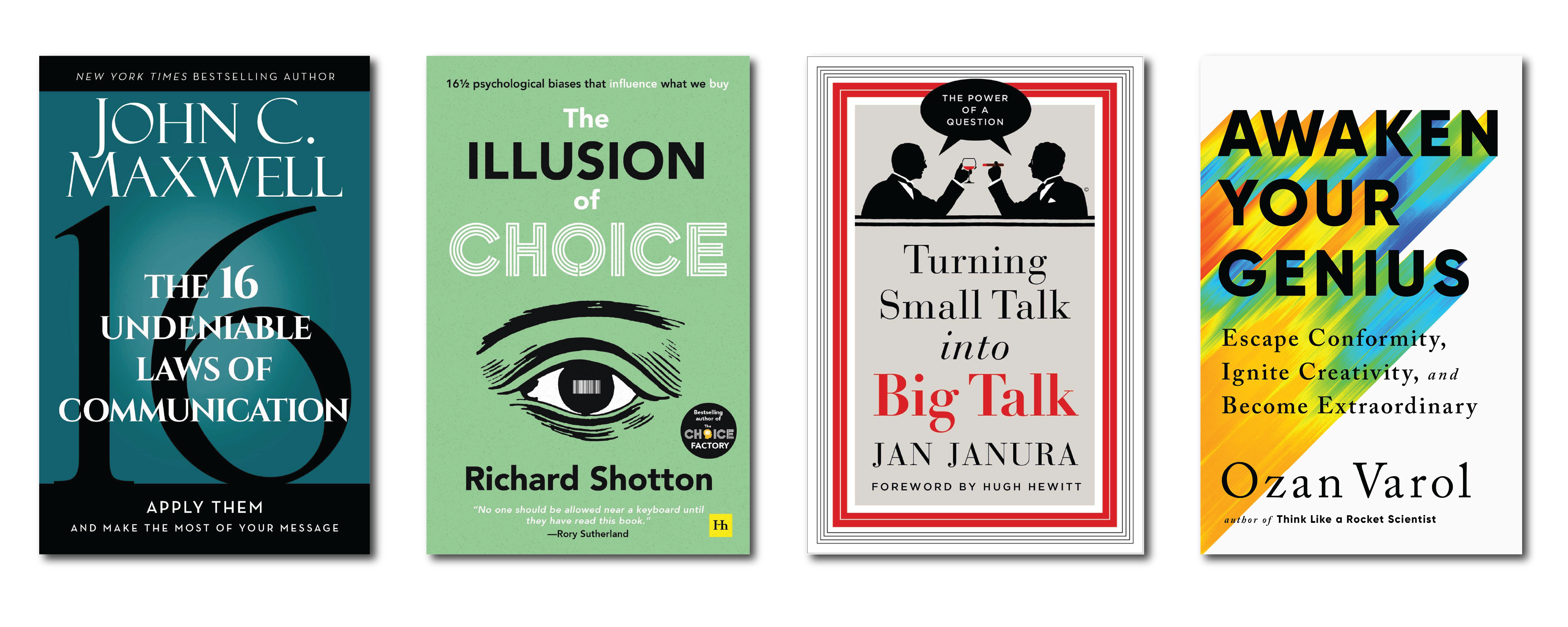 9. The 16 Undeniable Laws of Communication: Apply Them and Make the Most of Your Message by John C. Maxwell (Pub: 3/28/2023)
Everyone has a message to share. Whether you want to improve your ability to inspire employees, speak at PTA meetings, report to a board of directors, teach students, deliver a sermon, address a small group, speak from a stage, or communicate to an arena full of people, this book can help you.
Learn from one of the best communicators in the world and start making the most of your message today.
10. The Illusion of Choice: 16 ½ Psychological Biases That Influence What We Buy by Richard Shotton (Pub: 3/28/2023)
Every day, people make hundreds of choices. These choices might appear to be freely made, but psychologists have shown that subtle changes in the way products are positioned, promoted and marketed can radically alter how customers behave.
The Illusion of Choice identifies the 16½ most important psychological biases that everyone in business needs to be aware of today – and shows how any business can take advantage of these quirks to win customers, retain customers and sell more.
11. Turning Small Talk into Big Talk by Jan Janura (4/11/2023)
Conversation is undoubtedly the most important part of a relationship, whether it's business, personal, or spiritual. It's the only way to truly get to know someone, and it's the best method in strengthening your bond with a business partner, spouse, friends, your children, and even God.
If you find yourself desperate for deeper connection in your most important relationships, or if you find yourself responsible for regularly hosting clients or co-workers, this book is the missing tool in your tackle box!
12. Awaken Your Genius: Escape Conformity, Ignite Creativity, and Become Extraordinary by Ozan Varol (Pub: 4/11/2023)
Extraordinary people carve their own paths as leaders and creators. They think and act with genuine independence. They stand out from the crowd because they embody their own shape and color. We call these people geniuses—as if they're another breed. But genius isn't for a special few. It can be cultivated.
learn how to discard what no longer serves you and discover your first principles—the qualities that make up your genius with this book.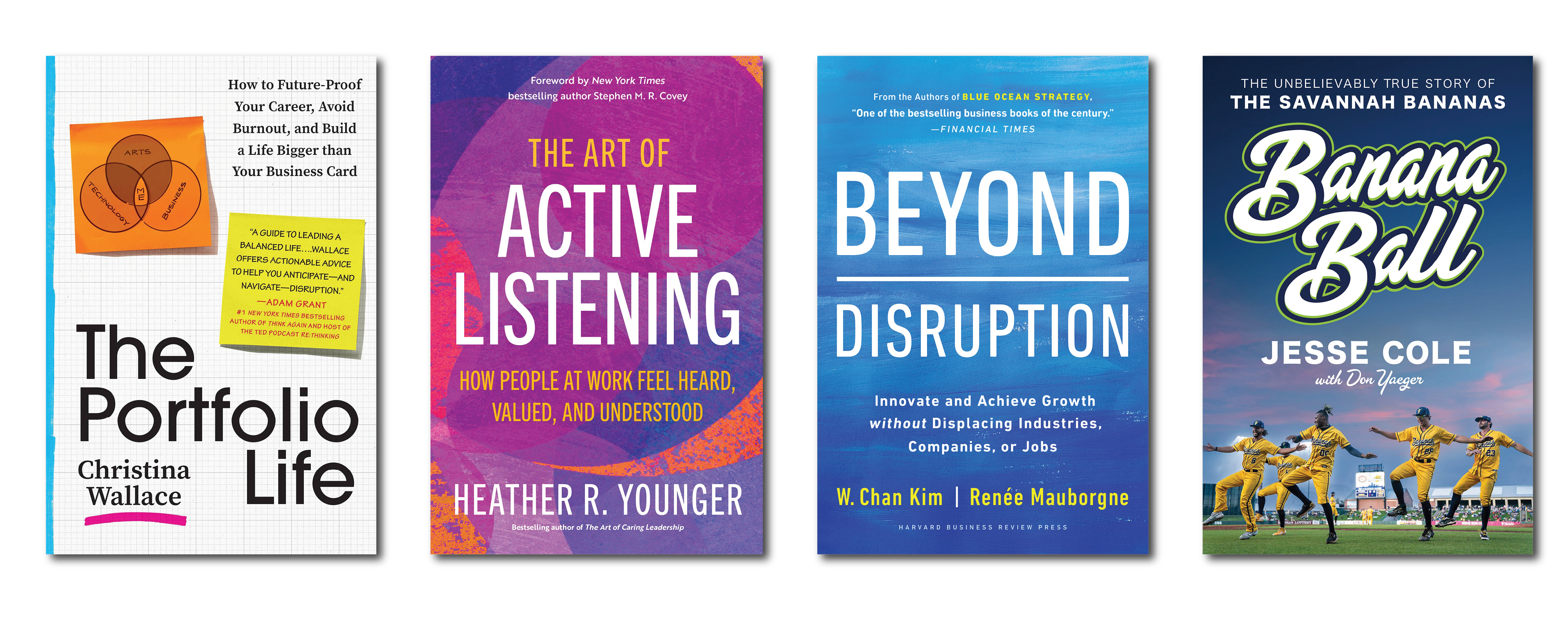 13. The Portfolio Life: How to Future-Proof Your Career, Avoid Burnout, and Build a Life Bigger Than Your Business Card by Christina Wallace (Pub: 4/18/2023)
Pouring yourself into a single full-time job is the riskiest move you can make. We need a dramatically different relationship with work, one that allows us to define ourselves beyond our paid labor.
Christina Wallace adapts tried-and-true practices from the business sector to help you eschew the cult of ambition and experience the freedom of building the flexible, fulfilling, and sustainable life you want.
14. The Art of Active Listening: How People at Work Feel Heard, Valued, and Understood by Heather R. Younger (Pub: 4/25/2023)
Active listening is the doorway to increased belonging, loyalty, profitability, innovation, and so much more. It is the difference between thinking we understand what people want and knowing what they want.
When those at work feel heard, they will do whatever it takes to achieve outcomes that serve your relationship and your organization. Using the tools provided in this book, you can implement active listening.
15. Beyond Disruption: Innovate and Achieve Growth without Displacing Industries, Companies, or Jobs by W. Chan Kim and Renée Mauborgne (Pub: 5/2/2023)
Beyond Disruption redefines and expands the existing view of innovation by introducing a new approach, nondisruptive creation, that is free from the destructive displacement that happens when innovators set out to disrupt.
A practical guide for driving innovation and growth, the rich research behind the book, coupled with its frame-breaking message, make it the must-read book for the next generation of innovators.
16. Banana Ball: The Unbelievably True Story of the Savannah Bananas by Jesse Cole (5/16/2023)
For his entire childhood, Jesse Cole dreamed of pitching in the Majors. Now, he has a life in baseball that he could have only imagined. Fast, fun, and outrageously entertaining, Banana Ball brings fans right into the game of baseball reimagined.
This is a story that's bigger than baseball and bigger than the yellow tuxedo Jesse wears as the "ringmaster" of every game. It is a personal story, a creativity story, and the story of a business scrapping for every success.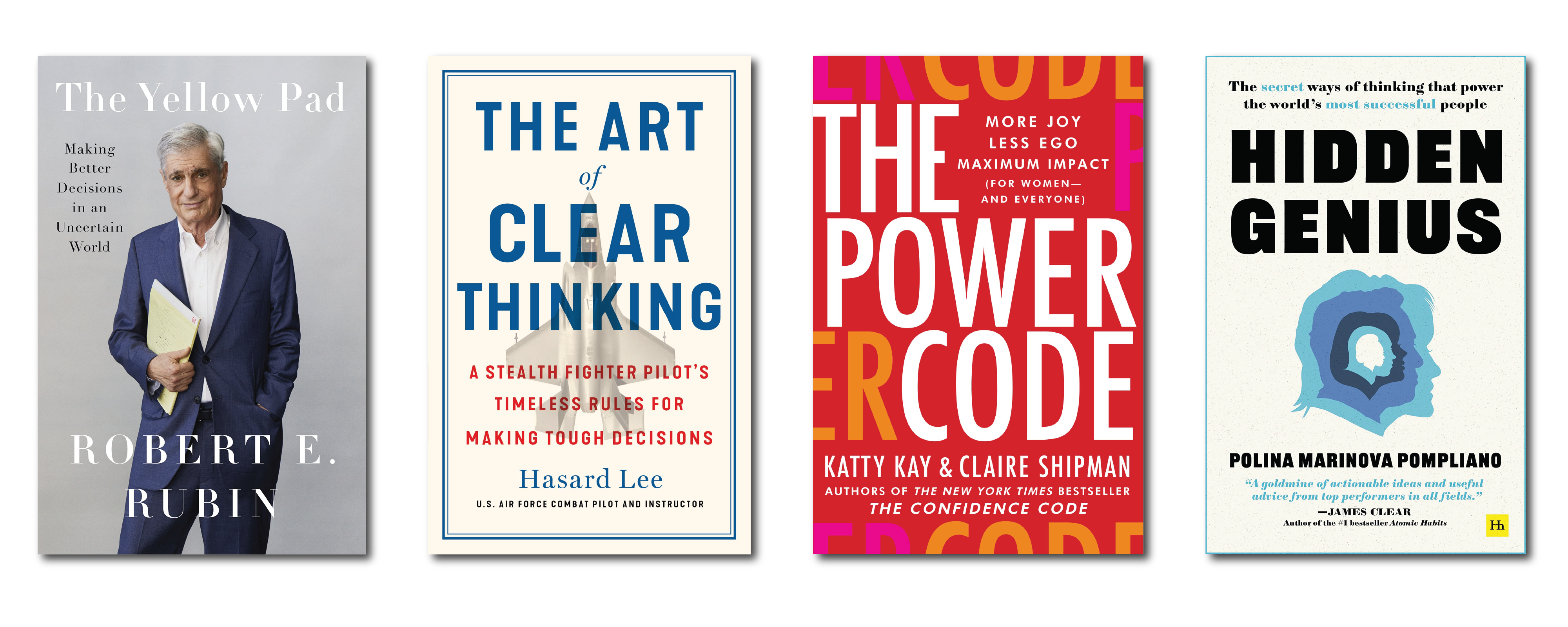 17. The Yellow Pad: Making Better Decisions in an Uncertain World by Robert E. Rubin (Pub: 5/16/2023)
How can we make sound decisions in a fundamentally uncertain world? While serving in some of the most significant roles in markets, business, and government, Rubin has grappled with that question.
The Yellow Pad contains a former Treasury secretary's approach to economic policymaking. With its combination of wisdom and relevance, The Yellow Pad is an essential guide for anyone looking to make better decisions in life, work, and public policy.
18. The Art of Clear Thinking: A Stealth Fighter Pilot's Timeless Rules for Making Tough Decisions by Hasard Lee (Pub: 5/23/2023)
In The Art of Clear Thinking Hasard Lee distills what he's learned during his career flying some of the Air Force's most advanced aircraft.
Hasard has used and taught these decision-making techniques across the full spectrum of human endeavor and proved their effectiveness both in the cockpit and the boardroom. The Art of Clear Thinking is a book that will change how you interact with the world around you.
19. The Power Code: More Joy. Less Ego. Maximum Impact. (for Women - and Everyone) by Katty Kay and Claire Shipman (Pub: 6/13/2023)
What we need is a new definition of power and a reimagined workplace and homefront that everyone can buy into and benefit from. Drawing on the latest research, interviews with high-powered women, and their own personal stories, Kay and Shipman ask tough questions, surfacing hidden opportunities that draw on women's underappreciated strengths and presenting a new operating system that helps women use their talents to become their most powerful selves.
20. Hidden Genius: The Secret Ways of Thinking That Power the World's Most Successful People by Polina Marinova Pompliano (Pub: 6/20/2023)
The highest performers don't use tricks or hacks to achieve greatness. They use mental frameworks that fundamentally change the way they see the world. They've learned how to unlock their hidden genius in order to reach their full potential.
This book will help you do the same. After learning from the world's most successful people featured inside, you will have a mental toolkit to help you tackle thorny problems, navigate relationships, and use creativity and resilience in times of uncertainty.
Love the titles we picked? Well you can see the previous business catalog titles now! Or check out the other new releases/ preorders releasing this year on our website now.
Recent Posts
World Autism Awareness month is all about kindness and encouraging acceptance! Take some time this A …

Two, four, six, eight… Who do we appreciate? TEACHERS!Teacher appreciation day is coming up in early …

Whether it's for employee onboarding, employee appreciation gifts, development and training programs …