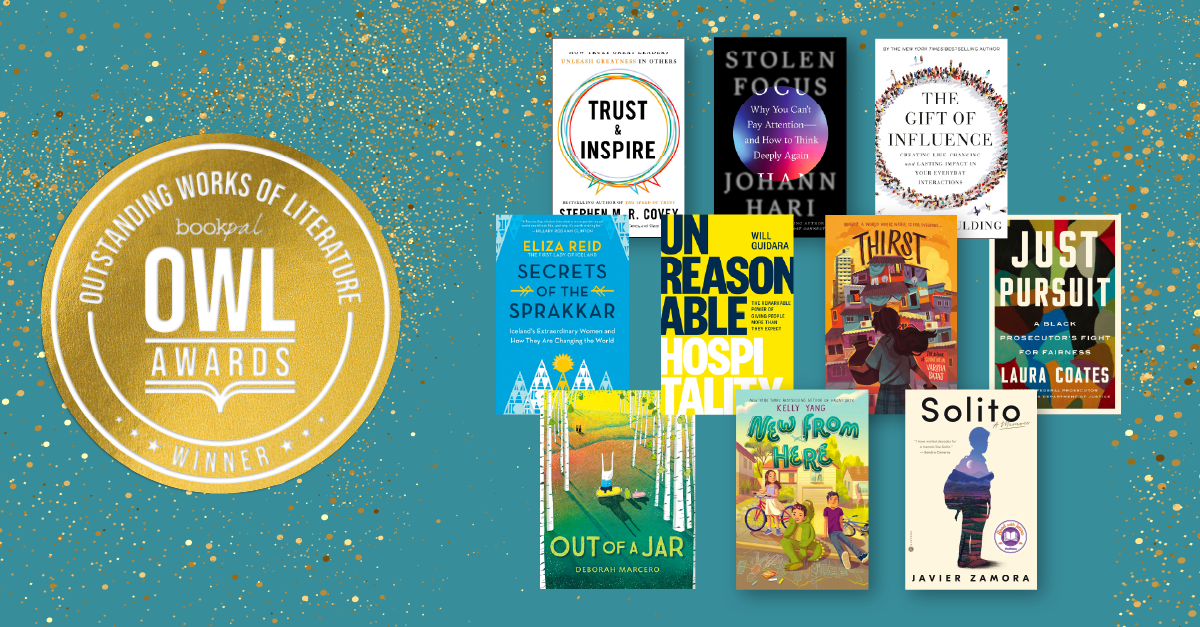 It is finally the moment you have all been waiting for. After months of reading and assessing the best of the best we are excited to announce the 2022 OWL Award Winners!
Here at BookPal we believe in the power of books to transform lives. And this year with all our amazing submissions we got to see directly how these books are impacting our society today. We were taken to the front lines of the India water crisis, got to see the inside of a five star restaurant, and even follow a young boy's journey to be reunited with his family. Every one of these books made us cheer, cry, and reflect on not only our own lived experiences but those of others too.
We hope that you enjoy these winners as much as we did and are able to gain valuable insights and experience charming stories along the way. Congratulations to our 2022 OWL Award Winners!
---
Winner In: Big Idea
Stolen Focus: Why You Can't Pay Attention-And How to Think Deeply Again by Johann Hari
Stolen Focus is a groundbreaking examination into why our ability to pay attention is collapsing and how we can get our attention back. Grounded in fascinating statistics on people's ability to focus while in a world that has constant distractions around them. With engaging insights from veterinarians who diagnose dogs with ADHD to an office in New Zealand that discovered a remarkable technique to restore workers' productivity, you will gain implementable insights in every chapter. Learn how to reclaim your focus- as individuals, and as a society now!
"So insightful! This was such a fascinating look into the attention problem across societal, personal, and physiological issues. This is one of the most interesting books I've read all year and couldn't recommend it enough."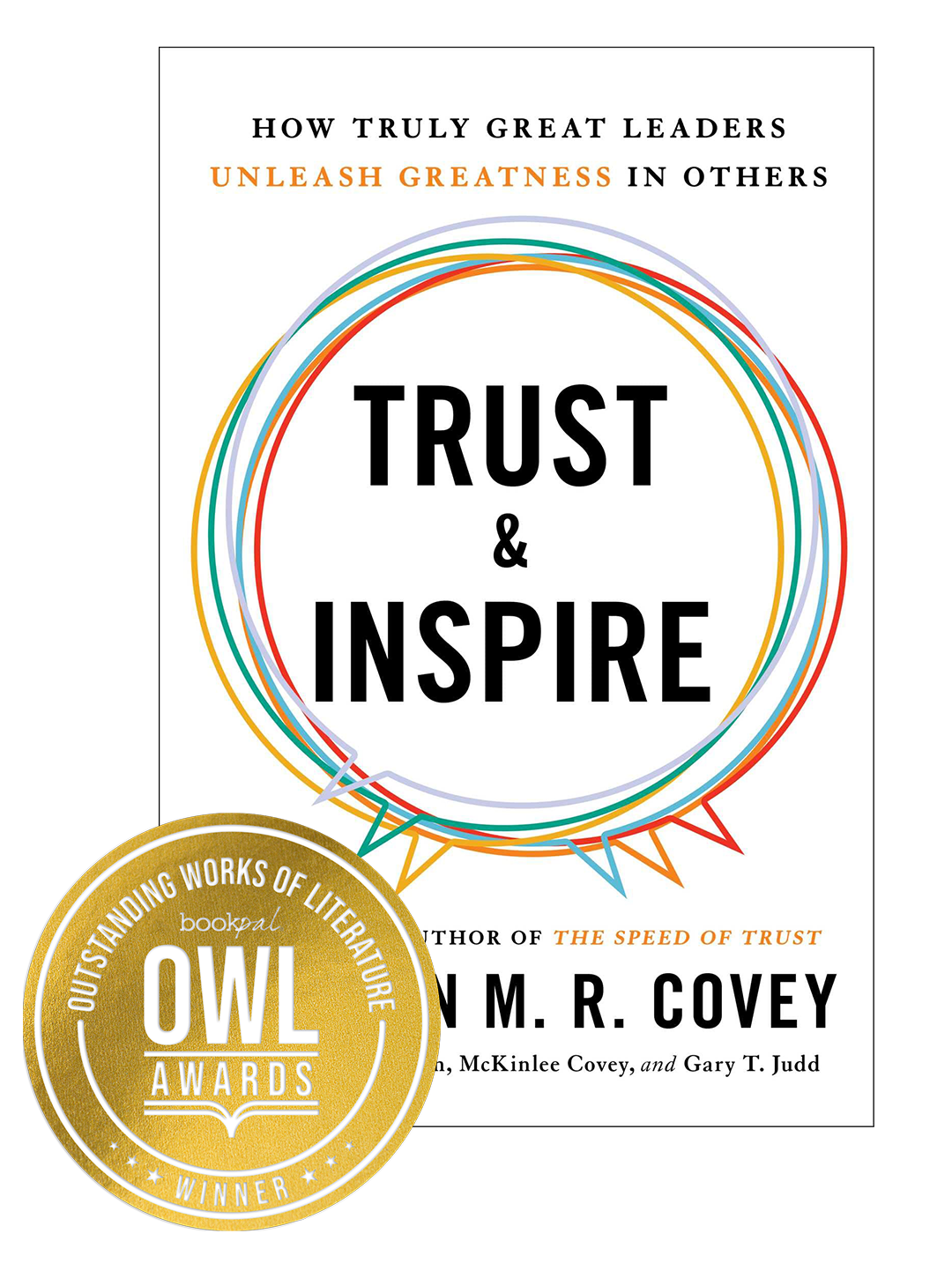 Winner In: Leadership
Trust and Inspire: How Truly Great Leaders Unleash Greatness in Others by Stephen M.R. Covey
Want a book on a revolutionary new way to lead? Look no further. Stephen M. R. Covey has made it his life's work to understand trust in leadership and organizations. Even though our world has changed drastically, our leadership style has not. There needs to be a shift from this "command and control" model to a leadership style of "trust and inspire." Trust and Inspire is a new way of leading that starts with the belief that people are creative, collaborative, and full of potential. People with this kind of leader are inspired to become the best version of themselves and to produce their best work. People don't want to be managed; they want to be led.
"Such an impactful read. Loved the idea that everyone has the power and potential for greatness and that people should create the change they want to see. This book made me feel empowered and ready to implement change in the way I lead."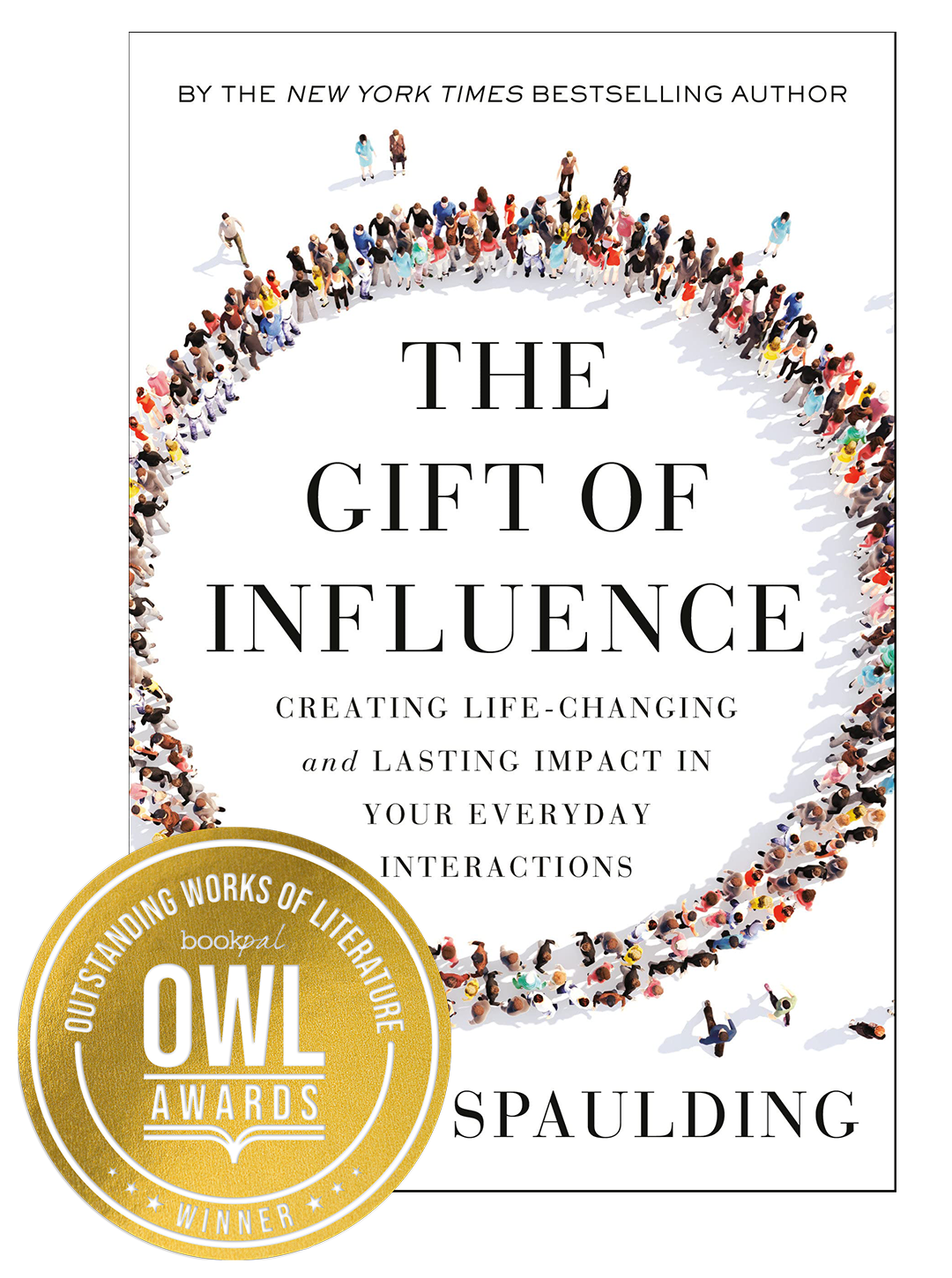 Winner In: Management & Culture
The Gift of Influence: Creating Life-Changing and Lasting Impact in Your Everyday Interactions by Tommy Spaulding
The average person in their lifetime will influence up to eighty thousand people. Spaulding takes this simple, but impactful statistic and weaves a beautiful and impactful book. You will learn personal stories and insights from entrepreneurs who have made an impact far beyond their businesses to a teacher who changed the lives of thirty-six students with a simple classroom lesson. The Gift of Influence is an essential read for anyone who works with people on the daily actions that add up to a meaningful life.
"This book has instantly jumped on my list of must read book recommendations.This book made me reflect on the way I interact with those around me and reflect on simple but powerful ways to positively impact those people who normally wouldn't think about. A powerful but necessary call for change."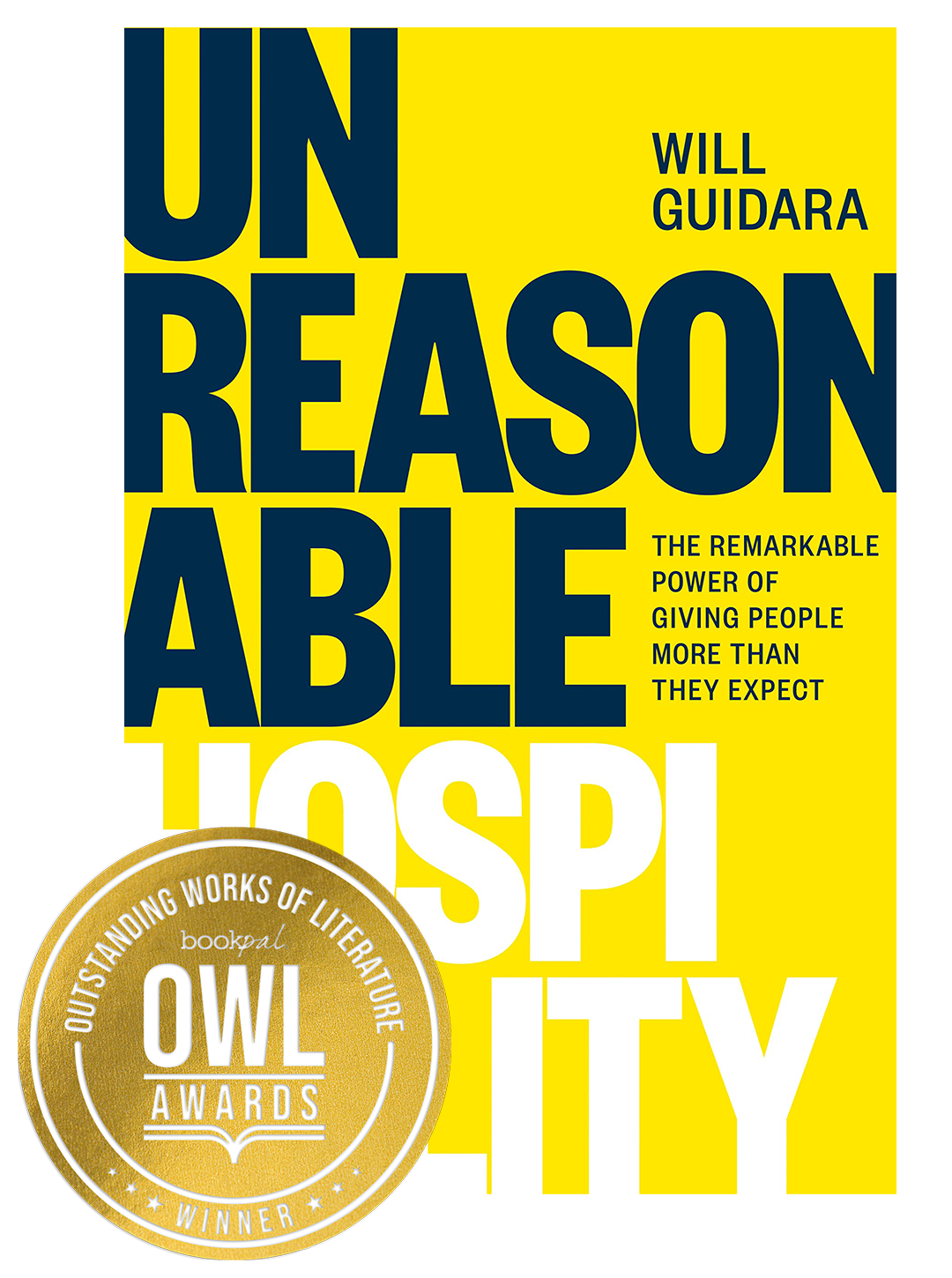 Winner In: Sales & Marketing
Unreasonable Hospitality: The Remarkable Power of Giving People More Than They Expect by Will Guidara
Have you ever wanted to step inside one of the best restaurants in the world? Well now is your chance to in Unreasonable Hospitality! See how Guidara was able to take a struggling two-star brasserie into being named the best restaurant in the world through a radical reinvention and memorable, over-the-top, bespoke hospitality. Every business can learn how to transform ordinary transactions into extraordinary experiences. Bring ambition and inspiration into your workplace in this fantastic read!
"A truly eye opening read. Our society lacks the true hospitality Guidara displayed in this book. I hope I can take the lessons I've learned in reading to serve others well in my daily life."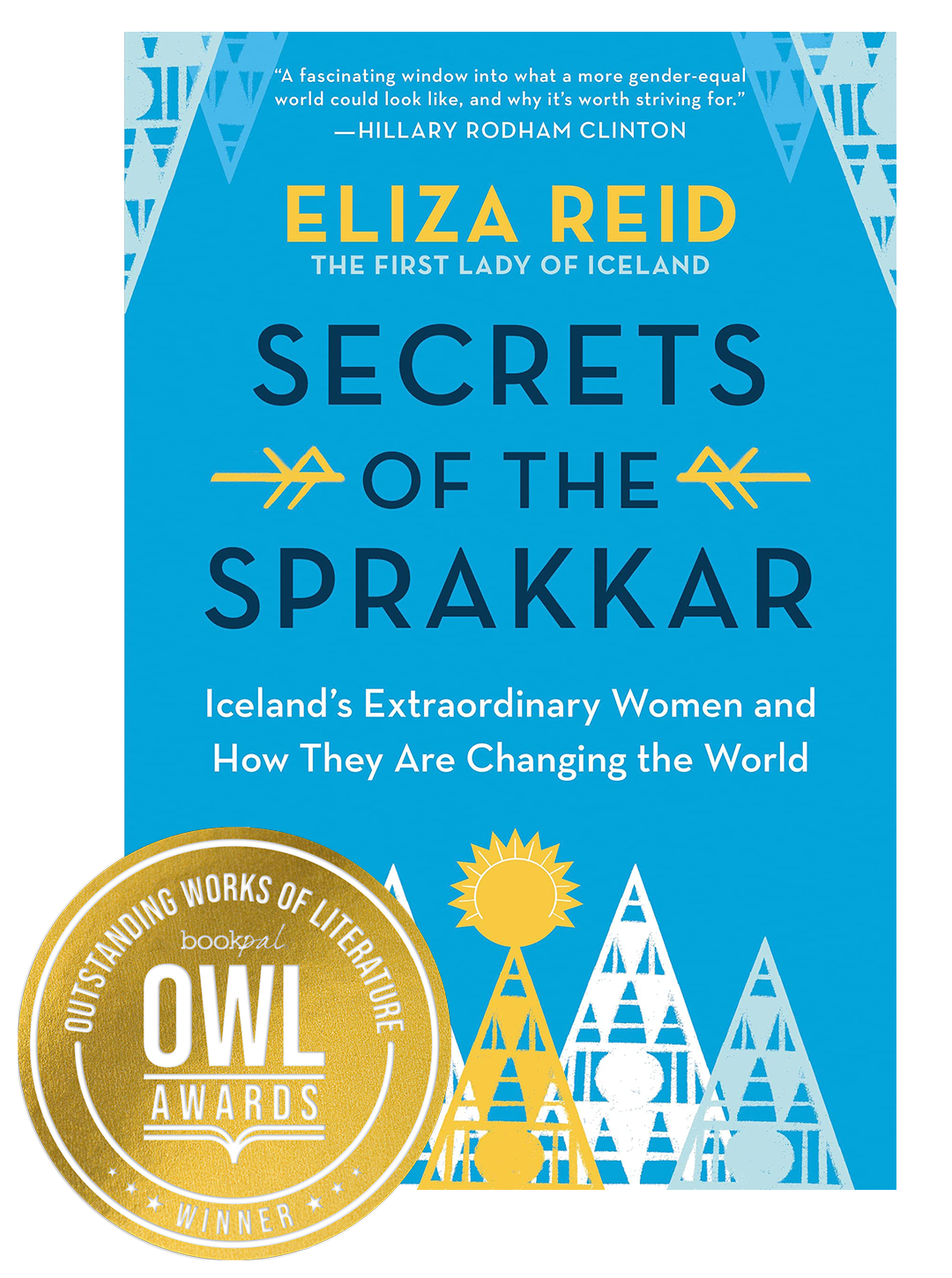 Winner In: Women In Business
Secrets of the Sprakkar: Iceland's Extraordinary Women and How They Are Changing the World by Eliza Reid
What is the secret behind Iceland's progress in closing the gap in equality between men and women? Eliza Reid, the First Lady of Iceland, examines her adopted homeland's attitude toward women in this personal, empowering book. Reid's own experience as an immigrant from small-town Canada who never expected to become a first lady is expertly interwoven with interviews with dozens of sprakkar ("extraordinary women") to form the backbone of an illuminating discussion of what it means to move through the world as a woman. Adopt the Icelandic outlook into your own life by reading Secrets of the Sprakkar today!
"I believe everyone has the ability to learn from this fascinating book! The women in this book were so inspiring that I felt an unspoken bond with them that made me want to connect more with the women in my life."
Winner In: Picture Book
Out of a Jar by Deborah Marcero
Follow Llewellyn as he comes to learn how to handle his big emotions in this adorable picture book perfect for children ages 3-8. Llewellyn doesn't like to feel afraid or sad, angry, lonely, or embarrassed. So he comes up with a plan to tuck each of those feelings into jars and hide them away. But after a while Llewellyn walks around not feeling much of anything anymore. This book is perfect to share with children and show them how to embrace the feelings as they come.
"Fantastic book! I see this book as a solace for children who are dealing with strong emotions and not sure how to deal with them. Society today is recognizing the importance of mental health and I feel this is a great introduction to mental wellness for children. I couldn't help but say "awww" the whole way through. I would highly recommend it!"
Winner In: Elementary
Thirst by Varsha Bajaj
Travel to Mumbai in this riveting story of a heroic girl who fights for her belief that water should be for everyone. Minni lives in the poorest part of Mumbai, where access to water is limited to a few hours a day and the communal taps have long lines. Meanwhile, in the high-rise building where she just started to work, she discovers that water streams out of every faucet and there's even a rooftop swimming pool. This is a great book for children ages 8-12 and show the power of fighting injustices for the ones you love.
"Thirst was a wonderful story of a courageous young woman. Minni's struggles draw attention to the water issue in a way that is powerful. It shows the power of trying your best to support the people you value in your life."

Winner In: Middle School
New from Here by Kelly Yang
Moving can be hard. Especially when the coronavirus hits Hong Kong and ten-year-old Knox Wei-Evans's mom makes the last-minute decision to move him and his siblings back to California, with only two days to pack. But when racism skyrockets during COVID-19, Knox tries to stand up to hate, while finding his place in his new country. This book is perfect for children aged 10-14 looking to learn more about racism during the initial outbreak of the coronavirus and the importance of courage and hope.
"Amazing! The way that Kelly Yang is able to create such an impactful story where you feel for every character in this book and fall in love with them. This is a book that leaves readers with a feeling of hope and happiness. I can't recommend it enough!"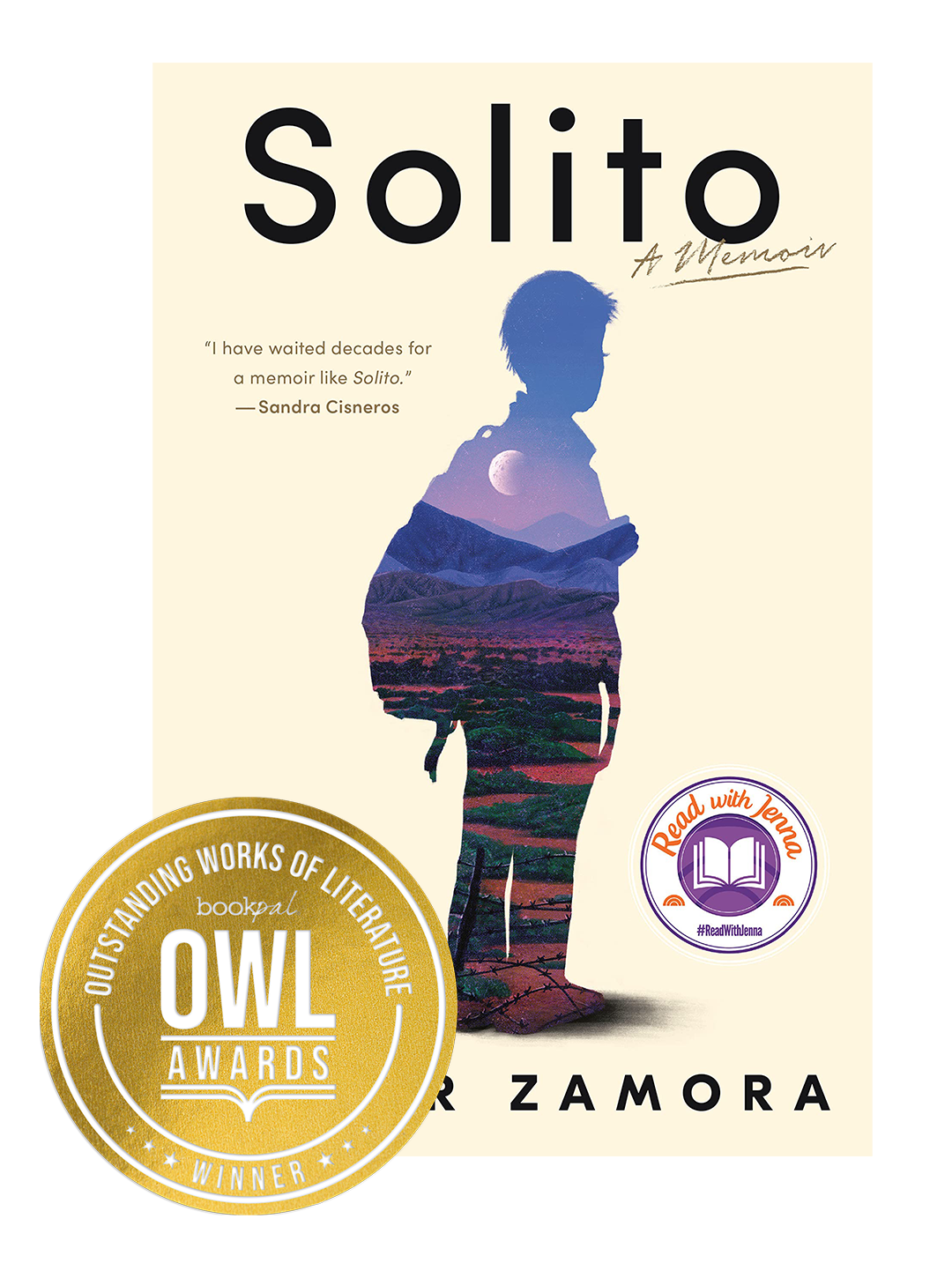 Winner In: First Year Experience
Solito by Javier Zamora
Most kids dream of their big adventures. But in this gripping memoir by Javier Zamora we get to follow along first hand on his adventure, a three-thousand-mile journey through Guatemala and Mexico, and across the U.S. border to be reunited with his mother and father. He could not foresee the perilous boat trips, relentless desert treks, pointed guns, arrests and deceptions that await him; alongside fellow migrants who will come to encircle him like an unexpected family. Solito provides an immediate and intimate account not only of a treacherous and near-impossible journey, but also of the miraculous kindness and love delivered at the most unexpected moments.
"I've read several books related to this topic but Solito showed me a very different side of it. It was hard to imagine a young boy making this kind of journey. I rooted for him and cried with him and celebrated with him. I thoroughly enjoyed this book and felt it was one of the most real accounts that I've read."
Winner In: Community Read
Just Pursuit: A Black Prosecutor's Fight for Fairness by Laura Coates
On the front lines of our legal system, Coates saw how Black communities are policed differently; Black cases are prosecuted differently; Black defendants are judged differently. Through these revelatory and captivating scenes from the courtroom, Laura Coates explores the tension between the idealism of the law and the reality of working within the parameters of our flawed legal system, exposing the chasm between what is right and what is lawful. This collection of well-written vignettes paints an important and memorable view of our justice system.
"Just Pursuit was engaging to read. Author Laura Coates combines and represents the conflicts of legally right vs. morally, compassionately right. A very enjoyable read that I would recommend to others."
We want to say a big congratulations to our longlist, shortlist, and category winners of this year's OWL Awards! BookPal would also like to extend a special thanks to all the authors and publishers who submitted their incredible titles. We appreciated all of them, and look forward to the inspiring and groundbreaking titles to come in 2023!
Recent Posts
Are you ready to dive into a world of whimsy and wonder? A place where magical creatures roam and ad …

In the fast-paced workplace, it may be easy for employee well-being to take a backseat. Enter the su …

Happy Asian American and Pacific Islander (AAPI) Heritage Month! May is a time to celebrate and reco …