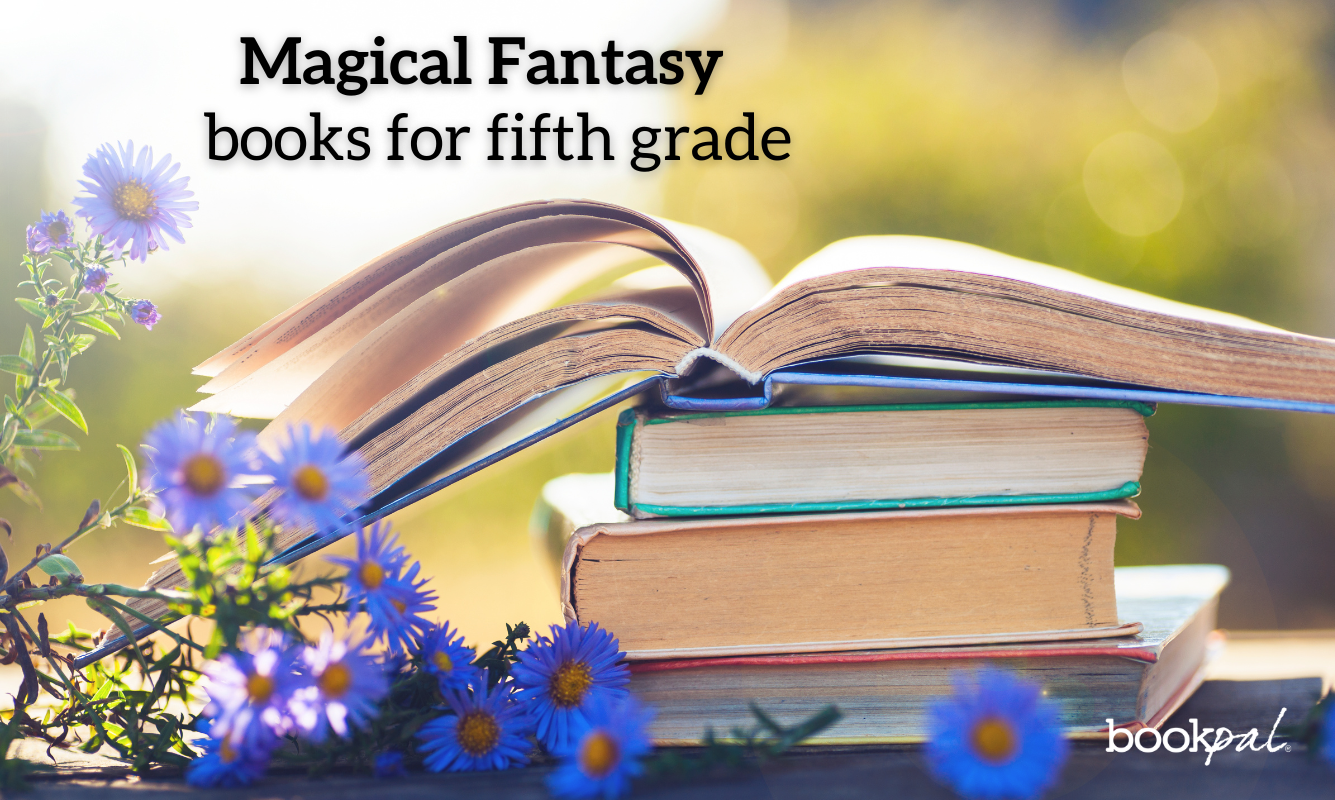 Explore these ten fantasy books for fifth graders
Magic and fantasy books are a perfect way for fifth graders to explore new worlds, ideas, and characters. Many adults have lost appreciation of the magic found in children's books. Reading a story to a young child can bring back the joy and magic that we often let go of as adults. Not only that, but fantasy is a great coping tool for kids; it provides them with the opportunity to escape into worlds where anything is possible, where there are no rules that hold them back.
Fantasy books are often the bridge between childish imagination and growing maturity, and we all can find that there is hidden magic in our own existence.
For kids who have lost the wonder of their childhood in favor of a more serious and adult outlook on life, it may be helpful for them to rediscover the magic within their own imagination. But where to start? With so many books it may be hard to find the right one that not only teaches important lessons but brings back that nostalgic feeling of joy.
The following are 10 excellent stories that can help fifth graders and teachers rediscover the magic inside themselves. The list includes stories that come with multiple themes such as exploration, adventure, sorcery, and magic of all sorts. From mythical creatures to enchanted castles, our choices for the best ten fantasy books for fifth graders will not leave you disappointed.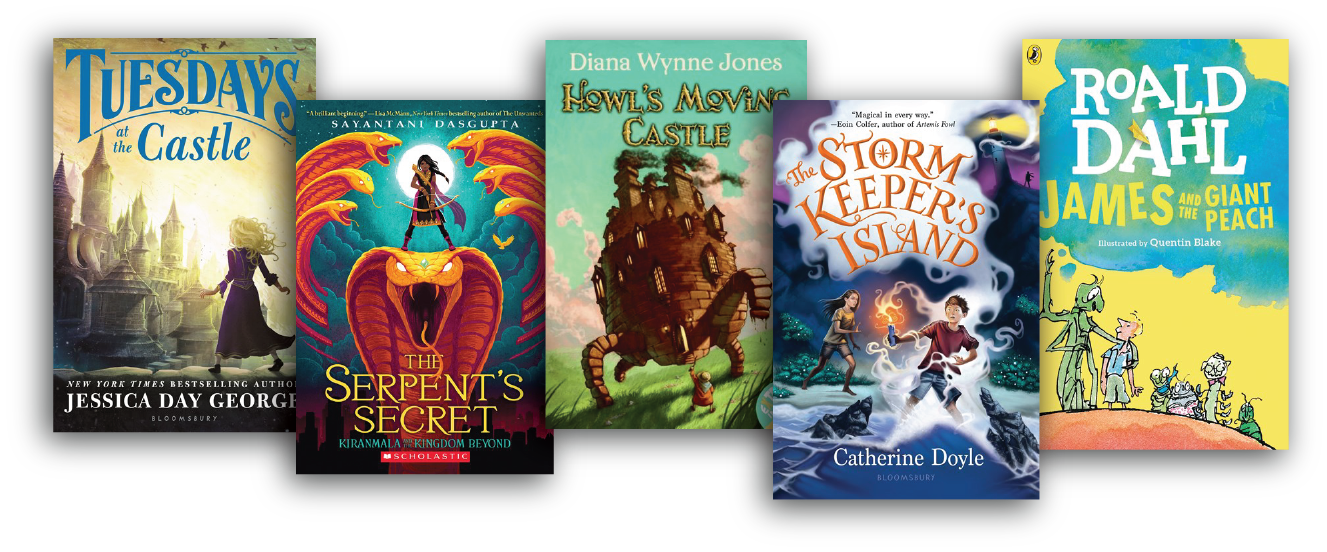 1. Tuesdays at the Castle by Jessica Day George
What magical fantasy book list is complete without an enduring fantasy on princesses? None. Hence, we begin with one of the finest princess books and magical fantasies on our radar.
Tuesdays at the Castle Glower are Princess Celie's favorite days since on Tuesdays, the castle adds a new room and turret and sometimes even an entire wing! No one is as curious about the add-ons of the castle as Princess Celie. The castle is extremely unpredictable and no one can really anticipate or map the castle's activities like the princess.
However, when the King and Queen of Castle Glower are ambushed, it is up to Celie to save them with her unwavering knowledge of the castle's never-ending twists and turns.
2. The Serpent's Secret by Sayantani DasGupta
Fans of Rick Riordan's Percy Jackson will love this fresh new fantasy full of winged horses, strange talking birds, and magic. This book is the first in its series and is packed with adventure.
Kiranmela is just your average sixth grader living in New Jersey, until her parents suddenly go missing and a giant rakkhosh demon barges into her home, wanting to eat her alive. She realizes that her parent's fantastical stories may now hold some truth, that she is an Indian Princess of another secret dimension, destined to embark on a dangerous and extraordinary journey. Avoiding the Serpent King of the underworld and the Rakkhoshi Queen, Kiranmela must save her parents or the world may fall into destruction – New Jersey and everything beyond it.
Kiranmela must take hold of her destiny and summon all of her courage to protect her parents and both worlds, but the underworld is a dark and dangerous place, full of riddles and demons. Will she have the strength?
3. Howl's Moving Castle by Diana Wynne Jones
This book is as equally as magical as its Academy award-nominated movie adaptation by Hayao Miyazaki. Howl's Moving Castle is an amazing story about a girl, Sophie, who goes on an enchanting journey after her life is cursed by the cruel Witch of the Waste.
Sophie works in a hatter's store and is greeted by a strange new customer. Little does she know that this mysterious new customer is none other than the Witch of the Waste who has a wicked temper. This customer changes Sophie's life forever when she casts a dark spell that curses Sophie to turn old. Now Sophie must survive under the constraints of this malignant spell. She sets out on a quest to undo the curse that threatens her life. Whilst traveling she encounters the Wizard Howl's moving castle, an amazing structure that is alive, spewing steam, and powered by impressive magic.
She makes a deal with a fire demon to escape her curse, but soon discovers a secret quite interesting about the Wizard Howl himself, and is thrown into a world of chaos and self-discovery that goes beyond the realm of witches and magic.
4. The Storm Keeper's Island by Catherine Doyle
Magic and myth come together in The Storm Keeper's Island which makes this fantasy like no other. Incredibly heart-rending, terrifying, and fun, The Storm Keeper's Island is gorgeously written.
The novel traces the journey of young Fionn as he travels to the island of Arranmore along with his sister Tara, to stay with his grandfather. Fionn is completely unaware that there are dangers stirring deep within the island of Arranmore. Fionn's grandfather was the former caretaker but is getting too old now and needs to find a new champion to take his place. Fionn rises to the position, however, being the caretaker has its challenges…more sinister magic is awakening that is intent on stirring a new war that would change Fionn's fate and the future of the island.
This fast-paced book is perfect for fifth-grade students who are looking for a mix of competition and adventure.
5. James and the Giant Peach by Roald Dahl
A Roald Dahl classic, James and the Giant Peach is a heartwarming story about the power of friendship and a boy who goes on a journey away from home.
At first, the story starts out quite tragically when James's parents are eaten by a rhinoceros and he is forced to live with his terrible aunts, Spiker and Sponge. James's life is not fun until he accidentally drops magic crystals onto the old peach tree. The tree's peach starts to grow and now it's as big as his house! James goes inside the peach to find a ragtag group of oversized friendly bugs – A grasshopper, spider, ladybug, and more! When the peach starts to roll away, James is now in for an adventure!
Roald Dahl's story is full of vivid imagery and vibrant characters that brighten with each page. Even though it is a fantasy, the book explores some powerful and mature themes of death, but also hope for the future. Every fifth grader should be familiar with this classic title!
6. Love, Sugar and Magic: A Dash of Trouble by Anna Meriano
Magical, sweet stories hold a special place in the hearts of readers for a long time. Love, Sugar and Magic does exactly that.
Leonora Logrono's family owns one of the most beloved bakeries in Rose Hill and has won over so many hearts with their delectable treats including cakes and cookies for so many occasions. But there is no occasion more important than the Dia de los Muertos festival! Like all past years, Leo hopes that this year she might just be able to help with the celebration - but just like all other years, it's a no! Everyone thinks that Leo is too young to help.
One fine day, Leo sneaks out of her school and discovers a big secret - all the women in her family are actually witches of Mexico who pour some sweet magic into all their baked items. Leo knows that she also has magic inside of herself and is now more determined than ever to partake in the family business!
But will her dash of trouble and craft fix things or make them worse?
7. Mrs. Frisby and the Rats of NIMH by Robert C. O'Brien
A Newberry Award-winning classic, Mrs. Frisby and the Rats of NIMH is about a group of extraordinary rats that come to the rescue of an unfortunate family of mice. This story is full of fantastical animals that can talk to each other, from a friendly crow to a wise owl, and a group of highly intelligent rats.
The story centers around Mrs. Frisby who is a mouse and hardworking mother of four. Her son, however, is unable to move because he is ill, and with perils approaching she must find a new home for them by the summertime. She seeks help and is told to find the rats. Special rats who have been experimented on and as a result have become extraordinarily intelligent. Fortunately, the rats come up with a brilliant plan to not only help Mrs. Frisby but to create a roadmap for the future of their own civilization.
Mrs, Frisby is elated at the prospect that her son can be saved. However, more disaster ensues as the scientists who have experimented on the rats come back to kidnap them! Will the rats of NIMH be able to escape or will they fall into the hands of the pesky humans who are out to destroy their hopes of a bright future?
8. Aru Shah and the End of Time by Roshani Chokshi
Extremely rich and interesting, Aru Shah and the End of Time is one magical fantasy book that will spark the imagination of fifth graders. This title has everything that a fifth-grader likes, from humor to action-packed adventures! It traces the trials and tribulations that follow Aru, who has a penchant for making up stories about how extraordinary and royal her life is.
But like with all lies, Aru's fibs catch up to her. Aru's classmates show up one day to catch her in a lie - they don't believe that the museum's Lamp of Bharata is cursed and dare Aru to prove it. And thus, begins Aru's journey of self-discovery, mystery, and fantasy. Aru also discovers that the fate of the world now falls on her shoulders!
Will Aru embrace her talent and rise to the occasion to save the world? Aru Shah and the End of Time ties Hindu folklore with fantasy, which makes this story unforgettable.
9. How to Train your Dragon by Cressida Cowell
How to Train your Dragon follows the story of a young, quiet and thoughtful boy of the Chief of Hair Hooligans who must pass a coming of age test in order to remain a part of the Viking clan. As for the test? It is to catch and train a dragon. But the real question? Will Hiccup be able to pass this test without being eaten alive?
Fifth graders will be delighted to join Hiccup in his adventure as he tries to tame a dragon! The short chapters make the story easy to digest and fast-paced. The goofy kid-pleasing character names also add liveliness to the story. How to Train your Dragon is so imaginative and wacky that readers will find themselves fully immersed and wondering what comes next.
10. The Graveyard Book by Neil Gaiman
Neil Gaiman's spooky book ties in some fantastical elements such as a secret society of ghosts and a magical graveyard. An evil man known as Jack has come for the Owen's family, but when he tries to find his final target, he realizes they have escaped. Jack's target who has escaped is a boy that runs to the graveyard and is left with his mother's silent prayer of protection. The ghosts accept the boy and allow him to hide. They named him Nobody Owens.
Nobody Owens now belongs to neither the world of the living nor the dead. His time is full of adventures. In the graveyard, he encounters the ancient Indigo Man, an entrance to the city of ghouls, and the creepy and slithering creature known as the Sleer. Outside the graveyard, he is living in constant fear since Jack the man who killed his family lurks about in the shadows.
A perfect read for fifth graders who are horror fans, The Graveyard Book will spark the imagination of any who dares to join Nobody's journey into the world between life and death.

---
This post was written by Joelle Shusterman, the Marketing Intern at BookPal. She is currently reading The Invisible Life of Addie Larue by V.E. Schwab.
Recent Posts
The Best Bilingual Children's Books For Your Child's Reading List! With bilingualism on the ris …

It is your time to show the backbone of your company that you appreciate them… your employees! This …

It is finally the moment you have all been waiting for. After months of reading and assessing the be …